AIT Worldwide Logistics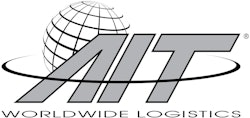 AIT Worldwide Logistics' Los Angeles-based subsidiary, Unitrans International Corporation, moved into a Folcroft, Pa., facility that the team will share with AIT-Philadelphia employees.
"We're excited about this move, because not only does it add 7,000 square feet of cold chain-ready warehouse space to our toolbox, [but] it [also] establishes Unitrans' presence in one of the top East Coast markets for life sciences," said AIT's Vice President, Americas Operations, Ryan Carter.
Unitrans' President Andrew Schadegg also noted how this will further enhance both companies' capabilities in the key Pennsylvania and New Jersey life science markets.
"We are confident this new location will be a strong differentiator for Unitrans," Schadegg said. "It's a great opportunity to further enhance our services to clients and partners requiring comprehensive logistics solutions in the life science sector. Having a high-quality team within three miles of Philadelphia International Airport gives us exceptional control over all import, export and domestic airfreight shipments."
In addition to a freezer and a cooler large enough for forklift cargo loading and unloading, the new facility's warehouse features three industrial air conditioners, plug-ins for active airfreight containers and double the number of dock doors compared to the old office. Plus, it's also more than two decades younger than AIT-Philadelphia's previous location and includes room to grow in the office area as well, with ample space to accommodate additional team members.
With a focus on high-value shipments in the aerospace, defense, food ingredient, high-tech and life sciences industries, Unitrans joined the AIT network in August 2019.