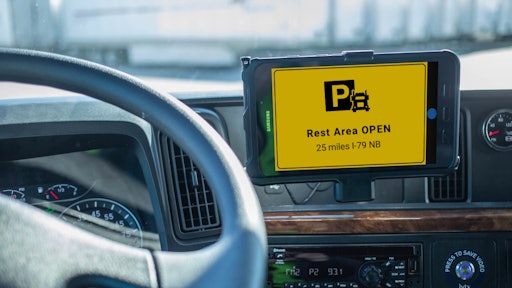 Drivewyze
In a move to support truckers trying to utilize Pennsylvania rest areas, Drivewyze has added Pennsylvania rest area "open and closed alerts" to its Drivewyze Safety Notifications service. Drivewyze Safety Notification alerts are available as a free service to carriers subscribed to the Drivewyze PreClear weigh station bypass service. The alerts will automatically pop up starting, March 24, for those who have already activated the service.
"Finding safe places to park within mandated Hours of Service rules is a daily challenge for drivers," said Brian Heath, CEO of Drivewyze. "Keeping track of which sites are open or closed on the road adds to that stress. We know truckers work long hours to delivers essential goods – they keep food coming in, in a moment in time where shelves can barely be stocked. They need help on the road to do that. To help alleviate this, the Drivewyze team has added a temporary open/closed safety alert for PennDOT rest areas to help drivers stay aware and plan ahead."
The rest area notifications will be displayed for the duration of COVID-19 emergency, so long as PennDOT rest area parking is limited. The notification format will be familiar to drivers already receiving similar Drivewyze safety notifications.
"The Drivewyze team is committed to improving highway safety and our connected truck platform is a tool drivers and fleets can rely on to deliver critical in-cab services where and when drivers need them," said Heath. "State agencies are being challenged by the COVID-19 crisis to maintain essential services for the trucking industry. We saw a safety need to keep drivers aware of these realities at all 46 rest areas in Pennsylvania, eliminating any confusion over the open or closed status of each site, and giving drivers enough time to use that information in their own planning"
The alerts signal "rest area open" or "rest area closed" when an inbound trucker is both 25 and 5 miles out. "This takes away the guesswork and stress of not knowing – giving truckers time to find another stop if that rest area is closed," said Heath.
"The recent Pennsylvania rest area closures and the public response, which successfully led to the re-opening of the 13 busiest truck parking sites, focused our attention on the challenges our state partners are facing and the changing circumstances drivers face every day during this crisis," continued Heath. "We know it's a tremendous task for agencies to maintain facility operations, while mitigating the spread of the COVID-19 coronavirus; and for drivers to continue delivering goods throughout the 'shocks' impacting our supply chain. Agencies need ways to share parking information with drivers, and drivers face the endemic problem of truck parking shortages. Our team felt we could make a difference by magnifying public information dissemination into the cabs of hundreds of thousands of trucks and to help each of those drivers with real-time in-cab information in a safe and timely manner.
"We stand committed to doing whatever we can to support drivers and the trucking industry during this disruptive time," added Heath.