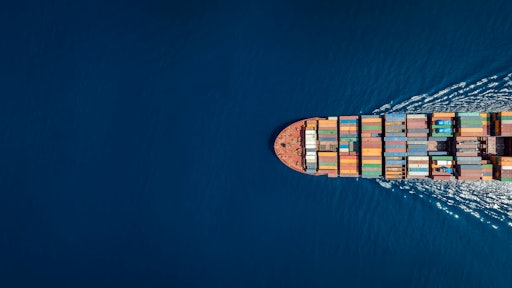 moofushi/stock.adobe.com
The maritime industry forms a vital part of global supply chains and the international economy. According to the International Chamber of Shipping, 90% of world trade is carried by the merchant fleet. That's a fleet of over 50,000 ships, worth around $1.8 trillion, transporting an estimated 11 billion tons of goods each year.
The maritime industry has historically been behind the curve in terms of its digital journey. We only have to consider the progress of digitalization in aviation, which is plausibly the closest industry to shipping in terms of its asset-heavy nature, its critical role to the global economy and supply chains, and its safety and environmental challenges, to see the route not yet travelled.
However, the maritime sector's digital transformation is accelerating, and leading technology companies are supporting ship owners and operators on their digital journeys. Shipping's decision makers are increasingly waking up to the benefits that technology can unlock within their operations, as well as how it can help them more efficiently and effectively fulfil their key role in the wider supply chain.
Connecting all the dots
As the maritime industry faces further commercial and regulatory evolutions in the year to come, including rising fuel costs, complex people management and increasingly stringent standards, data can be harnessed to help organizations make informed decisions promptly, transparently and in alignment with business objectives.
In order for ship operations to be seamlessly connected, data needs to be integrated and shared across the entire vessel ecosystem and with other stakeholders in the supply chain– such as port operators. A lack of interoperability and integration could result in a complicated, fragmented digital ecosystem. Instead, the focus for technology providers should be to ensure solutions seamlessly span from the engine room to the bridge, to the board room and from ship to shore.
Combining a range of data inputs into a holistic platform is key. This provides transparency, accountability and clear, actionable insights across the whole ecosystem, breaking down information silos. While the explosion of available data volumes may be daunting to some, it offers an opportunity for others. If data is managed properly and companies collaborate with the right partners, a competitive advantage can be attained.
Awareness of what data is being collected, its quality, source and where it is stored ensures clarity on what's happening in every area of the vessel, supply chain and across teams. As maritime operations continue to become more integrated into global supply chains, transparency and standardization help to ensure the right information is being shared with counterparties to make supply chains as resilient and efficient as possible.
Reducing emissions
The maritime industry is responsible for roughly 940 million tons of CO2 emissions annually, or around 3% of the global total. Reducing maritime emissions has been a priority for regulators, many ship owners and charterers such as Amazon, Ikea and Unilever, alike. Again, technology is here to help. A strong data strategy can uncover an organization's full potential and support it in achieving its decarbonization goals. Technology can truly pave the way for sustainable shipping.
On an operational level, data-led insights can guide stakeholders through the myriad of complex incoming environmental regulations that are set to shake up how the sector operates. While laudable in terms of their environmental ambition, the International Maritime Organization's (IMO) latest carbon intensity indicator (CII) regulations, for example, will heap pressure on ship owners, operators and charterers to change their 'business as usual' operations.
Shipowners must calculate and report their ships' carbon intensity on a yearly basis. Given the regulatory context, real-time visibility of a vessel's preliminary carbon intensity rating based on operational data is invaluable. Technology companies are also offering insights and tools to allow operators to optimize for CII performance over a voyage or series of voyages. Using data, ship owners and operators can continuously monitor the environmental performance of their vessels.
Meanwhile, ESG reporting has also rapidly become a key priority for companies and investors across the global supply chain, and maritime is no exception. All maritime companies are under increasing pressure to report their performance, with their governance competencies rated based on the transparency and accountability score of management, operations and processes.
ESG performance is linked to protection of the environment, crew welfare, and accidents or pollution incidents, and maritime organizations will be held accountable for any issues surrounding these areas. Being able to draw meaningful insights from data and use those to inform decision making is therefore critical to ensuring maritime organizations score well.
The maritime industry is at the start of its digital journey, not the end. We can already do a huge amount with data now to inform safer, more sustainable and more profitable decision-making. But in just a few years, the potential rate of change is staggering to think about. We are on the cusp of a more connected and more intelligent maritime supply chain, enabled by data. All that is left is for us to create the right foundations to make it a reality.