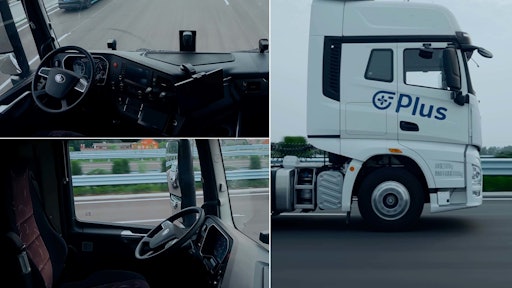 Plus
Today, so much of the logistics process is enabled with the Internet of Things that even Goodyear tires are fitted with connective technology. Because of this, Goodyear and autonomous truck company Plus partner up to explore what can be done in terms of fuel efficiency for semi-trucks. The two work together to see how Goodyear's tires and Plus's autonomous driving system can incorporate data on fuel optimization and carbon impact reduction through Plus's online, machine learning platform.
Per Plus:
Integrating

Goodyear's

intelligent tires with

Plus's

autonomous driving system can also improve a vehicle's overall performance in severe weather and extreme road conditions.

Plus

is already deploying its driver-in autonomous driving solution, PlusDrive, to customers and is expected to start production of the FAW J7 L3 truck powered by PlusDrive in the third quarter of 2021.
"Tires are the only thing on a vehicle that touches the ground and it's this critical position that can help us enable future mobility solutions like autonomous transportation," said Chris Helsel, SVP Global Operations & CTO of
Goodyear,
"With our leadership in products and innovation,
Goodyear
is supporting efficient fleet operations and is pleased to drive more possibilities for the logistics industry with
Plus."