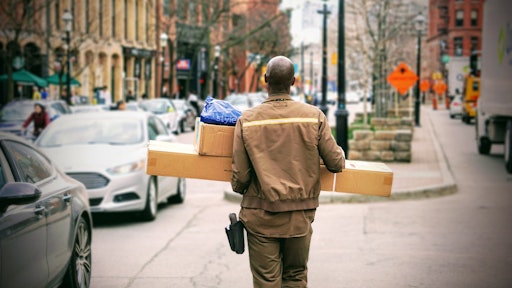 Unsplash
FedEx and UPS are adding surcharges to packages that weigh 50 to 70 pounds in 2020.
Currently, shipments up to 70 pounds are exempt from the surcharge, but that will change on Dec. 29 for UPS and Jan. 6 for FedEx.
According to FreightWaves, shippers sending heavy parcels can expect a 15-24% increase per package. UPS will reportedly raise list, or non-contract, rates on parcel services by 4.9%. FedEx will also raise it by 4.9% as well.
The surcharges come at a time when consumers are buying more bulky and heavy-weight objects online. UPS currently has a $44.43 base rate on a 50-pound ground commercial parcel moving between 1,000 and 1,400 miles and has five-day transit times, FreightWaves reports. Meanwhile, the company also assesses a $3.22 fuel surcharge, totaling $47.65.
In the new year, that same shipment will be addressed a $24 handling surcharge on top of a $46.75 base rate and a $5.12 fuel surcharge, bringing the total to $75.69 - a 58.8% increase.
Increases will hit mid-market and small to mid-size shippers the hardest as they don't have the power to negotiate with big shippers or having large amounts of volume. However, high-volume shippers may be able to bargain away about half of the increase during contract talks with the carriers. Though, it is predicted that no one will have the surcharge completely waived.
The surcharges were placed as a need to help offset the higher costs of moving heavier items. A spokesperson for FedEx said that the charges were necessary to the company's operations in order to "ensure that it continues to provide the level of service that customers expect while responsibly managing capacity through the network."
FedEx Corp. (NYSE: FDX) and UPS Inc. (NYSE: UPS) that tender a lot of packages weighing 50 to 70 pounds are in for some price pain in 2020 unless they are excellent contract negotiators." data-reactid="18">