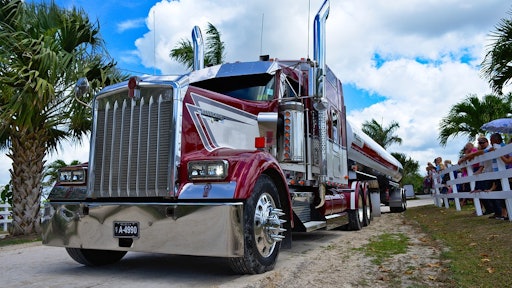 Truck owners are ordering big rigs at a time when buying slows down, effectively pushing backlogs at factories to the highest levels in nearly two decades, the Wall Street Journal reports.
According to ACT research, fleets ordered over 42,000 trucks in June, 18.5 percent higher than what was ordered in May. The backlog-to-build ratio is roughly 9.6 months, the Wall Street Journal reports. Meaning, most trucks ordered in June won't arrive until the first half of 2019.
Persistent demand for big rigs is changing what used to be a typically weak month for truck orders. June brought an adjusted rate of 492,000 vehicles in the first six months of 2018, creating the strongest six-month order period since 1982, the Wall Street Journal reports.
Along with the larger orders, US factory activities accelerated for the second straight month in June as manufacturers move to get goods ahead of tariffs. Yet businesses are still struggling to book transportation amid a shortage of available trucks, with many paying a premium to keep shipments moving, the Wall Street Journal reports. Demand is still exceeding capacity in most modes of transportation and carriers are having trouble recruiting and retaining drivers.
To read the full original article, please click here.