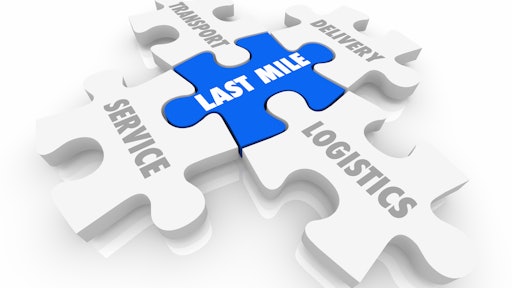 AdobeStock_246967569
The last mile of any delivery is the most critical segment, and shippers should take a proactive approach and prioritize the last mile. Getting products off trucks and into customers' hands is the top priority, and shippers can play a role in ensuring this happens on time.
The e-commerce boom over the last few years – accelerated by the pandemic – has changed customer expectations. As online marketplaces adopted a fast and free shipping model, customers have come to expect that level of service from across the web. If a retailer can't offer both fast and free delivery, customers at least want the option to choose free or fast based on their needs. Meeting customer expectations is critical to keeping them happy and building loyalty.
Doing so, however, can be an expensive proposition for unprepared shippers. Carrier rates are consistently rising, and carrier capacity dwindles during peak order times. Being unable to adjust and adapt to lessen the impact of these challenges means paying more for the same services, or worse, disappointing customers.
A more agile last mile
Shippers can reduce costs and meet customer expectations by putting the last mile first and making a few strategic decisions that can increase fulfillment options and deliver meaningful results.
First, utilize a multicarrier network for shipping. A multicarrier network enables increased flexibility of service levels and availability; if one carrier doesn't meet the needs of a particular customer, another is readily available that does. Similarly, a multicarrier network should enable fast and efficient shopping of contracted rates to ensure optimal savings for comparable service levels. The most effective multicarrier networks increasingly go beyond the major national or global carriers to include regional and local carriers that in many instances provide cheaper and more reliable services within a smaller locale that can better meet or exceed customer expectations.
Next, reconsider inventory and fulfillment capabilities. Ship-from-store options can often get products to customers faster and cheaper than from a regional or national distribution center or warehouse. If stores aren't available in each region, merchants should examine which products are most popular in which regions and warehouse them there to reduce necessary transit time. For example, if 85% of a shippers' orders for snow boots originate in the Northeast, storing them in a central warehouse in the region puts the boots closer to their destinations. Those who frequently warehouse and ship replacement and other parts to customers should consider on-demand additive manufacturing of goods where possible. Many small parts, for example, can be 3D printed near their destinations instead of warehoused and shipped, eliminating warehousing and inventory costs and waste in addition to reducing shipping time and costs. This is an excellent option for manufacturers of larger goods with serviceable parts like home appliances.
Finally, trust business intelligence and data. Each order and shipment generates useful data. Sophisticated business intelligence technology can aggregate, normalize, and analyze this data, empowering shippers to identify opportunities to gain efficiencies in the shipment process. Many shippers uncover game-changing insights from their shipping data. For example, in certain instances, ground shipping often reaches many destinations as quickly as two-day but for significantly less. Insights like this can pay dividends by meeting customer expectations for fast shipping while keeping costs low. Shippers can also use the data to verify carriers meet contracted service levels for each shipment, increasing leverage in rate negotiations and to determine which carriers are best suited for which deliveries based on performance metrics and existing business rules.
Working backwards from the last mile
Once all aspects of last-mile delivery are in order, shippers can broaden their horizon to consider the rest of the shipping journey. How does the shipment reach the last mile? Are there efficiencies to be gained in that process? Many international shippers now leverage a break bulk model to get large shipments to a particular region before splitting them up and tapping last-mile carriers to take them to customers' doors. Similarly, shippers can determine the most cost-effective routes and modalities for the first leg of the journey to select the most efficient route and even avoid multiple cross-border taxes while improving customs processing times.
While there are certainly efficiencies to gain at the start of the shipment journey – from the warehouse up to the last mile – the most critical component of this journey resides in the last mile, getting the shipment off the truck (or other vehicle) and into the customer's hands. But, shippers shouldn't leave that responsibility solely in the hands of carriers; they should take a proactive role in ensuring they meet customer expectations to keep them happy and build loyalty.