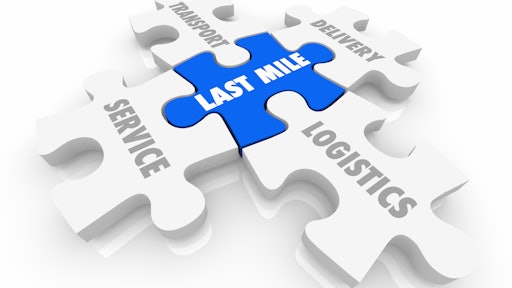 AdobeStock_246967569
As an experienced retailer, you already know that customer satisfaction rests on product quality and distribution or delivery. In this day of e-commerce and digital shopping, customers expect products to arrive quickly, whether the product in question is a bottle of dish detergent or a large, heavy refrigerator.
If delivery expectations aren't met, customers might turn to the competition. Or worse, they might log on to social media outlets to vent their displeasure. This, in turn, can tarnish your brand, even if a delivery mishap isn't your fault.
Though you might not have 100% control over the delivery process when it comes to large, bulky items, implementing the following four steps as part of your distribution process can help meet customers' needs.
1) Align to shifting customer expectations
A 24- to 48-hour window is fairly straightforward when it comes to small-item deliveries. When it comes to furniture or appliances, not so much.
The typical delivery scenario for furniture or appliances is as follows:
A time lag of at least a week between purchase and item receipt.
A delivery window of several hours to adjust for driver routes.
This window can be a huge inconvenience to the customer, who might have to take time off from work and hang around the house or apartment most of the morning or afternoon, not really knowing if they are at the top or bottom of that delivery window.
Customers once shouldered this issue, but not anymore. According to a SOTI survey, 45% of U.S. respondents indicated that if an item delivery or pick-up takes more than two days, they will look elsewhere.
This aligns with our own data. More than 80% of Dolly customers who buy a large, bulky item from a retail store want that product within three days of purchase; more than 60% indicated they expect the product within 24 hours of purchase.
Work with a delivery solution provider that has perfected its last-mile delivery approach in the following ways.
It offers channel flexibility and capacity that works with your business's size.
It shifts delivery tasks to an experienced provider, freeing your resources to target other areas of your retail operation.
It ensures customer loyalty by getting products to them faster.
2) Ensure clear communication
While customers want their products now (if not sooner), they are also forgiving in the face of delivery delays. They are even more accepting when the retailer lets them know about a delay and when they can expect to receive the product.
On-target communications place customers at the center of the delivery process, rather than being a byproduct of it. A qualified delivery solution partner can take on communication roles, providing real-time tracking of inventory movement to you and your customers.
But, communication isn't a one-way street. Customers should have the ability to text or speak with the driver, as well as receiving information about product delivery. Two-way communication helps provide accurate information before and during the delivery process.
Click here to hear more about communication in the supply chain:

3) Boost total operational integration
Integrating your delivery and point-of-service systems into an overall transportation management system (TMS) offers you the following:
It enables you to update customers in real time about their delivery status.
It helps you effectively manage and streamline fulfillment operations.
It supplies important delivery data to your employees and customers.
It ensures that the right information is provided to drivers, leading to fewer mistakes and a faster delivery process.
An integrated TMS is integral to a delivery solution that exceeds customers' expectations without breaking the budget. Plenty of delivery platforms are available to provide all the right features and benefits, whether you are a small- to medium-sized business or oversee multiple national and international locations.
4) Promote customer convenience
Customers want a say in how they receive their goods from you, whether it's a digital storefront, brick-and-mortar space or both. Customers have plenty of options, including home delivery, in-store pickup from online order, curbside pickup or full, white glove service.
Furthermore, customers want control over these options. According to a 2020 PSFK report, more than 80% of retail customers surveyed indicated they are more likely or much more likely to purchase from a retailer offering multiple delivery options. And, they want those items to arrive on their schedule, when it's convenient for them. In other words, if you aren't prioritizing pick-up/delivery as a customer service experience success metric, your customers will frequent the competition that does so.
The takeaway
Customer service efforts must go beyond the product and buying experience. The last-mile experience -- getting goods to the customer -- is also important.
Working with a third-party delivery partner can help streamline distribution efforts, while bridging the difference between an exceptional customer experience and one that is just okay. An experienced delivery solutions provider creates a seamless, omnichannel solution, while also offering last-mile expertise. This, in turn, keeps customers at the center of the delivery process, while allowing you to target resources to other key areas of your business.