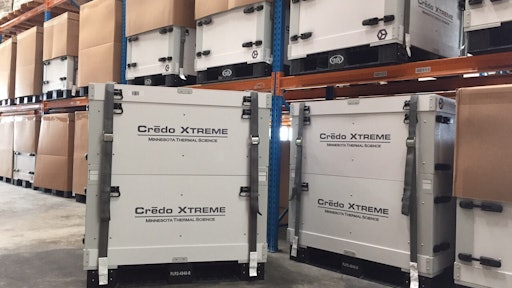 The global healthcare cold chain logistics market size is expected to grow from $8 billion (2014) to $11 billion by 2018 with a third of that in the temperature-controlled packaging and service solutions arena. A big contributor in volume growth is going to continue to be an increasingly aging world population and the introduction of biotechnology-derived large molecules requiring refrigerated storage handling at 2 to 8°C with expanding global market penetration. Emerging markets include Asia, India, China and South America—all with long, complex shipping lanes requiring more stringent temperature control and monitoring measures to ensure product safety.
Preventing temperature excursion, while most important, is not the only consideration big pharma and biotech companies look to accomplish while deciding on their best-fit temperature-controlled packaging solutions for emerging markets. Finding the appropriate packaging solutions that can save money, improve efficiencies and get high value, life-savings drugs to the right place at the right time is crucial to the business success of pharmaceutical, small to medium biotech companies, contract research organizations (CROs) and contract manufacturing organizations (CMOs), the blood/diagnostics market and third-party logistics companies.
Creating or expanding an effective supply chain begins by bringing all stakeholders together—including product quality managers, procurement, operations, warehouse managers, packaging suppliers and logistics providers—to evaluate the current supply chain variables, competing priorities, changing expectations and new challenges. Because packaging and solutions providers have experience solving cold chain problems, it's wise to also involve the selected provider early on in the process. These organizations can help troubleshoot, performed chamber ambient profile testing and have qualification reports on file, and can quickly and efficiently help identify appropriate pre-existing temperature-controlled packaging solutions with the best fit for purpose.
Critical factors that need evaluation as part of the packaging solution selection process include:
Performance needs—payload volume, temperature range and duration needed.
Ease of pre-conditioning/pack out, universal or seasonal.
Quality—regulatory needs, validation testing requirements and product tolerance level.
Pricing considerations—packaging cost, payload volumetric efficiency, packaging weight, total freight costs and end-to-end shipping lane analysis.
Safety—temperature data monitoring, and shipment track and traceability.
Sustainability—singe-use, reusable or closed-loop reverse logistics services.
Total cost of ownership.
Optimizing cold chain supply logistic plans can serve as a strategic differentiator for life science industry companies in a very competitive landscape.
Increased competition from generic biosimilar manufacturers means that the pharmaceutical and biotech industries, as well as others who are involved working within the life science industry, are under more scrutiny from stakeholders. These organizations are under pressure to differentiate their business by supporting far-reaching emerging markets, while eliminating product excursions, lowering operating costs, driving higher profits and meeting corporate sustainability initiatives.
These factors, combined with stringent and growing regulatory compliance expectations, make improving cold chain supply logistics a high priority, as well as a necessity for pharmaceutical company distribution decision-makers, managers and the third-party logistics providers to whom they are increasingly outsourcing their needs.
Assessing Temperature-Controlled Packaging Types
Understanding the requirements of a given payload and shipping lane can help determine the right shipper for a given need. Determining fit for purpose requires evaluation of a number of decision factors including duration, environment, and whether or not shippers can be recovered. Because the same company may need to consider different decision factors for different payloads and cold chain lanes, it may even make sense for the one company to activate both single-use shippers and reusable shippers.
As increased competition, complex shipping lanes, and stringent market regulation continue to put pressure on the pharmaceutical and life sciences industry, companies must look for ways to improve cold chain efficiency. By better understanding supply chain lane characteristics, and aligning with experienced third-party logistics partners, companies can not only optimize their cold chain by identifying shippers with the best fit for purpose, but also achieve a key strategic market advantage.
Companies in this article