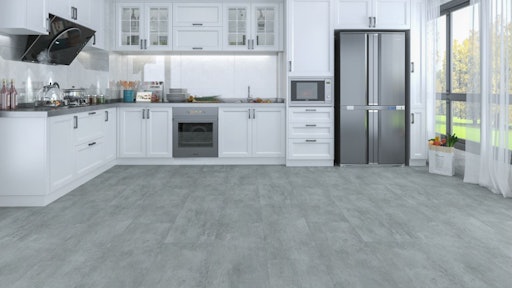 Titan Supply Group is an importer of high-quality laminate flooring that operates out of the Pacific Northwest. The company offers a variety of floor coverings that have the look and feel of wood and tile flooring, yet offer the functionality and cost-effectiveness of laminate material. Titan Supply Group imports all products from overseas, stores them in warehouses and sends them to flooring retailers all over the United States.
As an importer that leverages complicated intermodal transit to move product and conduct business operations, Titan Supply Group has no time to spare. Warehouses operate on stringent schedules, customers have strict delivery requirements and international freight requires detailed planning. Titan Supply Group must execute the last leg of the journey, shipping from warehouse to client, to operate effectively and maintain a positive reputation. This is where Flock Freight enters the field.
Damaged freight, damaged reputation
Serving a small-medium clientele, Titan Supply moves less-than-truckload (LTL) for most shipments. Because today's LTL industry is a blur of budget carriers, unforeseen accessorial fees and undependable service, Titan Supply's LTL business frequently experienced the all-too-common pain points of damage and loss. Lost time filing damage claims, expensive restocking of damaged freight, poor operating service at the dock — all of these challenges put Titan Supply at odds with shipping LTL.
"I've gone cheap, and it's burnt me. Pop a lid off of one paint bucket, and it can damage an entire pallet," says Eric Wollasten, Titan Supply Group Traffic Manager.
Imagine the frustration of putting in the effort to manufacture a product on another continent and ship it thousands of miles away, only to learn that a messy facility damaged it at the end of the line. Haunted by the LTL norms of poor service and damage, Titan Supply desperately needed an alternative solution.
The
Flock Freight

difference

Titan Supply found Flock Freight because a flooring customer mentioned the impeccable service of FlockDirect's shared truckload (STL) shipping. Like full truckload (TL) mode, shared truckload service ensures a shipment travels directly from its pickup location to its final destination, without moving through the hub-and-spoke network of warehouses and freight consolidators. The difference between the two? Unlike TL shipping, the shared truckload mode enables several shippers to share the cost of moving their freight and the trailer space of one multi-stop full truckload. STL service offers the same benefits of TL service that shippers know and love for a fraction of the price.

Flock Freight is the only 3PL that has proprietary technology to guarantee shared truckload service.

"How do you want to represent your first load to a new customer? You don't damage it," adds Wollasten.

By choosing FlockDirect, the only point-of-sale shared truckload service in the industry, Titan Supply ships their freight with confidence. And, by trusting Flock Freight to move its shipments with others that are going in the same direction, Titan Supply enjoys faster, safer and easier transit with 99.9% damage-free service and a 97.5% on-time delivery rate.

Without a doubt, Titan Supply has found a reliable shipping partner in Flock Freight. Since Titan Supply started shipping FlockDirect, the company has eliminated damage claims for hundreds of shipments, streamlined its logistics operations and improved its reputation with valued customers.

"We have eliminated our damage claims with FlockDirect. Wish we could've started sooner," adds Wollasten.

In general, moving freight requires collaboration, coordination, and a lot of communication. In addition to saving time and eliminating LTL headaches, Flock Freight has provided Titan Supply Group with a team of dedicated account managers to ensure a smooth shipping experience from pickup to delivery.