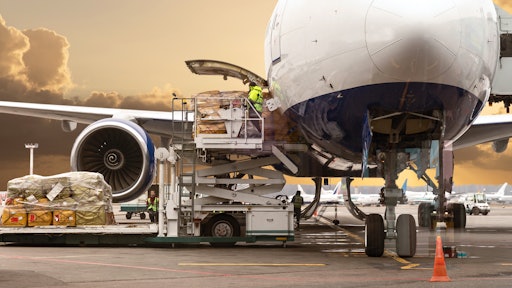 Mariakray AdobeStock_178549802
The global air freight market has experienced a roller coaster of demand since 2020 as shippers leveraged the highly reliable mode to mitigate delays from various types of global disruption. During the COVID-19 pandemic, demand for air rose rapidly as personal protective equipment (PPE), medical equipment, and other just-in-time global supply chains relied on the service for quick transport. This rapid increase in demand was followed by a jump in capacity as many airlines grew their fleets by converting passenger planes into freighters as consumer travel had drastically slowed.
On the flip side, 2023 saw demand for air freight fall to historic lows as ocean freight grew more favorable to shippers looking to save costs after years of expensive delays and disruptions. Cheaper alternatives, a rocky economic outlook for consumer spending, and retailers with stockpiles of inventory created a perfect storm and left the air freight market with a weak outlook.
Despite headwinds in the industry, the role of air freight evolves as shippers tap back into the mode for its speed and ability to support agile pivots due to disruption from other modes and routes. August saw the first growth in air cargo demand since February 2022, but why?
A shipper survey from C.H. Robinson found that 87% of shippers indicated that identifying cost savings opportunities was critical to their success in 2023. The truth is, air freight is not where shippers will save costs when compared to other modes like ocean, but by mitigating disruption risks and keeping goods moving, shippers are able to protect their supply chain from major delays, inventory shortages, and potential line-down situations. This trend will continue into 2024 as the geopolitical environment grows more complex and shippers plan with agility in mind to mitigate risks and delays.
Here are some examples of how air is playing a role already and where it may continue to grow in volume as 2024 approaches:
Automotive Strike Activity
The automotive industry has historically relied on just-in-time inventory management to increase efficiency and maintain production schedules. When disruption occurs, delayed cargo can create a myriad of issues, including a complete halt to manufacturing. Recent strike activity across the automotive industry reminds companies of the historic role that air freight plays during and after strikes.
Air charters are common for shippers looking to quickly accelerate shipments out of congested areas that would normally be transported via truck. Especially with just-in-time inventory models, manufacturers cannot afford delays and pivoting to air ensures they can prevent a domino effect of disruption. When a strike ends and production needs to return to normal operation, it's important that parts are quickly available. The longer the strike, the greater the demand for inventory, thus making the role of air in recovery even more critical.
As some analysts predict a lasting trend of growing strike activity, shippers need to understand how air can keep their supply chain moving amidst labor disruption.
Disruption at the Border
This past fall saw extreme congestion at the U.S.-Mexico border as many border-crossing routes were closed and increased security measures at others created major delays. For some routes, these changes added up to 15 hours to transit times. When disruption like this occurs at land or ocean ports of entry, many shippers pivot to air charters to keep goods moving and prevent inventory backlogs. Many automotive manufacturers looking to transport goods out of Mexico to mitigate further supply chain risks from strike activity were able to secure air charters in as little as a few hours. When delays happen, other modes allow shippers to quickly pivot and keep goods moving.
Retail Industry Support
For many industries, like clothing or electronics, consumer demand fluctuates based on seasonality or launches, and shippers cannot afford to miss their window of opportunity. As some ocean carriers use blank sailings to combat lower demand, many shippers cannot risk delays and choose to pivot to air for a quicker, reliable option. With major tech launches out of Asia, we historically see a rapid increase in demand for air. The demand is not primarily related to the tech itself, but for the various accessories and complimentary products that are associated with the tech, like chargers and cases for example.
Additionally, fast fashion or trendy retail stores are leveraging air to ensure their goods can reach stores before any specific fad has passed. As fashion trends evolve faster and faster, expect air to play a pivotal role in keeping shelves stocked. For both electronic accessories and clothing, air has been critical to meeting consumer demand ahead of the holiday season.
Nearshoring
Nearshoring, reshoring or friend-shoring have also impacted the evolving freight landscape. As businesses have moved manufacturing operations across the globe to mitigate varying geopolitical risks to their supply chains and further diversify, their shipping volumes have moved with them. In many instances, new manufacturing locations are closer to the consumers purchasing their end products, allowing shippers to potentially rely on surface modes versus air or ocean. But the transition isn't always smooth.
As businesses adapt to an entirely new supply chain, they frequently rely on air to keep up with inventory as moving supplier components can be more difficult than moving their own manufacturing facilities. Even if manufacturers move their own operations closer to their consumers, many still rely on importing raw materials from suppliers via air. If we continue to see increased nearshoring activity, we could see those manufacturers look to air more than ever before during the transition.
Looking ahead
While it feels like the global shipping environment is experiencing some relief from disruption in Q4, the last few years have taught us to always anticipate disruption and plan with agility. As seasonality returns to normal, predictability and forecasting are returning as well. Shippers should build contingency plans that help them quickly shift when disruption occurs. While air freight has been relatively quiet over the last year, it may become a supply chain superhero in 2024 as more shippers look for quick and reliable service when risk and delays are on the horizon.