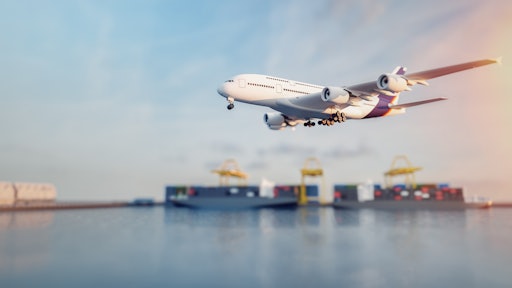 phaisarnwong2517/stock.adobe.com
After a tumultuous and challenging 2020 and 2021, many shippers looked to 2022 with hopes for a return to some semblance of normalcy in air cargo markets. However, thus far, 2022 has presented shippers and service providers with a series of ongoing challenges. According to the International Air Transport Association (IATA), global air cargo demand in January 2022 grew 2.7% on a year-over-year basis. On the whole, demand is still down 8.9% vs. pre-COVID levels, however, according to CLIVE Data Services, capacity is down 5.4% as compared to pre-COVID levels as well, driving rate increases and escalated volatility.
Referring to the January growth as "below expectation," the IATA predicts a "more normal" industry growth rate of 4.9% in 2022. A return to more normal growth trends is welcome news, however, shippers should view this trendline against a backdrop of a variety of abnormal market forces. There are a number of issues at play- some familiar, albeit difficult to predict (e.g. ongoing COVID impacts) while others (the war in Ukraine, U.S. inflation, and consumer spending) represent new "wild cards" that shippers must contend with in order to ensure the unfettered flow of their goods to market.
COVID, contd.
Let's start with the obvious: COVID impacts continue to reverberate through the market. As the COVID-19 pandemic has eased in the United States, it continues to rear its head elsewhere, driving ongoing supply chain disruptions. The Chinese government's "Zero COVID" policy has led to lockdowns of major centers of economic and shipping activity, including China's largest city, Shanghai, home to more than 25 million people. While both the Shanghai Pudong and Shanghai Hongqiao airports remain open, capacity is limited and is mostly being reserved for passenger flights. With local public transportation curtailed during the lockdown, logistics activity is slowing to a crawl due to lack of manpower. As a result, trucking and air cargo rates are expected to rise while the lockdown is in effect.
Mind the belly space
Another lingering effect of COVID is that a reduction in international passenger flights also reduced availability of belly space for cargo. According to the IATA, passenger demand remains far below pre-COVID-19 levels. Numbers for January 2022 were down 49.6% compared to January 2019, with international traffic down 62.4% and domestic traffic down by 26.5%. Passenger airlines scrambled to fill the gap, and some shippers opted for air charters when belly space was unavailable. It remains to be seen when belly hold capacity will return to pre-pandemic levels, though Omni Logistics internal data shows.
War in Ukraine
Russia's invasion of Ukraine has cast a pall of uncertainty over the air cargo market. While a miniscule 0.6% of global cargo moves to, from, or within Russia, the psychological effect of the outbreak of the largest military conflict on the European continent since World War II cannot be overstated, rattling consumers and shippers alike. The immediate effect of the Russian invasion of Ukraine has been to drive up air cargo rates. Air cargo carriers are being forced to reroute planes along lengthier Asian lanes to avoid closed Russian airspace. Spot jet fuel costs are the highest they have been since September 2008, ultimately creating a ripple effect, driving up rates for ocean shipping as well.
Inflation nation
The impact of high gas prices is not limited to air cargo carriers; consumers worldwide are feeling the pinch in their pocketbooks and there are signs that this is coalescing into a slowdown in consumer spending. According to a recent analysis by FreightWaves, softer-than-expected truckload volumes in March may be an indicator that a general downturn in the market is imminent. Of course, slower consumer spending can ultimately drive down air cargo rates as well, as supply outstrips demand. However, rates always fall more slowly than they rise, so shippers are finding themselves in the uncomfortable position, at least for the foreseeable future, of paying more to get their goods to a consumer audience whose appetite for spending may be waning.
The name of the game: how nimble can you be?
With this variety of headwinds, how can shippers control costs and ensure that they are getting the service they need from their air cargo providers?
Last year, as container ships piled up outside U.S. ports, many shippers made the move from ocean to air in the hopes of achieving speed to market, or barring that, simply getting to market. The results have been a mixed bag- some shippers found that while their air cargo provider performed well, they still had to deal with labor issues and warehouse space once their cargo touched down. Ground handlers continue to struggle to keep up with capacity, and as a result, service has suffered. For shippers, the past two years must have seemed like a game of whack-a-mole: as one transportation challenge was solved, another sprung up to take its place.
At the end of the day, shippers want reliability. Attaining true reliability in a volatile market may require a mind shift. Rather than "locking down" specific modes and carriers, shippers should instead look to their multimodal third-party logistics providers for solutions. "Multimodal" is the important qualifier here, because as we are seeing in the current market, putting all your eggs in a single modal basket can prove risky.
For example, the traditional route for shippers to get goods from Shenzhen, China to Hong Kong is by truck. These goods are then often placed on air cargo flights out of Hong Kong. But with COVID closures and restrictions, shippers had to look for other options. To keep our client's freight moving, the team at Omni Logistics had to get creative. We leveraged our network to move shipments from Guangzhou to Hong Kong via ocean instead of over the road. When our customers had challenges getting freight out of Bangkok, Thailand, we quickly replaced their fast boat solutions with air cargo solutions that are faster, at an equivalent cost. When belly space dried up in Asia, we chartered hundreds of flights on behalf of our customers- 139 in Q4 of 2021 alone. Toggling between modes in this manner can be challenging- if not impossible- for 3PLs that focus on individual modes. It's also challenging for customers, as piecing together multiple partners on the fly is disruptive and runs counter to the certainty they seek.
Facilitating this level of agile mode switching requires multimodal 3PL partners that can offer both scale and sophisticated data analytics, which are critical for a variety of reasons. On the one hand, the ability to aggregate and extract insights from large amounts of transportation data allows for more efficient transportation procurement. At the same time, gaining visibility to a large volume of shipments across modes allows data scientists and logisticians to uncover new and creative solutions that would not be apparent to a single mode provider. Scale also facilitates the procurement of capital-intensive modes of transport, including charter flights. Is your air cargo operation set up to withstand the headwinds of 2022 and beyond?