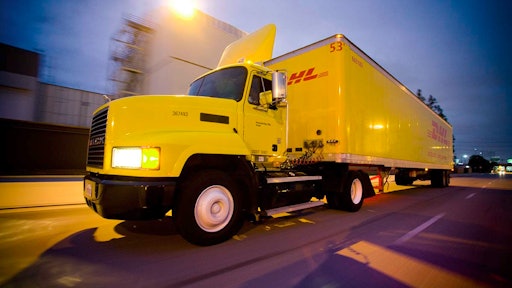 DHL Supply Chain
As companies expand or evolve, many find they can no longer go it alone to overcome today's transportation challenges. It can also be difficult to think beyond today's shipment and prepare for future market challenges and digitalization. That's where third-party logistics (3PL) providers can help.
3PLs offer a variety of with fully developed transportation capabilities and services that provide shippers the predictability, capacity and flexibility needed to anticipate and adapt to changes in the market.
But, with so many options available, the question then becomes—how do I choose the right type of 3PL for my business?
To help make an informed decision, here are three important transportation services 3PLs can provide to meet your transportation needs:
1. Dedicated fleet. For those companies that have a certain amount of consistency and uniformity in their shipping needs and complexity in their pick-up or delivery requirements, choosing a 3PL that offers dedicated fleet solutions may be essential. 3PLs can often provide the higher level of control, predictability and consistency that these shipments with relatively fixed quantities and destinations require, while also offering the capacity needed to quickly react to changing demands.
With this type of offering, there are several factors that can give insight into the robustness of a 3PL's dedicated fleet offering. These factors include the ability to design the size and scope of the fleet to meet the service and capacity requirements that align with an overall transportation network strategy, perform dynamic route optimization to ensure high levels of customer service and fleet utilization and incorporate backhauls and complementary freight to lower cost.
Additionally, the capability to integrate and synchronize fleet operations with other 3PL cross-dock or warehouse solutions can drive down total logistics costs.
Lastly, consistent customer service must be delivered by professional and trained drivers that know how to safely handle and deliver your customer's freight.
2. Transportation management. Transportation management is designed for companies looking to optimize and control their shipping process to reduce costs. By outsourcing and centralizing the transportation functions of an operation to a 3PL, your shipping needs can be more efficiently and easily matched with the right carriers and routes. For many companies, this can be a time-consuming endeavor because shipping needs are constantly changing.
3PLs can manage the entire process, matching shipping needs and volume with network carriers that have the capacity to handle the shipment. Most 3PLs have invested in transportation management systems and other tools that automate and optimize otherwise manual processes, eliminating paper while spreading the technology investment across many shippers.
Using a 3PL to handle transportation management also allows you to take advantage of the provider's buying power and ability to quickly scale to meet needs. Look for a 3PL that has a broad network of carriers and the scale and procurement tools to negotiate favorable rates. They also should have a team of transportation experts and the technology investment to manage your transportation needs.
3. Lead logistics partner. For those companies looking to revolutionize their supply chain, look for a 3PL who offers a lead logistics partner (LLP) solution. This is for those companies who value network design and engineering and a global approach to supply chain management through control towers and data analytics for continuous improvement. These providers will take a holistic view of what's happening with transportation and make broad, informed changes that have big benefits for supply chain performance.
This comprehensive approach allows 3PLs to also bring sophisticated network design, continuous optimization and strategic, long-term planning to the supply chain. Control towers can provide a higher level of control, responsiveness and continuous improvement. An LLP can improve transportation and supply chain process efficiency, manage suppliers and handle customer touchpoints to minimize costs while managing changing market requirements, volume volatility and evolving supply chain trends.
Ultimately, as you determine which 3PL to entrust your supply chain, the decision needs to come down to one overriding factor—Are they a fit with your business needs?
For a successful partnership that delivers on measurable, obtainable goals, the logistics provider needs to be a fit for your supply chain operation and provide real value to the business.