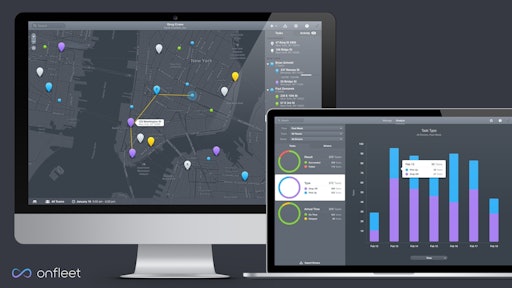 Onfleet
Last-mile delivery is both a blessing and curse for retailers—a blessing because they know it draws in customers, but a curse because the logistics can be cumbersome and expensive. Nevertheless, its use and adoption are growing at an exponential rate.
Here are some predictions for last-mile delivery in 2020:
More consolidation among delivery networks. DoorDash's acquisition of Caviar and rumored merger conversations with Uber demonstrates that consolidation is key to unlocking a sustainable business model for these networks. Why? Less competition will lead to increased pricing power, which will allow them to increase their take rate and decrease costs due to greater delivery density. Bringing at least some delivery resources in-house is the only real way for merchants and retailers to hedge against this inevitable monopolistic future.
Robotic delivery pilots will expand beyond the publicity stunt stage, but we aren't likely to see widespread deployment until 2022. There are still regulatory issues, and the hardware costs are still prohibitive for most. In 2020, look for robotic delivery primarily in major cities and in controlled environments such as corporate and college campuses. Delivery robots will also one day assist with the last-mile, yet this is still evolving. Also, look for players to develop their mobile machines.
Free same-day delivery will become the standard in 2020, putting more pressure on retailers that want to compete with Amazon. In an Onfleet survey conducted in October 2019, 78% of consumers said that their experiences with Amazon have raised their expectations for all types of deliveries, while 76% said they would be more likely to order household items locally (vs. from Amazon) if they could get same-day delivery. Same-day delivery has become table stakes—good news for third-party companies and most small- and medium-sized retailers who don't want to build their own delivery and logistics networks.
Fleets will become more eco-friendly, partly to ease exploding emissions and congestion problems in major cities. This could range from more efficient routes that minimize fuel to electric or autonomous vehicles. The micro-mobility industry is especially one to watch, as we're seeing more companies enter this market that can also help with the last mile, such as food deliveries. We're seeing a rapid rise in the use of cargo bikes across the urban areas where Onfleet operates.
Micro-fulfillment and micro-warehouses will take off. Target has already seen success with this approach, fulfilling deliveries from stores rather than from enormous central warehouses. In May 2019, Target executives reported that 80% of digital sales (comprised of in-store pickup, drive-through pick-up or home delivery via Shipt) were fulfilled from stores. Target also reported at that time, "all of Target's same-day delivery options were now profitable, and more profitable than typical online orders that ship items from fulfillment centers to customers' homes."
In closing, last-mile delivery can be a huge challenge for retailers – in some cases, it doesn't make sense for them to build out their own delivery fleets, yet they still want to control the end-customer experience. In other cases, the only option is to build out in-house capabilities to maintain control, reliability and customer relationships as they scale operations. Regardless of their approach, companies will continue to look for ways to improve and expand their last-mile delivery options to meet today's ever-changing customer demands.