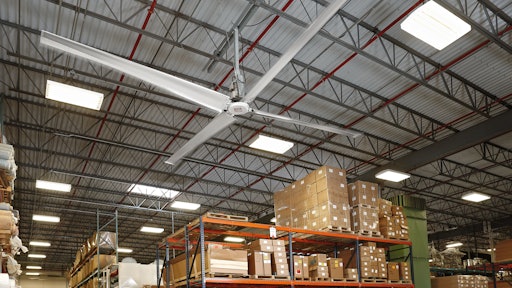 Rite-Hite
Whether they are company-owned warehouses or third-party logistics facilities, buildings designed to stock products are typically large and cavernous. While their large size and open concept layout allow these plants to operate efficiently, their usage of energy for heating or cooling isn't typically as efficient.
In order to manage heating and cooling costs, facility managers have looked for building infrastructure products to help with environmental separation from the loading dock and throughout the facility. Facility managers have a range of energy-saving options at their disposal, including upgrading dock equipment, implementing high-speed doors, installing high-volume low-speed (HVLS) fans and tapping into the power of the Industrial Internet of Things (IIoT) to better analyze energy use.
Starting at the loading dock
Busy loading docks are a sign of a healthy operation. However, the frequent opening and closing of dock doors can create a host of climate and environmental control challenges. The most obvious occurs when dock doors and trailer doors are open to the outside, which often happens in traditional dock configurations. Allowing the inside of the facility exposed to the outdoor environment for more than a minute or two is energy inefficient at best and can create serious health concerns at worst, particularly in the food and pharmaceutical industries.
The most comprehensive way to prevent this is by designing loading docks for a "drive-through" application. In this dock design, a tractor-trailer backs up to the dock with its doors closed. When the trailer is secured to the dock, the dock door opens, the trailer's security seal is broken, and the trailer doors are then opened into the building. This limits opportunities for tampering and exposure to outside elements and contaminants that could degrade the cargo or break the cold chain.
The key component in a drive-through loading dock is a vertical-storing leveler, since – unlike traditional horizontal pit-style levelers – vertical levelers allow the trailer doors to swing open into the building. Advanced vertical levelers will have the same smooth transition as pit-style levelers, but also have maintenance advantages since they store up and out of the way, making it easier to clean the area below.
Additionally, exterior loading dock cameras with the ability to focus on the vehicle restraint can help material handling workers viewing a video screen inside the loading dock if a trailer is properly secured when at the loading dock. This allows them to stay inside the facility, minimizing the opportunity for energy loss, as well as the risks associated with workers being on the drive approach. In a drive-through operation, loading dock doors can remain closed until the trailer is in position.
Minimizing energy loss with high-speed doors
One of the best ways to control energy use is by compartmentalizing spaces within large facilities. Of course, connecting environmentally separated rooms with doors is necessary.
Just like the loading dock, the inside of a facility requires various partitions with tight seals to maintain desired environmental control, optimizing energy use. Whether it's taking processed product from one zone to another or transporting food from a freezer to a loading dock, moving materials between work cells can trigger a massive energy loss.
Traditionally, facilities have used solid-core doors with high R-values to minimize heat transfer. In recent years, however, high-speed, fabric roll-up doors have become a common choice.
Upgrades in high-speed door technology provide options delivering R-value high enough to minimize conduction of heat, while still delivering quick operational speeds. The most advanced high-speed, roll-up doors operate up to 100 inches per second, which helps minimize air infiltration and maintain temperature and humidity levels.
Additionally, advanced high-speed doors with sensors can connect with the IIoT to deliver even more energy saving possibilities.
IIoT helps identify energy usage and reduce energy costs
Smart-enabled equipment (like high-speed doors using sensors) can provide valuable data on energy use. When integrating these products with IIoT, it's possible to learn what parts of the facility are wasting energy. This information allows facility managers to make data-driven decisions to help improve energy usage and reduce energy costs.
For example, facility managers can view energy trends with customized comparisons by day, week, month, or annually on a single door or group of doors. This energy use breakdown can help managers find inefficiencies, such as excessive opens, average cycle time, and false activations (when a door opens and nothing was detected going through). All these events can have a negative impact on energy usage, if not properly monitored.
The most advanced IIoT solutions allow facility managers to go beyond simple measurements of cycles by providing customized comparisons, analysis tools, as well as trend alerts and updates in real-time. Through customized comparisons, facility managers can identify root causes of energy usage and ways to increase the lifetime value of equipment. Facility managers can take immediate action, if necessary, when utilizing IIoT software that provide trends and alerts.
IIoT platforms supported by service teams can assist in analyzing the data to determine unique solutions for specific energy-related challenges.
HVLS fans provide air quality consistency
Inside facilities, HVLS fans can provide benefits that go beyond lowering the perceived temperature. Through a process called "destratification," HVLS fans can help stabilize temperatures from floor to ceiling, allowing the thermostat set point to be more accurate.
HVLS fans mitigate the rising heat effect by destratifying layers of heated air as they gently circulate warm air from the ceiling back toward employees at the floor level. Thus, facilities equipped with HVLS fans reduce the burden on their heating and cooling system and can realize the true thermostat setting at virtually any height in the building.
During warmer months, the same slow destratifying breeze generated by HVLS fans provides comfort for anyone on the ground. According to ASHRAE calculations, studies have shown that the use of an HVLS fan in combination with an air conditioning system can decrease the effective temperature between 10-15°F without lowering the thermostat. According to the U.S. Department of Energy, raising the thermostat 7-10°F for 8 hours a day can result in up 10% savings on energy costs. A similar cooling effect occurs in facilities that don't have air conditioning systems.
For maximum environmental and energy control, as many as 24 ceiling-mounted HVLS fans can be linked into a single network managed by one control station. Fan networking can greatly increase fan efficiency and overall HVAC performance by setting fan speeds to meet the needs of specific areas of a facility that might experience temperature variations due to interior factors, like production equipment, or external factors like ambient sunlight or open loading dock doors.
The controller allows for independent speed adjustments, scheduled start/stop times and the ability to start/stop based on preset temperature settings. It also ensures that fans are only running when they need to, reducing energy use.
Saving energy without hindering productivity
Reducing energy use in a large facility can be done with the right combination of products working together as a system. From loading dock to plant floor, designers and specifiers should consider the following methods to ensure the supply chain is protected:
· Complete the seal at the loading dock with a drive-through application.
· Use high-speed doors to provide access between workspaces.
· Invest in IIoT-enabled equipment to identify energy-saving opportunities.
· Install HVLS fans to ensure consistent temperatures within workspaces.
Proper implementation of these steps can help facilities save on energy costs while ensuring product integrity and bolstering employee efficiency.