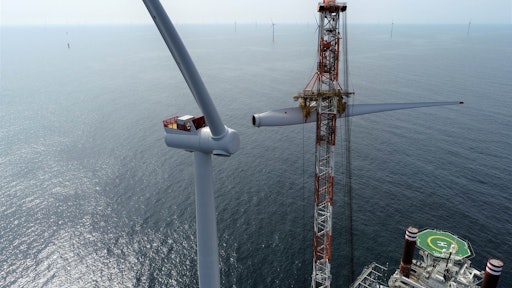 Courtesy of Orsted
Renewable energy company Ørsted targets carbon neutral energy generation by 2025 and now sets out to work with its suppliers to decarbonize the supply chain by 2040.
Companies will have to cut emissions faster and further across their operations and supply chains if the world is to limit global warming to 2.7°F by reaching net-zero emissions in 2050. Ørsted, one of the world's largest renewable energy companies and recently named the most sustainable company in the world, has announced that it will be carbon neutral by 2025 and will reach net-zero emissions across the company's entire carbon footprint by 2040.
Ørsted's carbon footprint is comprised of two parts: The company's own emissions from energy generation and operations; and the emissions from the energy traded by the company and the goods and services in its supply chain. On track to be carbon neutral in energy generation and operations by 2025, the company wants to cut energy trading and supply chain emissions in half by 2032 and then down to net-zero emissions by 2040.
Henrik Poulsen, CEO of Ørsted says: "It'll be challenging to reach a carbon neutral footprint by 2040, and it'll require significant innovation in all parts of our supply chain. Many of the green technologies to be used to decarbonize our supply chain exist but they're not yet cost competitive. With the 2040 target, we want to help drive the necessary innovation forward to mature the green technologies in the industries that supply to us."
Supplier engagement program As Ørsted phases out trading of natural gas and accelerates the build-out of renewables, supply chain emissions will increasingly come into focus, the company outlines in its 2019 Sustainability Report.
To decarbonize the supply chain, Ørsted is now launching a program with the aim of engaging its strategic suppliers in the most carbon-intensive categories of the Ørsted supply chain: the manufacture of wind turbines, foundations, substations and cables. These are produced using steel, aluminium and copper, among other materials, which are energy intensive to extract and manufacture. The second largest source of supply chain emissions is the fossil fuels used by the maritime vessels that transport and install offshore wind components.
"Reducing emissions in the renewable energy supply chain is a significant task. Businesses will need to collaborate across supply chains to cut emissions at the pace and scale demanded by science. We now reach out to our industry-leading suppliers to join forces to accelerate the global green transformation," says Henrik Poulsen.
In its supplier engagement program, Ørsted will ask its strategic suppliers to:
Disclose their own emissions and set science-based carbon reduction targets
Use 100% renewable electricity in the manufacture of wind turbines, foundations, cables, substations and components
Optimize their current vessel fleet and develop a roadmap to power vessels with renewable energy.
Ørsted has more than 22,000 suppliers, with strategic suppliers constituting 50% of the company's total procurement spend. Ørsted will also encourage its remaining suppliers to reduce the carbon impact of their goods and services and is strengthening the sustainability criteria in the company's procurement tenders.
Ørsted's carbon emission reduction targets are science-based targets approved by the non-profit Science-Based Targets initiative (SBTi). The SBTi has validated Ørsted's targets and classified them as more ambitious than a well below 2.7°F trajectory. Moreover, the initiative has preliminarily concluded that Ørsted's targets align with 2.7°F, with SBTi's methodology to assess this alignment to be launched later in 2020.
Targets in Ørsted's decarbonization program
By 2023:
Phase out coal completely. Over the past decade,

Ørsted

has shut down three coal-fired power plants in Denmark. Power plants that play a key role in generating heat to Danish households and industry have been converted from coal to certified sustainable biomass.
One remaining coal-fired power plant will be shut down by 2023.
By 2025:
Carbon neutral operations and energy generation.
By phasing out fossil fuels and installing 20GW of renewable energy, carbon emissions will have been reduced by at least 98% by 2025, as compared with 2006.
Continue to reduce carbon emissions beyond 98% by switching to a fleet of electric vehicles in the company car fleet, in line with the EV100 requirements, and finding other reduction opportunities in the energy generation and operations.
Offset any residual emissions through verified, measurable and additional carbon removal projects.
By 2030:
Build more than 30GW of green energy across technologies - enough to power more than 55 million people.
By 2032
Reduce emissions from energy trading and in the supply chain by 50%, as compared with 2018, to align carbon reductions across the entire carbon footprint with the 2.7°F pathway.
By 2040
Carbon neutral footprint a decade ahead of the 2.7°F pathway by driving out remaining emissions from energy trading and from the supply chain.