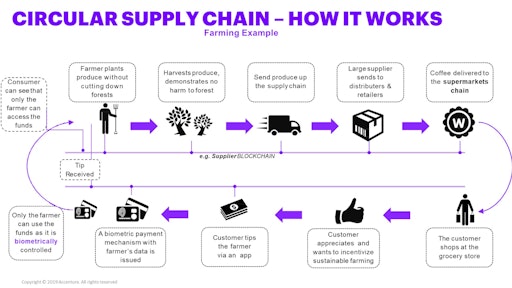 Accenture
Accenture has introduced a circular supply chain capability that leverages digital identity, payments and blockchain to reward sustainable practices of small-scale growers and suppliers. The company is working with Mastercard, Amazon Web Services, Everledger and Mercy Corps to build on this capability and explore solutions that empower consumers, enable transparency and promote financial inclusion for small-scale producers.
"For the 3.4 billion people — almost half the world's population — that still struggle to meet basic needs, we believe that digital technologies are largely untapped. To put more people onto the path from poverty to prosperity, we need to create an ecosystem that streamlines access to education, health, commerce, and more," comments Tara Nathan, executive vice president, humanitarian & development at Mastercard. "Through our work with smallholder farmers in Kenya, India, Mexico and elsewhere, we've deployed digital solutions helping to drive commercially sustainable social impact — and we understand that collaboration is essential for this journey."
Consumers are now beginning to prefer sustainable brands, and having the ability to promote ethical and environmentally mindful practices across the supply chain has never been more important. Previously, consumers had limited ways to connect with small-scale suppliers at the base of the supply chain pyramid and limited opportunities to support and icentivize sustainable practices.
The circular supply chain capability is meant to meet this need by combining blockchain, digital identity and payments technologies to allow customers to identify individual producers who use sustainable methods and financially reward them by direct payment. In addition to empowering customers and connecting them with small-scale producers, the capability is designed to enable producers, manufacturers and retailers to better manage their inventory and reduce waste, create better transparency, ensure the authenticity of produce and provides producers with more-equitable compensation by enabling consumers to reward them directly.
"Our identity capabilities are already empowering millions of users around the globe to access essential services like healthcare, banking and travel. Our circular supply chain capability combines these components with blockchain and expands its application to places and things, which is allowing us to rethink global supply chains," says David Treat, a managing director and global blockchain lead at Accenture. "Through effective public and private partnerships, we can place sustainability and customer empowerment at the heart of global business models and we invite more partners to join us."
By utilizing distributed ledger solutions, the circular supply chain capability is able to benefit large global enterprises, governments and non-governmental organizations by providing a new mechanism for them to track complex supply chains to small originating producers and helping them manage issues relating to accountability, waste and information transparency.
"One of today's most critical challenges is strengthening the resilience of the world's 500 million smallholder farmers, who collectively feed one in three people on earth yet often have a hard time feeding their own families," says Alan Donald, senior director of Technology for Development at Mercy Corps. "Mercy Corps is excited to collaborate with Accenture and bring our experience implementing cutting-edge technology that improves agricultural livelihoods and deep local insights from 40 plus countries to refine and test this capability to help smallholder farmers and producers thrive."