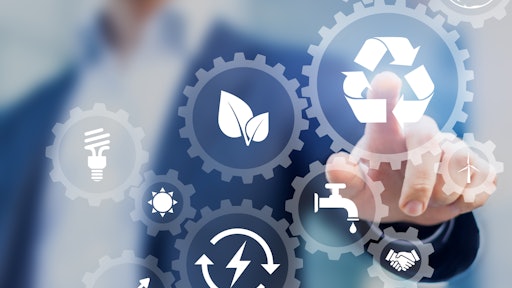 Getty Images
The recent COP27 summit vow that wealthy countries will make climate reparations to poorer ones has generated numerous headlines and debate. Unfortunately, it has distracted attention from the summit's more actionable message; namely, that it is time for industry sectors and organizations to pursue operational changes to improve sustainability.
Put another way, the prevailing lament of COP27 was that organizations and governments have done little to truly impact the climate in line with the goals of the Paris Agreement, even though some have spent years focusing on environmental, social and governance (ESG) reporting and disclosure standards. The call to action was, therefore, for a more direct approach to advancing sustainability by making tangible changes to companies' production processes, energy emissions, waste management, water usage and partner and supplier selection procedures, among other operational footprints.
Yet, despite the increased level of commitment by governments and business groups, many organizations continue to question whether sustainability is a fad. They also wonder the extent to which they should commit resources to it in a slowing economy. Those are the wrong questions. Instead, organizations should be asking themselves if they can afford not to pursue more sustainable operations amid seismic cultural and regulatory shifts occurring across the globe:
Customers are increasingly demanding that manufacturers, distributors, energy companies, data center operators and other organizations enhance sustainability while also improving product quality and speed of delivery. According to one survey, 87% of consumers say companies and brands have a responsibility to protect the planet and its people. Another research found that half of surveyed consumers have backed that sentiment by paying "a premium" in 2022 for sustainable or socially responsible products.
Government agencies, stock market exchanges and accounting boards around the world are requiring companies to make climate-related disclosures. The European Union Council adopted the Corporate Sustainability Reporting Directive, mandating finance-grade, standardized ESG reporting from a significantly larger number of companies than any previous directive. In the United States, the Securities and Exchange Commission is expected to issue similarly game-changing regulations for listed companies in the United States.
Stakeholders continue to pressure public and private organizations alike to adopt ESG policies. A growing number of insurance companies, financial institutions, vendors and communities are taking a company's sustainable practices into account before writing a policy, providing a loan, entering a business relationship or granting incentives.
ESG and operational excellence
Despite these fast-moving developments, emerging terminology and changing attitudes, many operational leaders are recognizing that ESG principals are, in fact, not entirely new. Operational excellence programs geared toward improving quality and efficiency, from the factory floor to the customer service department, have been around since at least the 1970s. It is a short hop from there to seeing how sustainable operational practices can help organizations become more cost-effective, efficient and competitive. Just like ESG reporting can leverage existing financial reporting competencies and structures, operationalizing ESG principles can start at the operational excellence level and expand from there.
Here are several areas that many companies already manage from an operational excellence standpoint and would want to incorporate into their sustainable operations strategy:
Emissions and energy management. Develop strategies for effective energy management to promote carbon reduction and environmental sustainability. Rather than simply comparing utility bills to industry peers, are organizations analyzing data from individual machines to better understand energy consumption and how to improve upon it?
Water management. Leverage advanced analytics, tools and best practices to minimize water use, reduce leakage and/or wastewater and promote reuse. How much water is needed to create a product, and is it possible to reduce the water used by better recipe management?
Waste management. Reduce the environmental impact of operations through reuse, redistribution, reclamation and recycling. How can organizations improve processes and efficiencies to maximize a limited supply of resources?
Sustainable materials and packaging. Monitor consumption and incorporate next-generation renewable materials within products. Where can companies minimize usage and waste production while promoting circularity – that is, transition from using and throwing away materials to reducing, reusing and recycling them?
ESG sourcing and supplier monitoring. Implement sustainable procurement practices and design solutions to assesses and monitor supplier compliance to ESG standards. To what extent do partners consider sustainability important? Do they have their own processes in place to manage energy, water, waste, materials and packaging?
ESG realization and value chain compliance review. Assess the value chain to ensure the operational practices achieve established ESG targets and adhere to regulations. What must an organization do to build and maintain motivation behind a sustainable operations effort when heretofore its focus has been on ESG disclosures and reporting?
Sounds easy, but is it?
The good news is that a sustainable operations strategy focused on resource efficiency, materials reuse and cost reduction is of obvious benefit and can lean on the same tools, processes, strategic partnerships, data and insights that many organizations already possess. The bad news is that, while the opportunity is undeniably there, companies often lack the know-how required to tie this infrastructure to specific ESG industry standards, KPIs and reporting as expected by ESG stakeholders.
Where companies are likely to face the most challenges is in re-tooling to deliver a measurable reduction in environmental impact across their entire value chains. This will boil down to strategic process improvements, to reduce resource usage and environmental impact and data, to report on these improvements. But no action is more urgent today to the operational executive, given the fact that high energy prices, water constraints and a lack of raw materials are unlikely to abate anytime soon. Doing nothing will not only have dire consequences for climate and society, as COP27 leaders are eager to impress. It will also displease regulators and investors and turn away customers, and can throw a complacent, slow-moving organization in a competition ring for diminishing resources where everyone loses.