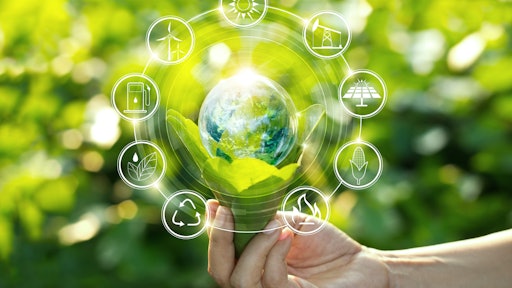 ipopba - stock.adobe.com
The pandemic, natural disasters and other external factors have many company executives rebalancing their global supply chains. The desire for more control and the growing necessity of environmental, social and governance (ESG) programs have quickly moved a circular supply chain from "nice to have" to a strategic corporate objective. Circular supply chains help drive a circular economy, where operational and environmental impact are not only considered, but measured.
In a recent survey, 62% of consumers say they would like companies to take a stand on sustainability, and many domestic companies have embraced this call to action. The benefits of doing so can include an increase in revenue, profits and customer loyalty. But, creating a digital-first circular supply chain with measurable key performance indicators and goals is a complex undertaking that requires senior executives to continuously improve their circular supply chain and its environmental impact. Here are the critical components of a circular supply chain.
Circular supply chain begins with product design
The circular supply chain journey starts before production. Thoughtful product design considers all ensuing downstream operations from components sourcing to product lifecycle end in an attempt to build a more sustainable product. Design is inclusive of both product and packaging. Effective sourcing management, using fewer components and consideration for useful life of product helps reduce and predict resource costs and impact. Leading technology companies and consumer brands building and measuring their circular supply chain's impact provide information online regarding product components, percentage of recycled content in products and packaging and overall environmental impact.
Circular supply chain impacts operations, manufacturing and fulfillment
Supply chain shortages, natural disasters and factory tragedies illustrate the importance of geographically balanced operations. Seeking control, many companies are relocating production facilities nearshore or onshore to shorten lead times and gain visibility into data and labor practices. While doing so, companies should incorporate build to order, flexible production lines and hyper-automation to decrease costs and improve efficiency and profitability. Leading operators now build Smart (technology driven), eco-friendly buildings.
Similarly, companies with digital-first fulfillment centers are more profitable and competitive in today's market. Key warehouse considerations for company-owned or third-party logistics providers (3PLs) include electric forklifts, robotics and energy efficiency. Strategic planning, machine learning and predictive analytics allow companies to ship primarily by boat or rail for fewer carbon emissions. From warehouses to last mile, current supply chain labor demand is greater than supply. This has helped highlight the importance of compliant and comfortable working conditions to attract and retain the best operations talent.
The last mile and reverse logistics
Every product from a car to a vaccine has a last mile before final delivery. The last mile is the most expensive part of the supply chain, accounting for up to 30% of the total shipping expense. Shippers need to carefully plan the last mile across varied destinations like a city center or rural area. Cost-effective and a more environmentally friendly last-mile delivery includes optimized routing and minimal, recyclable product packaging (enabling shippers to fit more products in a vehicle) and green delivery trucks.
Companies can reduce empty miles by leveraging the same vehicles for returns to the distribution center or by leasing out their empty miles as an extra revenue stream. Brands with an extensive store network can work with their logistics providers to deliver product in reusable totes to deliver product to stores and return it to the fulfillment center.
Once overlooked, reverse logistics programs are required to drive customer loyalty and close the loop for a truly circular supply chain. All B2B and D2C companies should have a consumer-facing returns experience that provides customers with a clear returns policy. Leading reverse supply chains include trade-in and repair programs, refurbishment and re-commerce. Trade-in and repair programs drive consumer loyalty, while re-commerce channels create new revenue streams. Additional channels like recycle and donate support product lifecycle end or a second product lifecycle. Other reverse logistics programs include spare parts management and fulfillment and responsible disposal of products.
Most supply chain executives use strategic partnerships to close the loop on their circular supply chains. Over 50% of 3PLs offer returns management and reverse logistics as a service. Also, over 75% of supply chain organizations are collaborating with at least one of the following groups -- startups, specialist recyclers, foundations and international groups.
Data visibility and reporting
It is critical to emphasize the importance of incorporating data visibility and predictive analytics across supply chains. In a recent NTT DATA research study, more than half of 3PLs (53%) said they can provide real-time data to clients in 50% or more of their supply chain services. Comprehensive ESG programs can measure the supply chain's outputs and impact. Setting up end-to-end data collection, analysis and dashboards starts in the design phase and concludes at product lifecycle end. In the absence of comprehensive data visibility, companies cannot create accurate ESG reports that show progression toward their circular supply chain goals. This leaves gaps for regulators and watchdog consumers to examine.
What's next?
Global industries like apparel and consumer electronics forecast their compound annual growth rate to be at least 8% over the next 5 years. To meet demand and increase customer loyalty, companies need to strategically balance their supply chain and build in circularity. Those that do not will be at a competitive disadvantage and risk falling short of industry or government compliance regulations.