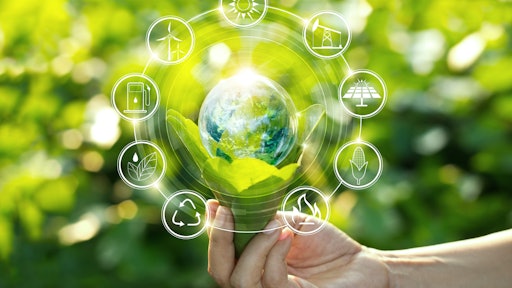 ipopba/stock.adobe.com
A recent survey by Avetta on ESG of 45 companies from various industries surprised me. Most executives who responded mentioned how important ESG was to their company. In fact, 79% of respondents listed employee health and safety as "very important," and 63% said managing and reducing the environmental footprint of products and services is also "very important." But companies are still missing a pivotal opportunity as only 39% of respondents said ESG supply chain issues were "very important."
Supply chain management is a critical component of ESG strategy and efforts. According to the Carbon Disclosure Project (CDP), the average supply chain provides 5.5 times greater emissions than operations. The U.S. Environmental Protection Agency found that supply chain industries generate more than three-quarters of greenhouse gas emissions. And, as Scope 3 emissions management comes to the forefront of carbon requirements, 70-90% of companies' emissions lie in their supply chains. Neglecting ESG issues in the supply chain hurts the environment and damages companies' reputations, costing money and impacting business continuity.
On the positive side, no company said ESG supply chain issues were "not important." And, at least 74% of respondents gave some importance to ESG in the supply chain.
Other measures of ESG were positive as well—48% of respondents said diversity and inclusion, and 43% said human rights considerations were "very important." While an additional 22% rated diversity and inclusion, and 39% said human rights considerations as "fairly important."
The critical discovery for every company is that supply chain sustainability should be integrated across the company's broader ESG strategy and not isolated to just the supply chain or procurement functions or neglected altogether.
Somewhat surprisingly, a significant amount of pressure to improve sustainability is coming from investors. Some of the world's largest institutional investors are influencing their investment companies to address material ESG issues in the supply chain through numerous channels: public statements, shareholder proposals, proxy voting, direct dialogue, policy support, divestments or shareholder activism. In 2021, more than 590 investors with assets worth $110 trillion asked thousands of portfolio companies to disclose company ESG measures using CDP questionnaires.
While external pressure may prompt initial movement, there is also opportunity in expanded ESG considerations in the supply chain. The Business & Sustainable Development Commission concludes companies can find opportunities worth $12 trillion from achieving UN Sustainable Development Goals by 2030. Nature-positive businesses could unlock opportunities worth $10 trillion, says the World Economic Forum. We've also seen the direct effects of integrating ESG principles into core business practices, as more ESG mature companies weathered the unprecedented global shut down of the pandemic and supply chain disruption with greater success than less mature competitors.
So, what can companies do to improve their ESG efforts in the supply chain? Consider these three examples of companies tackling their supply chain issues.
A global building materials business
A global leader in sustainable building materials and solutions focuses on six priority areas—safety, environment, people, products, collaboration and integrity to contribute toward a sustainable future. The company has 118,000 suppliers in 30 countries.
The company has established the following sustainability goals:
Eliminate fatalities
Carbon neutral by 2050
Reduce carbon intensity of cement by 33%
33% female leadership by 2030
50% of revenue from products with sustainability attributes by 2025
The company created a "know your supplier" due diligence system, requiring suppliers to sign a Code of Conduct. They also syndicate third-party supplier data for financial risk, sanctions screening, adverse media and other ESG issues. To evaluate suppliers and opportunities, the company has created a heat map to classify suppliers into 12 criteria.
An integrated energy company
As a part of its Supply Chain Social Responsibility (SCSR) strategy, an integrated energy company aims to become a premier utility industry supply chain organization that consistently operates with social, environmental and economic responsibility.
The company has formed a supplier diversity and sustainability team with the following objectives.
Speed delivery of the fulfillment of its ESG strategy
Support investor capital placed toward ESG investments
Align the corporation to the company's supplier diversity and development goals
Develop and execute an integrated supplier diversity and sustainability strategy
Provide governance and oversight
In addition, the company has built an integrated supply chain scorecard that measures ESG KPIs for the supply chain and has added sustainability KPIs to its vendor scorecards.
Large European manufacturer of building materials
A large European manufacturer of building materials says its 2030 sustainability commitments include responsible sourcing and supplier sustainability. The company is increasing supply chain transparency to measure and improve its sustainability performance through its Global Supplier Sustainability Initiative.
The company performs both sustainability assessments and on-site audits. The assessment phase evaluates adherence to UN Global Compact principles, its Supplier Code of Conduct, and local regulations. On-site audits delve deeper into suppliers' sustainability practices.
The company knows small-scale suppliers lack the capacity and budget to cater to more extensive ESG management programs. The company addresses this issue by onboarding these suppliers and requesting compliance with only the most essential ESG requirements.
While individual company sustainability has been recognized for years, interest in supply chain ESG is growing exponentially. Not only is ESG imperative to customers, but it's also being monitored by executives and investors. In addition, ESG efforts are moving beyond just checking off items on a list to finding sustainable, innovative solutions that both apply to and provide benefits for everyone for the long term. Watch for more companies to implementing supply chain sustainability measures in the coming months and years.