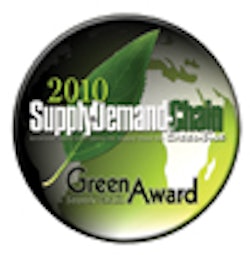 By the Editors of Supply & Demand Chain Executive

Amidst all the belt-tightening of the post-Great Recession economy, sustainability has remained an important priority for a large number of enterprises, as evidenced by a number of studies released this year that found "green" and sustainability high on the corporate agenda. For example, the "2010 Global 500" report from the Carbon Disclosure Project found that 85 percent of leading global companies surveyed have board- or senior executive-level responsibility for climate change and nearly half now embed climate change initiatives into the overall business strategy and across the organization. A review of other studies from this year produced the same message: Leaders are forging ahead with a range of sustainability initiatives that are having a direct impact on the supply chain.

With the 2010 Green Supply Chain Awards, Supply & Demand Chain Executive magazine is recognizing these leaders for their work in making sustainability a core part of their supply chain strategies. The Awards also highlight a variety of approaches to sustainability and the range of strategies and solutions that companies are employing to incorporate sustainability into the supply chain. And, finally, the Green Supply Chain Awards puts the spotlight on concrete results that many of these leaders are seeing thanks to their sustainability initiatives.

Supply & Demand Chain Executive collected 120 submissions for the 2010 Green Supply Chain Awards through an open nomination process. Nominations were made in two categories: companies implementing sustainability strategies within their own supply chains, and providers of supply chain solutions and services that are assisting their customers in achieving sustainability goals. The magazine's editorial staff reviewed the submissions based on the clarity and content of the goals and strategy, the extent of the steps being taken, and the impact of the results to date and projected results.

The recipients of the 2010 Green Supply Chain Awards are listed below, along with summaries of their projects.

Featured Leader
Kaiser Permanente Makes Environmental Stewardship a Core Business Value

Headquartered in Oakland, Calif., Kaiser Permanente (kp.org) is the largest nonprofit healthcare system in the United States, with more than $40 billion in revenues and $14 billion in spending with suppliers. Driven by its organizational mission to improve the health of its members and the communities it serves, Kaiser Permanente has put sustainability at the center of its business and its supply chain strategy. "Our mission and principles, and our focus on prevention and health promotion, make environmental stewardship a natural core business value," says David Hearn, vice president for IT and facilities procurement and supply, environmentally preferable purchasing, at Kaiser Permanente.

The governance structure for sustainability at the organization is led by its Environmental Stewardship Council, the stated mission of which is to maximize the organization's ability to affect positive change in reducing health risks associated with environmental factors. The Executive Committee under the Council features C-level representation, including the chief procurement officer and chief compliance officer, as well as the environmental stewardship officer. The Council's Working Group includes functional representation across Compliance, EH&S, Facilities Services and Procurement & Supply, but also Brand Marketing, Human Resources and medical groups, so that doctors and nurses are part of the process and ensure a holistic view as the organization looks at solutions.

Within Procurement & Supply, sustainability is managed by the CPO (vice president, procurement and supply) and the executive director for procurement and supply, as well as the environmental supply chain manager. Having a dedicated staff member who has subject matter expertise in environmental issues within the healthcare setting enables deeper and broader penetration of the program within Procurement & Supply. In addition, sustainability is managed as both a top-down process, with the requirement of annual goals and performance against expectations; and bottom-up, with individuals encouraged and enabled to identify opportunities that they have the power to impact.

Kaiser Permanente's environmental team has documented significant benefits from its various initiatives, publishing 14 internal success stories in 2009 alone to inform key audiences within the organization of the results. Those accomplishments included energy conservation (61 million kWh/year), fuel conservation (19,500 gallons), plastics savings (330 tons), waste eliminated (2,050 tons), and mercury and PVC reduction. In all, the Procurement & Supply team documented $20 million in savings as a result of the sustainability initiatives. "Many people think it costs you extra to have environmentally preferable products or services, which is not the case at all," notes Hearn.

In May 2010 Kaiser Permanente extended sustainability into its supply chain when it became the largest healthcare organization to announce that it would require its suppliers to provide environmental data for $1 billion worth of medical equipment and products used in its hospitals, medical offices and other facilities. Eventually the scorecard is expected to influence as much as $10 billion in medical purchasing. "Kaiser Permanente recognizes we can improve health today and for the future by taking a close look at the products we purchase," said Dean Edwards, CPO with the organization, in announcing the scorecard. "With Kaiser Permanente's size and influence, the work we're doing is continuing to move the industry."


ADTRAN Builds Sustainability into Its DNA
ADTRAN (Huntsville, Ala., adtran.com), a provider of networking and communications equipment for use in the "last mile" of telecommunications networks, has undertaken a variety of sustainability initiatives, managed by its Green Communications Committee. In supply chain, the company has requirements for its subcontractors to be TL9000 and ISO 14001 compliant and to comply with a code of ethics for sustainability. The supply chain group also has reduced airfreight and added shipping lanes to reduce the company's carbon footprint. And ADTRAN has worked to incorporate sustainability into the DNA of the company's culture, embracing Design for Green and reengineering packaging design to be lighter and denser, and to utilize eco-friendly packaging material.

Black Diamond Equipment Reduces Its Carbon Footprint
A leading brand in climbing, mountaineering and ski gear, Black Diamond Equipment Ltd. (Salt Lake City, blackdiamondequipment.com) has leveraged a global distribution center in Zhuhai, China, to consolidate product for onward shipping to the company's regional node distribution centers in Europe and the United States, and to independent distributors worldwide. Consolidation at the China-based global DC allows Black Diamond to optimize containerization of goods, and to minimize the total handling and transportation of goods. To date, Black Diamond has seen a 45 percent decrease in the volume of freight destined for international markets that is shipped via its US distribution center before on-forwarding to global markets, a 60 percent decrease in the volume of freight shipped via air, and an increase in the total volume of freight that ships direct to customers from the global DC, which minimizes inland transportation. In the future Black Diamond plans to introduce similar programs in other global markets with an eye towards minimizing its carbon footprint through shipping efficiency.

Cargill Commits to Sustainable Palm Oil Production
Minneapolis-based Cargill (cargill.com) announced in July that it is collaborating with the World Wildlife Fund-U.S. (WWF) to undertake an assessment of its palm oil suppliers in Indonesia as part of the company's commitment to sustainable palm oil production. The assessment is aimed at help to gauge current progress among Cargill's suppliers in implementing the principles and criteria established by the Roundtable on Sustainable Palm Oil (RSPO). The company said it would use the assessment as a basis to address gaps against the RSPO standard and will work with suppliers to implement solutions to improve sustainable palm production practices.

Cathay Pacific Airways Works with Suppliers
Hong Kong's flag carrier Cathay Pacific Airways Limited is incorporating sustainable purchasing and responsible supply chain practices throughout its procurement process and into its supply chain. Its approach on sustainable procurement has been to encourage suppliers to improve their sustainability practices through capacity building and sharing knowledge and best practices. At the same time, the international airline has demonstrated a strong preference for suppliers that publicly report upon and measure their environmental impact and seek to improve the impact of their operations upon the environment. It also has a strong preference to select suppliers whose goods or services can make a significant difference to reducing the company's environmental impact.

Celestica Takes a Total Cost of Ownership Approach
Electronics manufacturing services provider Celestica (Toronto, celestica.com) has deployed a Total Cost of Ownership program through which its measures Celestica-sourced suppliers in a number of categories – going well beyond the "invoice price." Sustainability is an important aspect of this measurement process and one of the elements required for inclusion as a Celestica preferred supplier. The sustainability element includes product bill of material assessments on design for recycling; design for environment friendly packaging; design to eliminate hazardous substances; and design utilizing carbon footprint analysis.

Cisco Systems Rests Sustainability on Four Pillars
Networking technology leader Cisco Systems (San Jose, Calif., cisco.com) has put in place a value chain sustainability strategy that applies four fundamental pillars of sustainability to every state in the lifecycle of its products. The four fundamental pillars labor rights; human health & safety; effective use & preservation of natural resources; and product integrity & security. The company's objective is to embed sustainability into its routine business practices, across and though its value chain. In terms of metrics, Cisco has adopted widely accepted metrics and methodologies that also resonate with its suppliers, industry peers and stakeholders.

Half Price Books Gets Smart about Transportation
Discount bookseller Half Price Books (Dallas, halfpricebooks.com) is a SmartWay EPA partner and the founder of the environmental Web site BecomeGreen.org. The company works with transportation partner JB Hunt, who stakes a claim as having the most fuel-efficient trucking fleet in the United States due to its aerodynamic trucks and no-idle capabilities. Half Price Books utilizes Manhattan Associates SCALE software to manage its complex distribution process and keep its supply chain as efficient as possible.

ID Label Diverts Waste
Lake Villa, Ill.-based ID Label, Inc. (idlabelinc.com) is diverting150 tons of waste (90 percent of its annual waste) to a recycling facility after installing a waste compactor and waste matrix sucker system. The cost is a wash compared to using a waste removal company to dump the waste in a landfill. Greenwood Fuels in Green Bay, Wis., transforms the waste into fuel pellets that are sold to the utility companies. Bonus: The fuel pellets burn cleaner and more efficiently than coal.


Novartis Animal Health Eliminates Paper
Deriving its name from the Latin words novae artes meaning "new skills," Novartis Animal Health (Greensboro, NC, ah.novartis.com) is learning new ways to reduce its environmental impact through the automation of its B2B e-commerce transactions. By outsourcing this program to GXS, the company has eliminated the use of paper POs, ship notices and orders, and invoices – to the tune of nearly 17 tons of paper a year at its US location alone.

Novation Looks to the Supply Base
Healthcare supply contracting company Novation (Irving, Texas, novation.com) has asked its more than 500 suppliers to incorporate sustainability into their company practices, advising them to consider ways to implement eight specific sustainable practices. Those practices include minimizing packaging; using recycled and recyclable content in products and packaging; supporting device re-manufacturing; disclosing all information regarding the chemical and material composition of products and reducing the use of materials of concern; reducing the amount of energy and water in manufacturing and distribution; investing in the use of alternative energy sources for manufacturing and distribution; moving toward sustainable and renewable raw materials; and supporting organizations that extend the life of surplus equipment and supplies.

OfficeMax Manages Energy Demand
Office supplies company OfficeMax (Naperville, Ill., officemax.com) embarked in 2005 on an aggressive plan to significantly reduce its carbon footprint by conserving energy while delivering operational efficiencies and cost savings. The company has focused on energy demand management, for example, by investing the capital required to retrofit all its retail stores with t-8 lighting with electronic ballasts. Energy management systems (EMS) were also installed in all OfficeMax locations, which allow Mike Williams, senior director of strategic sourcing, and his team to centrally manage lighting and HVAC. Results to date: CO2 emissions overall declined 37 percent from 2005 to 2009, while CO2 emissions per square foot declined 44 percent over the same period. Kilowatt per hour (kWh) usage per square foot dropped 45 percent in that time.

PUMA Commits Its Strategic Suppliers to Sustainability Reporting
German sports apparel company PUMA (puma.com) is requiring its top suppliers in South East Asia and other major sourcing regions to issue their own sustainability reports from 2011 forward as the company works to increase transparency as well as social and working conditions in its supply chain. Strategic PUMA suppliers based in China, Vietnam, Cambodia and other countries — which together produce together more than two-thirds of all PUMA products consumed — are receiving Global Reporting Initiative (GRI)-certified training on transparent measurement and reporting on their sustainability performance using the GRI G3 Guidelines, the world's most widely-used framework for sustainability reporting.

Unisource Worldwide Asks Suppliers to Complete Sustainability Scorecard
Unisource Worldwide (Norcross, Ga., unisourceworldwide.com), a distributor of paper, packaging and facility supplies, is now asking its suppliers to complete a sustainability scorecard to ensure that environmental responsibility is being practiced and assessed according to standard industry procedures. Unisource's program is based on the Walmart Sustainability Scorecard, which was first announced in July 2009 and is now viewed as best practice in the area of corporate sustainability, according to Unisource. This environmental appraisal tool offers an in-depth look based on 15 questions Unisource is asking of its suppliers. The scorecard serves as a comprehensive response for the information required to complete the sustainability assessment and explores in great detail the business case and potential benefits for companies to measure and manage their environmental impacts. Unisource also hosts a "green" Web site at www.unisourcegreen.com.

More Companies Implementing Sustainability in Their Supply Chains and Operations

Saddle Creek Corporation (saddlecrk.com)
Spinnaker (spinnakermgmt.com)
The Timberland Company (timberland.com)


Green Supply Chain Enablers


Brightpoint (brightpoint.com) has entered into an agreement with a company called Flipswap to offer cell phone recycling and trade-in service to Brightpoint customers throughout 26 European countries. The agreement also allows Brightpoint to perform a variety of supply chain services for Flipswap, including cell phone retrieval, inbound receipt and inspections, and picking, packing and shipping of devices. Since launching in 2005, Flipswap has facilitated the trade-in of more than 2 million cell phones, keeping the equivalent of 80 tons of solid waste – much of it toxic—out of landfills.


Cass Information Systems, Inc. (cassinfo.com) provides solutions through the utilization of technology to obtain cost and processing efficiencies for its customers – and also to help its customers in meeting green supply chain goals. These solutions include accelerating the amount of electronic interchange between the customer, their freight carriers and Cass. The direct result is a significant reduction of paper transactions in the areas of shipping documents, billing (freight invoices), payment transactions, and information delivery. These are accomplished without sacrificing controls and accuracy.


DSC Logistics (dsclogistics.com) has made sustainability a core element of its supply chain strategy and part of its "Promise to Customers." ("We adopt practices that promote the responsible use of resources throughout our company and we align our efforts with your sustainability initiatives.") One of the underlying strategies used to execute on sustainability goals is the company's ongoing work with customers on Lean objectives and network design for greater efficiency. Results in these areas provide numerous combined benefits.


eZCom Software Inc. (ezcomsoftware.com) notes that the EPA's "The Lean and Green Supply Chain: A Practical Guide for Material Managers and Supply Chain Managers to Reduce Costs and Improve Environmental Performance" highlights that suppliers should incorporate tools that will increase data accuracy and processes that can be used to help reduce inventory and improve product cycle flow. eZCom offers a software-as-a-service (SaaS) EDI solution, Lingo, that enables suppliers to exchange business critical data such as orders, shipping manifests and inventory electronically, without paperwork, improving overall data accuracy and thus reducing inventory levels and product waste.


Global4PL Supply Chain Services (global-4pl.com) believes it's all about efficiency. "Sometimes companies want to be greener but they can afford it," says Sergio Retamal, founder and president of Global4PL. "We simply need to help them achieve a greener supply chain while reducing their costs, which ensures sustainability of the projects." Global4PL has worked on optimization projects that cut the waste and movements of parts back and forth, as well as repackaging projects that reduce the space needed to move product, which means fewer trucks to move the same amount of product.


IHS Inc. (ihs.com) advises that the past, present and future of Product Stewardship and Compliance – matters like RoHS, REACH, and Conflict Minerals – each bring unexpected volatility upon otherwise natural supply and demand patterns. Benefits of rationalized, central supplier and parts portfolios are well documented. Achieving this internally, then adding transparency around materials used in a company's products, could be the difference between risk from undetected supply chain failures or reward from responsiveness to customers, consumers and regulatory authorities.


Image Microsystems (imagemicrosystems.com) is a reverse logistics provider for IT and consumer electronics products. By using Image Microsystems for asset recovery and e-waste recycling, companies also ensure they stay true to their green supply chain mandates. Image Microsystems also invested several years of experimentation and millions of dollars to create a technology that, called MicroStrate, that transforms dirty e-waste plastic into a medium that can be compression molded and used in a variety of applications.


JDA Software Group, Inc. (jda.com) offers its Supply Chain Strategist (SCS) solution, which performs optimizations while considering carbon emissions, sustainability and associated constraints. While other tools and applications capture carbon emissions, SCS provides features to actively optimize supply chain networks with carbon emission constraints, carbon taxes and cap and trade structures. It is used in diverse industries, including discrete and process manufacturing, retail, consumer goods and logistics providers.


LOG-NET, Inc. (log-net.com) offers free international, multi-modal supply chain tools that supply chain executives and educators use to understand how their decisions impact carbon emissions in a global supply chain. The company also stakes a claim as the first to provide a Web-based tool to perform large analytics of carbon creation on domestic and international supply chains.

ModusLink Global Solutions (moduslink.com) has worked with some of the world's largest high-tech and consumer electronics companies on creating sustainable end-to-end value chains. ModusLink says its clients now use sustainability as a competitive and strategic advantage, saving money and allowing for enhanced flexibility within the supply chain through optimized configuration. The company's expertise in sustainability was utilized by the International Organization for Standardization (ISO) this past June to help determine global guidelines for sustainable packaging.


Murphy Warehouse Company (murphywarehouse.com) is a 105-year-old, family business that takes a long-term perspective on sustainability. It started its sustainability program in the late 1980s with lighting retrofit programs, and it moved on to planting the first of four native prairies in 1994, and to solar power on roofs in 2010. Just one example of results: Murphy Warehouse greenhouse gas emissions are significantly lower than the national average for warehouses – as much as 87 percent lower.


OB10 (OB10.com) is committed to driving paper out of the procure-to-pay process with its e-invoicing network that automates and streamlines back-office accounts payable procedures in a manner that is environmentally prudent. This also makes good financial sense because it reduces the errors associated with manual data entry processes and eliminates the related postage costs – which can be significant for global companies that produce millions of invoices each year. OB10 also launched an environmental program to recognize its customers who are taking significant steps to positively impact the environment by eliminating paper from their A/P processes.

Total Logistic Control (totallogistic.com) firmly believes that some of the best "green" achievements that it help its clients to achieve start with the design of the solution. To that end, TLC's staff of supply chain engineers use some of the latest and most advanced supply chain optimization tools available in the industry to choose the proper location for distribution centers and manufacturing locations across their supply chain, and use street-level route optimization and load consolidation software to help clients make more efficient deliveries with fewer trucks.

More Green Supply Chain Enablers

4flow AG
Aspen Logistics, Inc.
Basware
Brightstar
CaseStack
CHEP Equipment Pooling Systems
Container and Pooling Solutions
Converge
D.W. Morgan Company
Damco International
DHL Express
e-LYNXX Corporation
EcoVadis
Evergreen Line
Firefly Technology Corp.
Geodis Wilson
Global eProcure
Horizon Lines, Inc.
INSIGHT, Inc.
LeanLogistics
Maersk Line
National Retail Systems, Inc.
Norfolk Southern Corporation
Omnify Software
Penske Logistics
Ryder System, Inc.
SciQuest
Source4Style
Strive Logistics, LLC
SYSPRO
Trade Wings
Transplace
Wallenius Wilhelmsen Logistics
Watson Land Company
YRC Worldwide


Companies in this article