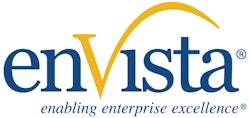 Los Angeles December 18, 2002 enVista, a provider of logistics and transportation cost management solutions, is partnering with systems integrator DigiTerra to provide companies with complementary supply chain, logistics and transportation cost management services.

DigiTerra, based in Indianapolis, offers integration services for such e-business systems as enterprise resource planning, customer relationship management and supply chain management.

enVista, which debuted earlier this month, will provide DigiTerra customers with two transportation cost management services, ShipINFO and RateINFO.

ShipINFO provides a tool designed to help companies close the gap between shipping and delivery. enVista said the solution proactively manages company's freight and carrier providers' service and performance. By having access to all shipping information in one central location, DigiTerra customers will be able to monitor their shipments minute by minute.

RateINFO is a transportation cost management service designed to help companies reduce their parcel and less-than-truckload (LTL) shipping costs. By analyzing a company's shipment profile, carrier incentives and tariffs, enVista identifies specific ways to pare down shipping expenses, outside of those provided by the carriers.

"DigiTerra is committed to offering the range of services and solutions our clients need to make the most of their IT investment," said Davison Schopmeyer, DigiTerra's vice president and practice leader of supply chain consulting. "By partnering with enVista to include transportation cost management services, we provide another avenue for our clients to reduce cost and increase profitability."