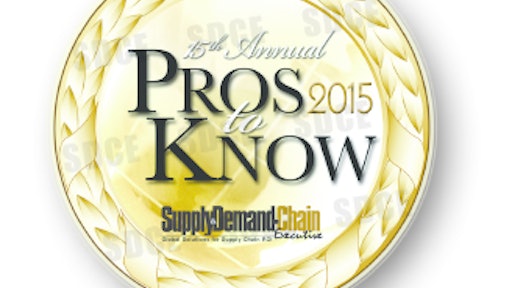 As you know, the March issue of Supply & Demand Chain Executive is devoted to our Pros to Know. Unfortunately, due to a confluence of issues, a number of the winners who were to receive expanded listings did not get them. What follows gives them their due. We apologize for this serious mistake and already have put into place a number of checks and balances to ensure it doesn't happen again. We deeply regret this error.
Barry Hochfelder, Editor
PRACTITIONER PRO TO KNOW
Jake Barr, CEO, BlueWorld Supply Chain Consulting
Barr spends a great deal of time consulting with companies and demonstrating how following three simple tactics can be game changing to their results: 1: Drive visibility of the supply chain across the enterprise (both what is owned and what is supplier or partner managed). 2: Implement capability to leverage visibility to potential demand/supply exceptions in near real time for trade off decisions on cost/cash/service/margin. 3: Redesign the organizing model to eliminate lag time in decision making and conserve precious capital (human and monetary). He stresses that aligning the supply chain strategy to that of the business objectives is vital.
PROVIDER PROS TO KNOW
Dave Lindeen, Senior VP of Sales, Corcentric.
Lindeen has long understood that what goes on "behind the scenes" is a vital part of making the entire supply chain function at its highest level. To this end, he has worked closely with procurement professionals and their suppliers to accelerate and ensure accuracy in the entire procure-to-pay process. His involvement has given supply chain executives the freedom to focus on more strategic issues, confident that all necessary information, data, and payments are communicated between parties.
Peter Edlund, Senior VP of Global Marketing, DiCentral.
Over the past 14 years, Edlund, a founding member of DiCentral, has helped transform the firm from a small EDI company to a robust supply chain solution provider with a global presence. The greatest challenge facing customers today, he says, is meeting and exceeding their demands for collaboration in the supply chain. Companies are struggling to effectively collaborate with their business partners, both large and small, but those that choose this route become rapidly scalable and able to accommodate their customers' ongoing B2B integration requirements with relative ease. This, in turn allows them to focus on other critical supply chain items like sourcing and transport.
Thuy Mai, Founder and CEO, DiCentral
A good supply chain is comprised of tools that provide speed, efficiency and flexibility. Companies of all sizes need these tools to achieve and enjoy the best supply chain. From Mai's perspective and an EDI standpoint—DiCentral develops these tools to enable its clients to act quickly with increased insight, efficiency, and flexibility. So it's a matter of developing the right tools for the right companies that do the right job at the right time. And that is what Mai and his team strives to do to ensure the best possible supply chain experience for clients.
Geoff Annesley, General Manager, Semiconductor, E2open
Every company is trying to improve quality and reduce costs, which has been the same mantra for the last 40 years. But, many companies keep making the same mistake, Annesley says, making it next to impossible to achieve this objective. They build their supply chain without thinking about suppliers. As a result of this one-sided approach, there's a major disconnect between the customers and their suppliers, and they're simply out of sync. Overcoming this hurdle means having the right tool in place to bring both of these key players into alignment or processes won't be manufacturing-friendly.
Pawan Joshi, VP Strategy, E2open
Throughout his career, Joshi has helped companies deploy innovative supply chain models and leverage technology to support them. By utilizing his product and technology experience and his supply chain training, he is extremely effective at bringing IT and operations teams together to address complex supply chain needs and develop a roadmap for continuous innovation. He has worked in diverse industries with companies like Avon, Celestica, Seagate, Vodafone, IBM, Lenovo, HP, Motorola Solutions, and Cisco, and excels at engaging with customers and prospects and quickly diagnosing both the challenges and opportunities in their supply chains.
Steve Lykken, VP of Customer Solutions, E2open
With a wealth of knowledge in supply chain management, Lykken has the ability to quickly identify the crux of a complex problem and formulate pragmatic solutions. His peers regularly credit him as a major contributor to their respective companies' rapid growth. He is committed to helping customers develop solutions that gain visibility into and control over their trading networks through the real-time information, integrated business processes, and advanced analytics that the company provides. Lykken has also successfully expanded customer bases in past roles at icon-scm and Agile Software, where he led solution positioning and pre-sales activities, built and maintained customer executive relationships, and built market awareness.
Gavin Murphy, EVP and General Manager, Entercoms
As a supply chain professional, Murphy sees the value in collaborating with clients at multiple levels—from people working on the shop floor to the C-Suite. He has a keen aptitude for understanding their unique needs, challenges and pain points. His inclusive approach not only ensures a greater depth of knowledge about his clients' businesses, it lays the foundation for their confidence and participation in their mutual quests to address the increasingly complex supply chain challenges businesses face today.
Rahul Singh, Ph.D., Co-founder, Chief Strategy and Solutions Officer, Entercoms
Singh and his technical staff, the world's largest concentration of service supply chain analytics experts, routinely engage with Fortune 100, Oil & Gas, High Tech and Industrial Equipment companies to deliver an end-to-end process for aftermarket supply chain management enabled through a proprietary control tower platform. The control tower synchronizes disparate data and uses predictive modeling techniques to provide visibility across functional lines increasing the velocity of decision-making and delivering improvement in both operational to financial metrics.
Sergio Retamal, President and CEO, Global 4PL
To quote Retamal: "In my opinion supply chain is already at the core of the strategy of most companies. The current challenge of the supply chain function is that it has not reached the C-Level as much as it should have. The COO position is a natural position for the ranks of the supply chain management, thus it is not just a problem of aligning strategies, but rather that supply chain professionals have the capacity and experience to set sound and effective strategies for their company. Global4PL's challenge is to make sure that companies understand the raw upper management—C-Level management—on their own supply chain operations."
Ryan Sheehan, CEO, Invata Intralogistics, Inc.
Sheehan has a passion for purpose-built warehouse automation solutions that provide lasting financial and strategic advantages to his clients. Uncompromising in his quest for the most efficient solution to logistics challenges, he employs advanced technology and algorithmic-rich software to achieve the millisecond performance standards that are the hallmark of Invata automation systems.
Meredith Marshall, Procurement Implementation Manager, Puridiom
Key challenges for customers in the coming year include gaining respect, bringing in more spend under management and building key online relationships, Marshall believes. Respect and relationships are developed over time through positive relationships and experiences, but bringing spend under management is a primary component in making these happen. A customer recently contacted her to begin the implementation of incorporating operational expenses into their Puridiom application. It was discovered that this spend was being completed by multiple means, some just on a piece of paper. By consolidating all employees requests to one platform visible to procurement, the customer is now better able to utilize spend on office supplies using the resources with qualified, preferred online suppliers for purchases.
John Costanzo, President, Purolator International
Since becoming President in 2001, Costanzo has taken Purolator International from a small U.S. freight forwarder to a leading provider of cross-border services that offers expedited and economy Parcel and Freight Services, Transportation Management, Customs Brokerage, Warehouse and Returns Management, and more. He has also successfully built Purolator's U.S. growth and brand outside of Canada—opening 20 new regional branches in the U.S. since 2001, giving Purolator International a presence in 30 U.S. markets. While investing in this market expansion, Purolator International has maintained profitability and increased revenue by 40 percent (since 2011). He has also been instrumental in the development of new products and services to meet evolving customer needs.
Cliff Otto, CEO, Saddle Creek Logistics,
Saddle Creek Logistics Services has achieved extraordinary growth in recent years by delivering integrated logistics solutions tailored to address customers' unique needs. Company CEO Cliff Otto has been a driving force for that growth. Since joining the company in 2001, he has helped to guide Saddle Creek's transformation from a mid-sized, regional 3PL to a national logistics powerhouse. The company's integrated service offerings have evolved to include warehousing, transportation, packaging, fulfillment and more. Saddle Creek also has expanded into new industries and markets to meet the needs of its growing customer base. Under Otto's direction, the company has doubled in size. Today, the company operates more than 16 million square feet of space in 37 locations nationwide with the help of over 2,500 associates.
Dawn Tiura Evans, President and CEO, Sourcing Interests Group
Evans feels strongly that for the supply chain to better align with a company's broader strategy, it must have a seat at the table. As such, she has worked hard to bring executives from all departments together to hold frank discussions on cross-functional issues. Four years ago, Evans and her team created an Executive Roundtable program to provide a venue for CPOs to interact with CIOs, CFOs, General Counsel, HR executives and BPO leads so issues could be shared cross-function and dialogues could be started. She maintains that we must learn to present sourcing decisions from a strategic benefit standpoint to the office of the CFO, which guarantees CEO backing.
Sarah Holliman, VP Marketing, Sourcing Interests Group
Supply chain leaders are among the only employees in a company with true insight into all lines of business. The relationships they develop give them unique strategic insight. Holliman believes that Chief Procurement Officers and other supply chain executives must do a better job of communicating their successes to the broader organization so the value they bring is not only better understood, but more importantly regularly sought out. SIG has found ways to open these doors and start dialogues by facilitating C-level discussions at cross-functional executive roundtables.
Mary Zampino, Director of Sourcing Intelligence, Sourcing Interests Group
Working closely with SIG members, Zampino has found that supply chain leaders often do not have the executive support they need because there is little consistency in where the supply chain "lives" in their companies. Sometimes these professionals report up to a CFO but other times they are far removed from that type of influence. As cost-cutting and compliance continue to be priorities for CFOs and indeed CEOs, the role of the supply chain gains in value. To best align, she believes that this group needs to hold a seat at the boardroom table and maintain a deeper relationship with the office of the CFO. Whether or not they report in to Finance, the supply chain group must make their strategic activities widely acknowledged and understood.
Joey Benadretti, President, SYSPRO USA
In the small to medium business market, ERP buyers have choices of reasonably equitable software. Typically, specific functionality and the relationship with the supplier are major differentials. Success is often intertwined with having a synergistic long-term relationship based on commitment and trust. Benadretti and the executive leadership at SYSPRO set the vision and are responsible for building trust throughout the value chain. Customers, partners and SYSPRO blend into a single vital ecosystem. While some customers are local others have regional, national, or global operations. Some are single-site environments, while others span across borders with multiple facilities and are either public or private. These complexities and challenges drive the company to aim higher to meet expectations.