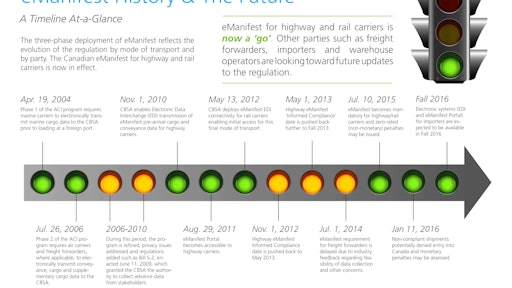 Click here for a full-size version of the infographic above.
Glenn Palanacki, the product manager of North America Customs at Descartes, sat down with Supply & Demand Chain Executive (SDCE) to discuss his thoughts on eManifest, which began on Monday, Jan. 11, 2016. Over the past 12 years, Palanacki was involved in software development for global supply chain solutions, including enterprise resource planning (ERP) customs compliance systems. He successfully completed more than 50 ERP implementations that helped each organization realize 15 to 40 percent in cost reductions. Palanacki has the unique experience of functioning as an integral part of the entire application lifecycle management (ALM) process, beginning with the product strategy roadmap, technical analysis and programming support, quality assurance, and customer implementation and support.
SDCE: What is eManifest and why is it important?
Palanacki: eManifest is the third phase of the Canada Border Services Agency's (CBSA) larger Advance Commercial Information (ACI) program. Designed to balance security with international trade, the program requires the electronic transmission of the who, what, when and where of a shipment to the CBSA for validation within a specific timeframe, which varies depending on the mode of transport.
The first phase of the ACI program began in 2004 with ocean carriers; in 2006, the second phase began with air. In 2010, the third phase—eManifest—began with highway and rail. As of Monday, Jan. 11, 2016, highway carriers must provide electronic cargo and conveyance data to CBSA a minimum of one hour before shipments arrive at the border. Carriers who do not comply may be assessed financial penalties under the CBSA's Administrative Monetary Penalty System (AMPS).
When fully implemented, eManifest will also require freight forwarders and importers in all modes of transportation (air, marine, highway and rail) to electronically transmit cargo, conveyance or house bill/supplementary cargo and importer data to CBSA.
SDCE: Who should be aware of the eManifest? In what cases does it apply?
Palanacki: Carriers, drivers and any company involved in U.S.-Canada highway transport should know that the regulation goes into full effect on Monday, Jan. 11. eManifest is enforceable at all border crossings and commercial ports across the country. While regulatory requirements went into effect in July of 2015, carriers that did not comply were issued zero-rated (non-monetary) fines under AMPS. As of Monday, Jan. 11, financial AMPS penalties will apply to noncompliance.
SDCE: How will the CBSA assess the risk of the data it's receiving?
Palanacki: The CBSA uses technology to analyze the information received on commercial goods. A shipment may be selected for further inspection if it:
Contains a four-digit dangerous goods code.
Is missing mandatory or conditional information.
Includes cargo details that are not adequately descriptive.
Lists a Harmonized System (HS) code(s) for a regulated products (such as types of pharmaceuticals, for example).
Includes multiple cargo or conveyance amendments.
Is an unusually high or low weight for the cargo listed.
Since much of the above information is provided one hour prior to arrival at the border, the government can better prepare and flag potential risks.
SDCE: What are the benefits of the eManifest? Drawbacks?
Palanacki: By modernizing the commercial processing of shipments, the eManifest initiative provides increased levels of security to the international trade community and to Canada, and also delivers cost savings to all supply chain participants from more streamlined processes, reduced paper and manual practices, and decreased delays.
eManifest is a virtually paperless process that starts before shipments reach the border and enables legitimate trade to cross the border more efficiently. The transmission and notification systems that support eManifest also improve two-way communication and collaboration between carriers and with the CBSA. Via electronic data interchange (EDI) or the eManifest Portal, carriers gain real-time visibility into the status of their shipments as they move through the commercial process, and can share information with appropriate partners to speed filing and approval processes.
eManifest also aims to harmonize information requirements with the United States (U.S.) Customs and Border Protection (CBP) and the World Customs Organization (WCO) to reduce administration for business. In addition, Canada and the U.S. declared a long-term partnership in 2011 with the Beyond the Border Action Plan, which outlines joint priorities and specific initiatives, like eManifest, to strengthen shared security, and improve the legitimate flow of people, goods and services across the countries' combined borders.
One of the drawbacks of eManifest for highway is that the significant size of the carrier and driver community makes education a massive undertaking, which is contributing to the slower pace of the regulation's implementation when compared to ocean or air modes.
In addition, as a transmission option for pre-arrival reporting, the eManifest Portal was developed primarily for small- to medium-sized businesses. For larger carriers with hundreds of trucks arriving at the border per day or per week, it's not a viable business system. Leading carriers with a higher volume of transactions require a more efficient and robust system supported by a database for reporting and analysis. This is where EDI comes in with vendors who tested their software/service with CBSA. Leading EDI solutions capitalize on opportunities for data reuse and data triggering to alleviate the administrative load associated with redundant manual and paper-based processes. They also offer sophisticated reporting capabilities to help carriers identify areas for operational improvements, both for themselves and their customers.
SDCE: Will eManifest enhance the safety and security of international trade across borders? How?
Palanacki: The ACI program is designed to introduce more effective risk management processes and tools to identify threats to health, safety and security prior to the arrival of cargo and conveyances in Canada, whether by ocean, air, highway or rail. As part of the ACI program, eManifest enhances the CBSA's ability to secure high-risk highway shipments while facilitating the movement of low-risk shipments across the border and accelerating legitimate trade. AMPS provides CBSA with a means to deter noncompliance and to create a level playing field for all Canadian businesses.
While a voluntary compliance period currently remains in effect for freight forwarders, mandatory eManifest compliance will provide another measure of safety and security in the international transport of goods into Canada. Freight forwarding is complex, however, because it introduces multiple shipment types and exceptions, some of which occur more often in the Canadian marketplace, such as:
Flying trucks. A type of truck shipment that was originally submitted via air ACI. This may also apply to portions of shipments or split shipments.
Snaking shipments. A type of rail shipment in which multiple in-transit crossings occur.
In-transit scenarios. Shipments arriving in the U.S. via ocean, for example, that are subsequently shipped across borders via a second leg by truck or rail.
eManifest also continues to incorporate importers, who will provide information in the same mode-specific timeframes applicable to carriers and forwarders. Of key importance to importers is the Advance Trade Document (ATD) component of the eManifest initiative, formerly called Importer Admissibility Data (IAD). Much like the Importer Security Filing (ISF) in the U.S., Canadian importers are liable for accurate, timely ATD submissions, either to the CBSA or to an authorized customs broker.
SDCE: What kind of processes will help companies comply with eManifest?
Palanacki: First, educate. Ensure drivers/owner-operators understand eManifest procedures and requirements. The regulation has a direct impact on drivers since it could lead to delays that may affect performance. Helping drivers understand that an advance electronic filing is not currently required for empty loads or in-transit shipments, but that this will change in the future. Actively contact customers to confirm that the shipment information they provide is accurate and up to date.
Second, partner. Onboarding with technology providers that have solid industry knowledge can help carriers to avoid fines and delays. As some eManifest scenarios are still evolving, carriers need to rely on the knowledge of technology providers to minimize potential penalties and assist with recordkeeping requirements.
Third, enroll. Carriers must choose one of two transmission options for pre-arrival reporting:
The Internet-based eManifest Portal, developed by the CBSA primarily for small- to medium-sized businesses. Carriers must register with the CBSA to receive a carrier portal account.
EDI methods. To transmit eManifest data using EDI, carriers must apply to become an EDI client. Some EDI methods require testing with the CBSA's Technical Commercial Client Unit (TCCU), which can take a minimum of two to three months to complete. A list of EDI software/service providers who already completed testing of their software/service with the CBSA is available on the CBSA website.
In addition, carriers will require a carrier code as well as a CBSA Shared Secret. Portions of these steps involve manual paperwork that is mailed via the postal service. Starting the process now, or providing additional information that was requested, cannot be delayed.
Fourth, establish procedures. Technology can be an experience aggregator that incorporates the knowledge and shipment scenarios of others in a centralized framework. In addition, traditional flowcharts and phone/text/email trees can be invaluable and can improve communication. Process manuals should include multiple driver types, such as a chapter for Customs Self-Assessment (CSA) registered drivers, and be provided in a digital, mobile-ready format.
Fifth, optimize. Data is valuable and moving it is often as important as moving freight. Reusing information by streaming it into other systems can help improve overall efficiency, maximize productivity and lead to an enduring competitive advantage, as well as increase compliance rates.
SDCE: What kind of penalties could be incurred for noncompliance with the eManifest?
Palanacki: As of Monday, Jan. 11, carriers deemed to be non-compliant will be issued monetary AMPS penalties. CBSA may issue penalties for:
Providing information that is incomplete, inaccurate or false.
Failing to send the required information within the designated, mode-specific timeframes.
Failing to notify the CBSA that the data changed.
Penalties will be assessed based on the type, severity and frequency of the infraction. While a first offense could range from a warning to hundreds of dollars, repeat offenses could see fines in the thousands of dollars and up to $10,000. In addition, several penalties may be issued per shipment if multiple trade partners failed to comply with their respective requirements. Of particular note for highway carriers—historically, of the total number of AMPS fines levied by CBSA, 61 percent were at bonded and non-bonded highway carriers vs. other modes of transport.
SDCE: How is the eManifest going to change the face of the Canadian logistics industry?
Palanacki: The logistics industry is accustomed to regulatory changes; however, eManifest is particularly complex, especially with respect to highway traffic across 5,525 border miles. The regulation had a number of transition points as processes were refined and legislation adapted to address the modern state of logistics. In an industry with tight margins, leading supply chain participants are closely examining the best methodologies to aggregate, display, share and move information with supply chain partners and government agencies. Beyond this, market leaders are reviewing applicable documentation in depth, and determining which shipment types and exceptions are likely to occur based on previous or potential business or that of customers.
Companies in this article