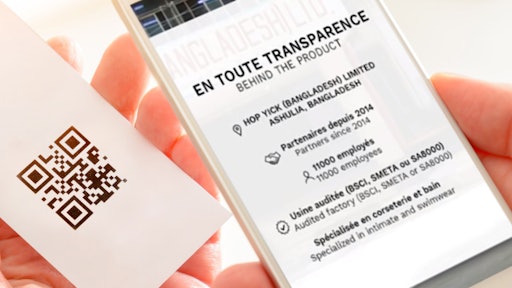 Avery Dennison
Today, consumers are discovering brands in new ways, and seeking convenience, transparency and new experiences to guide their shopping decisions. COVID-19 is accelerating this trend, catapulting consumer experiences and consumers' expectations, years into the future.
Research from Periscope McKinsey illustrates how shopper behavior and expectations have shifted in the pandemic. Consumers reiterated their demand for frictionless experiences and their stated importance to easily find products in store jumped by 14%. For understandable reasons frictionless also takes in new concerns around safety and hygiene. More than 50% of consumers want stores to follow guidelines to help keep shoppers and employees safe, and 59% say it's important for stores not to be too crowded. A quick and easy checkout addresses all of these concerns. However, as with most new technologies, successful adoption depends on benefits outweighing the challenges. According to an Accenture retail report, 87% of the respondents said focusing on RFID enabled them to deliver better omnichannel experiences during the pandemic.
Envisioning the future of consumer engagement and transparency
As the No. 1 lingerie brand in France with a long heritage of more than 100 years, Etam has long stood out as an industry pioneer, with a visionary approach to the future of consumer engagement and transparency. This adoption was underpinned in 2007 with Etam's "Undiz" spinoff aimed at Generation Z. With some 1,200 new lines every season, the brand used RFID to move fast with a specific order management system providing a global vision of stock, whatever the location. Etam revolutionized the notion of physical stock in store and thanks to RFID technology, the brand now enables consumers to order an item available from anywhere, not just the store they happen to be standing in.
Connecting consumers to the brand
Today, the ultimate goal of this business approach is to offer what Etam refers to as "the best-in-class retail and omnichannel experience in the lingerie segment." In order to achieve this, Etam is exclusively deploying digital ID technology from Avery Dennison Smartrac. This includes RFID and QR-coded hangtags to digitize the whole value chain and processes, along with vendor shipments, store inventory accuracy, self check-outs, returns or reverse logistics, e-commerce and the retailer's Try@home initiative.
Try@home gives consumers the convenient option to try up to five items in the comfort of their own home. After 12 days, the articles are either returned to the store, or their price is debited from the customer's account.
Inventory accuracy in-store is crucial and vital to consumer satisfaction too. Typically, Etam customers combine several products in their basket, e.g. one bra and two pairs of panties. Given the large number of SKUs covering a wide variation in sizes/cup depth, Etam needs to guarantee the availability of at least three styles to respond to customer purchasing habits. RFID plays a critical role in achieving this required stock accuracy, making sure inventory is accurately tracked, taking account of the constant flow of purchases and returns.
"The functionality offered by Avery Dennison Smartrac's products is critical to our drive to remain the lingerie market leader in terms of consumer experience and our omnichannel strategy. Happy consumers are repeat customers, so our goal was to make the buying process as smooth as possible by ensuring that the right products are available in-store and that the consumer can engage with us throughout the purchase process. Rather than a transaction, we create a relationship tailored to our consumers' buying preferences and behavior. That relationship has become even more important in the still-uncertain times of COVID-19," says Benjamin Durand-Servoingt, COO at Etam Group.
Transparency from source to store
The deployment of RFID is critical to Etam's transparency project. Clients can scan the product label by means of a QR code with their smartphone to get instant access to short videos that provide insights into the actual factory where the item was produced. This further supports Etam's sustainability efforts, but also broadens the consumer experience well beyond what many of its competitors can offer, including even big global brands.
By the end of 2021, Etam plans to extend its transparency program to every item sold, which is truly a pioneering breakthrough within the textile industry.
"As demand signals across channels become harder to predict, there have also been significant impacts on product, retail store, factory and logistics services availability. The most successful retailers will be those that connect with consumers in new ways by leaning in on their digital, omnichannel, and in-store technology ambitions," says Uwe Hennig, market development director, food and apparel, Avery Dennison Smartrac.
Combined technologies for an enhanced experience
Etam is deploying RFID and QR codes combined in one hangtag, which is an elegant and discreet solution to the need for both technologies, and avoids the inconvenience and cost of printing and attaching two separate tags to individual products.
The integrated hangtags use printed serialized QR codes to let consumers interact with products at the item level, while Avery Dennison Smartrac's UHF RFID inlays provide stock levels in real time and enable all omnichannel services such as Try@home. These high-performance inlays ensure best-in-class data capture to optimize inventory availability and are suitable for a wide variety of RFID tagging applications. Offering both automation and brand protection benefits, the inlay solutions especially satisfy the needs of next-level apparel applications. Etam Group uses Retail Reload software to take full advantage of AD tagging media.
Companies in this article