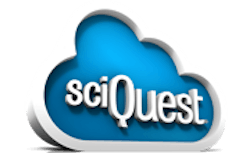 Morrisville, NC—Sept. 23, 2015—SciQuest, Inc., a provider of cloud-based business automation solutions for spend management, announced that it opened the SciQuest Supplier Network to include all vendors and significantly streamlined the registration process, making it much easier for new suppliers to join. The SciQuest Supplier Network, a global online portal that enables strategic interactions between customers and vendors, now allows customers to discover an even wider range of suppliers, while creating more opportunities for suppliers to connect with prospective clients.
With the latest program enhancements, any supplier can request to join the SciQuest Supplier Network and become part of the searchable network directory, which continues to be available without transaction-based or access fees. Suppliers can increase their exposure to more than 500 SciQuest global customers across industries including healthcare providers, universities, transportation and retail.
SciQuest's Supplier Network connects suppliers with buyers, enabling both parties to benefit from automating the source-to-settle process. Network participants can also:
Develop and manage a company profile, showcasing products and offers to

SciQuest's

network of procurement and sourcing organizations.
Review and respond to notifications or communications received from current and potential customers.
Access experienced support personnel and various training materials.
In addition to the vendor benefits, SciQuest's Supplier Network allows users to research suppliers to find the ones that best meet their sourcing and procurement needs. With a growing number of suppliers in the network, SciQuest customers can experience greater supplier-introduced innovation, enhanced price competition, and new vendors that can fill gaps or improve existing supply chains.
"With the SciQuest Supplier Network, we always have access to the best product to fit our needs, the most updated negotiated price, and clear and complete descriptions of each product to avoid internal purchasing confusion," said Mark Burch, director of procurement at the Fred Hutchinson Cancer Institute. "As the network expands, we can also discover new vendors. We can continue to make intelligent and strategic purchase decisions that ultimately help the organization in our cancer research efforts."
"Suppliers and buyers form the most critical links for all commerce, and it is our mission to make it easy for customers to find and work with suppliers," said Teresa Jamison, vice president of customer operations at SciQuest. "Opening up and making it easier for vendors to join SciQuest's Supplier Network gives customers access to a dynamic registry of suppliers in one easy-to-use portal, accommodating more options for improving spending practices across their organizations."
Companies in this article
Request More Information
Fill out the form below to request more information about
SciQuest Expands Global Supplier Network