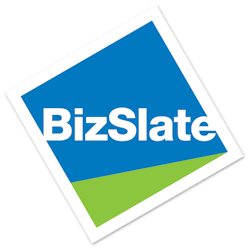 New York—Sept. 15, 2015—BizSlate, Inc., a provider of enterprise resource planning (ERP) solutions, announced that its business management solution for small- and medium-sized distribution and manufacturing businesses was released for general availability. BizSlate helps businesses measurably improve revenue and profits by improving relationships between customers, orders and inventory.
"In today's global, omnichannel marketplace, small businesses need the enterprise tools of larger businesses in order to compete, but without the cost and complexity," said Marc Kalman, BizSlate's founder and CEO. "We are passionate about helping small businesses with the solution they needed for far too long but haven't had available to them."
BizSlate's software as a service (SaaS) improves how businesses manage their customers, vendors, orders, inventory and overall supply chains. Key BizSlate benefits include:
Unlimited U.S.-based customer support at no additional cost.
Product management that reduces inventory costs and improves inventory accuracy.
Full-featured operational capabilities at a lower cost than traditional software.
A simple yet robust user interface for greater efficiency and accuracy.
Real-time integration with QuickBooks and other financial applications for financial reporting purposes.
Commercial-grade security and reliability for peace of mind.
BizSlate's supply chain management (SCM) solution empowers small- and mid-sized businesses to compete on the global stage, offering a host of features that cut order processing times, improve how small businesses manage their inventory, and let wholesalers, manufacturers and import-exporters in every sector monitor and quickly diagnose operational issues.
BizSlate's cloud-based SaaS is immediately available for a base of as little as $5,000 per year, including two users.
Companies in this article
Request More Information
Fill out the form below to request more information about
BizSlate Empowers Business with Mobile Order and Inventory Management