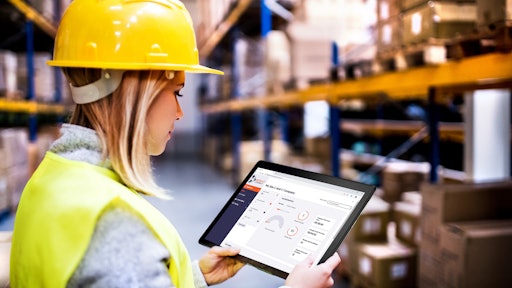 4SIGHT Logistics Solution
Warehouse and distribution center dock operations of any size and scope can now interconnect their equipment with the new cloud-based and data-driven 4SIGHT Connect Digital Dock from 4SIGHT Logistics Solution.
From retail, high-volume distribution and warehousing dock operations to food & beverage, cold storage or industrial facilities, 4SIGHT Connect Digital Dock provides real-time access and management to a variety of dock data and KPI's. Essentially, it grants full control over an entire dock operation via remote monitoring while helping to increase both efficiency and safety.
Dock equipment that is interconnected into a system transforms traditional dock operation into one that is truly "smart." And most importantly, this innovative platform is a fully self-enclosed program that does not interact with any existing network or IT infrastructure nor does it require IT team assistance.
With 4SIGHT Connect Digital
Dock,

warehouse and DC personnel can:
Monitor physical processes and make intelligent data-based decisions
Transmit equipment operational information for remote management
Receive condition-based maintenance alerts to minimize downtime during repairs, improve product staging and shipping monitoring
Better manage operational costs as well as eliminate waste and unnecessary work by identifying monitoring lags in turnaround time
Combined, these benefits translate into a more robust, efficient and managed shipping operation.
The heart of this digitally advanced product is either a Kelley or Serco brand Digital Master Control Panel which serves as the dock data collection point for equipment status and operation. Featuring an intuitive touch screen, the stand-alone Digital Master Control Panel not only provides personnel with dock equipment data, but when paired with a 4SIGHT Connect system and connected to the 4SIGHT Connect edge device, each Digital Master Control Panel continuously beams dock equipment status and operations data directly to a 4SIGHT Connect Dashboard which can be conveniently viewed on any connected mobile device or computer with Internet access.