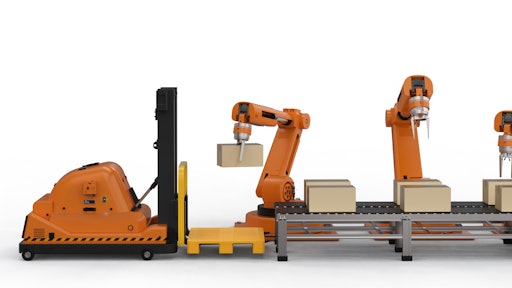 Getty Images
According to Market Study Report Worldwide delivery robot market size accounted for $14.18 billion in the year 2019 and expected to reach USD 54.30 billion by 2027, growth rate of 18.2% between 2020 and 2027. The growth is primarily attributed to easy availability of affordable delivery robots and improved return on investment (ROI).
The study also evaluates the potential challenges & restraints that may hamper the product demand and hinder the market expansion in the subsequent years. Additionally, the report categorizes the market into various segmentations and provides detailed analysis of the regional scope as well as the competitive spectrum over the forecast period.
For those uninitiated, a delivery robot is an automated machine that is employed to distribute goods. The emergence of autonomous robotics solutions has allowed for efficient and cheap delivery systems, which is further aiding the market expansion.
Shifting preference for flexible delivery systems and rising loading capacity of these robots are also stimulating the industry outlook. Furthermore, focus towards improving last-mile delivery in tandem with development of advanced delivery robots are favoring the market outlook. In November 2019, for instance, MIT in United States introduced a last-mile delivery robot equipped with advanced navigation technology.
Additionally, inclination towards online shopping have resulted in rapid expansion of e-commerce sector, which in turn fostering the demand for effective delivery systems across the globe. However, strict regulatory scenario regarding the adoption of delivery robots may act as a restraining factor to the market expansion.
Summarizing the product insights:
Global delivery robot market is divided into various segmentations such as load carrying capacity, component type, number of wheels, speed limit, industry type and geographical landscape.
Speaking of load carrying capacity, the market is split into more than 50 kg, 0.01-50.00 kg and up to 10 kg. In terms of component type, delivery robot market is bifurcated into software and hardware. As per number of wheels, the industry is classified into 6 wheels, 4 wheel and 3 wheels.
By speed limit, the market is segmented into higher than 6 kph, 3 kph-6 kph and up to 3 kph. The industry scope of global delivery robot market comprises of postal, healthcare, food & beverages, retail and others.
From the regional point of view:
Worldwide delivery robot market is split into North America, Asia-Pacific, Europe, Latin America and Rest of the World with major focus on countries such as Canada, U.S., South Korea, Australia, Japan, India, China, Italy, Spain, France, Germany, U.K., Mexico and Brazil among others.
As per the given report, North America accounts for a substantial market share and is expected to register consistent growth throughout the forecast period. Growing demand for last-mile delivery solutions coupled with increasing utilization of delivery robots are favoring the market outlook in the region.
On the other hand, Asia-Pacific delivery robot industry is poised to record healthy growth rate in the subsequent years. Factors such as mounting number of online deliveries and rising per capita income are augmenting the regional demand for delivery robots.