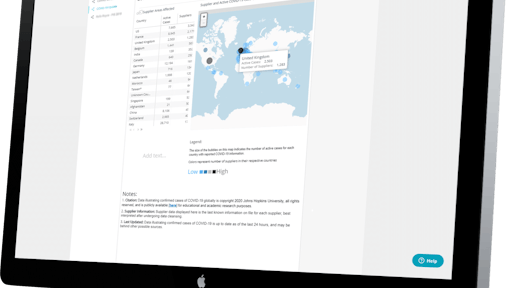 Assent Compliance
Companies that emerge from the crisis in the best position for the future will be those that have the fewest production interruptions.
To ensure supply chain continuity, manufacturers must understand where their suppliers are located geographically and what supply chain disruption is happening in that area. These disruptions could range from partial to full shut down.
Each country is going to go through their own evolution of crisis management which means companies not only need to understand where their suppliers are located but where they are in their management of the Covid pandemic. This requires data.
Suppliers in some areas - China for example may be at the end of their crisis management cycle, while others are at the peak, some could be at the early stages.
Manufacturers can think of both their suppliers being plotted on a curve, and the Covid curves within their respective countries. Countries like China and Korea are emerging from their crisis with business being restored, countries like Italy, Spain and much of the EU being in lockdown. The North America's are yet to have peaked. Lagard countries like Mexico, South America and Africa will see their disruptions further in the future.
In order to make supply chain decisions, companies must know the following:
Geographically where their suppliers are located
Their stage of the crisis management cycle in that country and the level of supply disruption.
Who/where alternate suppliers are for that material, part or component are located and their stage of crisis management.
Who the key contacts are at these companies that have accurate supply data and a process to receive regular updates and notifications.
Solution:
Given the need for this data, Assent has created free software that enables manufacturers to plot their suppliers against covid data - review and make necessary and critical business decisions. This empowers companies to:
1. Visualize their supply chain in near real time and the impact of the Covid outbreak in each respective geography.
2. Asses which countries are emerging from disruption, experiencing disruption or are soon to be disrupted.
3. Plan for organizing alternate suppliers in Geographies that are most likely to stay online.
4. Have almost real time updates for changes in, intensity rates.
5. V2 Connected media/status monitoring for each primary supplier country.