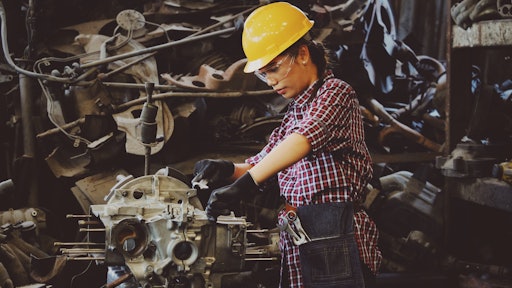 Manufacturers worldwide are selecting Workforce Dimensions from Kronos Incorporated to enable digital transformation in the race to bring connectivity, intelligence, and flexible automation to the manufacturing workforce. Innovative integrations and continuous feature enhancements to Workforce Dimensions – including the new Work application – empower manufacturers to increase operational agility by leveraging the cloud-native, artificial intelligence-powered workforce management suite to drive intelligent decision making and deliver a differentiated employee experience.
Introducing Work to improve operational performance in manufacturing.
Managing employee activities on the shop floor is simplified using Work, the new Workforce Dimensions application purpose-built for manufacturers. Work provides real-time access to detailed labor activity data that enables manufacturers to quickly respond to production issues, manage labor costs, and measure performance against established metrics such as productivity and efficiency.
Managers gain real-time visibility into their operation – including work-in-progress (WIP) and actual labor costs – so they can improve job costing accuracy and strategic planning to meet production goals in a more profitable and efficient manner.
Frontline employees benefit from a simplified, mobile-first user experience. New smart forms streamline data entry while personalized dashboards provide access to the tools and information that matter most to employees, including activity data, schedules, timecards, and the ability to easily submit shift-swap and time-off requests.
Workforce Dimensions defines the future of work and enables digital transformation.
Ranked the No. 1 workforce management solution suite, the functional, flexible, and easy-to-use features of Workforce Dimensions are designed to help manufacturers attract, engage, and retain frontline employees. The solution can be extended seamlessly to a unified human capital management (HCM) suite with human resources (HR) and cloud payroll solutions from Kronos.
Manufacturers can adapt rapidly to evolving business conditions with Workforce Dimensions, leveraging real-time intelligent insights powered by AIMEE – the "best AI-based solution for workforce management" – to anticipate future trends and mitigate compliance risk.
Manufacturers achieve desired business outcomes by leveraging a robust technology partner network and enterprise application marketplace to extend the value of Workforce Dimensions and create their own technology ecosystem built on top of the Kronos D5 platform.
As urgency to deliver the future of work today has driven record demand for Workforce Dimensions, new strategic partnerships with industry-leading systems integrators and technology consulting organizations are helping to deliver exceptional workforce management outcomes faster for global manufacturers.
Kronos InTouch DX, the first time clock to combine consumer-grade personalization with enterprise-level intelligence, works seamlessly with Workforce Dimensions and is equipped to deliver a personalized user experience to frontline employees.
Kim Abel, senior payroll specialist, Precor: "With Workforce Dimensions from Kronos, Precor is building a technology ecosystem that integrates our most important business applications and gives our managers real-time visibility into labor data. The intelligent features and extensibility of the Kronos cloud solution have enabled us to improve workflows and operational performance and also increase productivity and collaboration among our employees and managers. Investing in technologies that have a direct impact on our employees has always been a priority: It's important that we continue to evolve and maintain a best-in-class user experience that empowers our people."
Kylene Zenk, director, manufacturing practice, Kronos: "While technology is the foundation of digital transformation, people are the driving force in manufacturing. It's the intersection of the two that will foster the future of work. Workforce Dimensions has the power to transform manufacturing operations by empowering employees and managers alike with real-time information to drive intelligent decision making and improved operational performance."