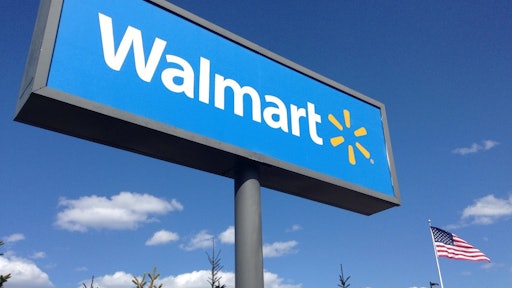 Walmart Canada and DLT Labs are partnering together to launch a blockchain-based freight and payment network. The solution will be the world's largest full production blockchain for any industrial application.
"Walmart is a global leader in innovation, with a relentless focus on improving people's lives, and DLT Labs™ is delighted to partner with such an extraordinary organization to bring the world's first and largest blockchain solution for industry into production. This proves the high value of blockchain and sets the stage to revolutionize supply chain management and logistics, due to its ability to enable secure information sharing, manage trust and reduce waste in multi-partner operational processes," Loudon Owen, CEO of DLT Labs, says. "Just as the Roman's concept, 'dictum meum pactum' (meaning 'my word is my bond') was fundamental to building trade, this product creates a secure digital handshake using blockchain to renew trust and efficiency in global trade."
The new system uses distributed ledger technology to track deliveries, verify transactions and automate payments and reconciliation among Walmart Canada and its carriers which deliver inventory to over 400 retail stores across Canada annually. All of the company's third-party carriers are scheduled to be live by February 1, 2020. The solution is accessible using a web portal and an easy to use mobile application.
The new blockchain-based freight and payment network manages, integrates and synchronizes all the supply chain and logistics data in real time, aggregating the data between Walmart Canada and its fleet of third-party trucks on a shared ledger. The solution also automates the myriad necessary calculations enabling real-time invoicing, payments and settlement. At the same time, it seamlessly integrates with each company's legacy systems, so organizations can continue to follow their existing processes without retraining or a new investment in technology. this innovation arose from Walmart Canada's continued focus on reducing costs to ensure the lowest everyday prices for Canadian consumers.
"Walmart Canada is dedicated to efficiency across our business, including most importantly in our supply chain and logistics management. Our carrier partners move over 500,000 loads of inventory nationally, which creates an extraordinary volume of transaction data. This new dynamic and interactive blockchain technology platform is creating complete transparency between Walmart Canada and all of our carrier partners," John Bayliss, senior vice-president, logistics and supply chain, Walmart Canada, says. "Blockchain is enabling a material advance in our smart transportation network, with expedited payments, extensive cost savings and other benefits among our supply chain. Moreover, this degree of improved efficiency represents a powerful platform for us to continue to reduce our environmental footprint and continue our leadership in environmental sustainability."
More than 4,500 associates and drivers moving thousands of items daily from sites located in Calgary, Mississauga and Cornwall to stores from coast to coast across Canada. Walmart Canada operates 8.75 million square feet of distribution center and moves more than 853 million cases of merchandise annually. These goods are transported by a combination of 3rd party fleet as well as Walmart Canada's own fleet of 180 tractors, 2,000 trailers and more than 350 drivers. Each third-party trailer tracks approximately 200 data points per shipment. Automating this data collection and management using blockchain results in a significant cost-saving.
DIRECT BENEFITS OF FREIGHT & PAYMENT SOLUTIONDEVELOPED BY WALMART CANADA AND DLT LABS™
Data Capture & Integrity: A distributed repository increases trust and transparency by sharing information and automating workflows and calculations to minimize manual effort and increase accuracy.
System Efficiency: Improved collective resource utilization, including quicker responses, improved tracking and tracing, and early problem detection.
Faster Transaction Time: Real-time consolidation of all business rules and transactions to create a single invoice reduces wait times and speeds up payments.
Eliminates Disputes: All participants can now effectively manage the complex shipment, invoice, payment and settlement process, while minimizing unproductive time spent on disputes and reconciliations.
Reduces Costs: Increased efficiency reduces all parties' enterprise technology and administration costs.
Better Budgeting and Planning: Accurate, real-time data can now be used for enhanced analytics and predictive modelling.
These benefits are possible due to the inherent characteristics of blockchain technology which enables shared, immutable and highly auditable store of data on a secure, shared ledger. While the application of blockchain technology in industry has long been discussed, this is the first practical implementation at scale, and it clearly demonstrates blockchain's significant benefits. Moreover, this platform is being used in a mission-critical area of Walmart Canada's business, its supply chain, and has had to meet the highest levels of security and testing.