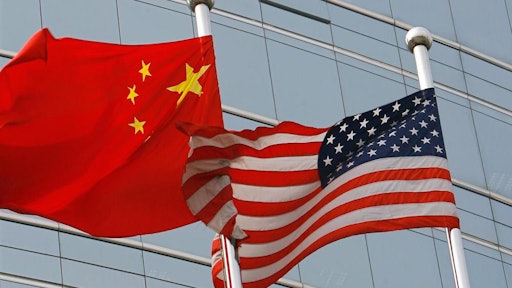 A trade war with China is looming as the country continues to place threats to the technology supply chain and expand its military in the Indo-Pacific region.
In the U.S.-China Economic and Security Review commission's report it said, "the close supply chain integration between the United States and China, and China's role as an economic and military competitor to the United States create enormous economic, security, supply chain and data privacy risks for the United States."
The report comes as the countries continue to be at a divide when it comes to trade. Donald Trump and President Xi Jinping are expected to discuss trade tensions at the G-20 meeting in Buenos Aires in November, Bloomberg reports.
The report continued to recommend that congress require the Office of Management and Budget prepare an annual report to ensure supply chain vulnerabilities from China are adequately addressed and that the U.S. Trade Representative should file a complaint against China at the World Trade Organization under a rarely used tool that can be used to pressure Beijing over alleged violations of U.S. intellectual property, Bloomberg reports.
It also warns that the Belt and Road Initiative could pose significant challenges for U.S. interests and values as it has the potential to enable China to export its model of authoritarian governance, encouraging authoritarian actors abroad. The panel recommends that the director of national intelligence should produce a report detailing the impact of existing and potential Chinese access and basing facilities along the Belt and Road.
To read the full original article, please click here.