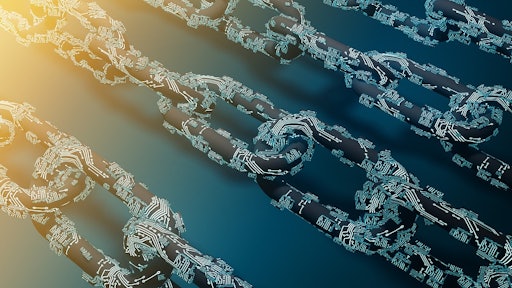 Nine ocean carriers and terminal operators signed a formal statement of intent on Nov. 6 for a Memorandum of Understanding (MOU) to form a consortium to develop the Global Shipping Business Network (GSBN), an open digital platform based on distributed ledger technology. The participants include CMA CGM, COSCO SHIPPING Lines, Evergreen Marine, OOCL, Yang Ming, DP World, Hutchison Ports, PSA International Pte Ltd, Shanghai International Port and CargoSmart.
The platform will establish a digital baseline that will connect all stakeholders to enable collaborative innovation and digital transformation in the supply chain.
Lately, the container shipping industry has been characterized by disparate processes that take place across both physical and digital domains. Companies are turning toward digital technologies to resolve siloed shipment management procedures and disruptive information gaps. The consortium will offer a forum to address any challenges, explore cross-industry opportunities and empower future innovation and insights. The consortium's leading members intend to collaboratively develop the platform and establish standards to facilitate the seamless sharing of documents and data across all stages of the shipping life cycle.
The GSBN will enable the shipping industry to digitally transform and prepare for innovative supply chains. Based on blockchain technology, the new platform will offer the following benefits:
Open and Extensible – A cooperative network enables members to develop applications and connect to other consortium networks to increase the speed of data integration and improve business performance.
Transparency and Instant Validation – Peer-to-peer networking allows data owners to share immutable records to other shipment stakeholders, enabling them to take quick action regarding critical milestones and to keep cargo moving throughout the supply chain.
Digital Baseline for Standards – An industry-wide common, trusted, and expansive digital model provides a foundation for highly collaborative initiatives and market intelligence.
CargoSmart initiated the formation of the blockchain consortium to revolutionize information exchange in the shipping industry. CargoSmart is leveraging its deep shipping domain knowledge, big data analytics and expertise in developing software applications with artificial intelligence, IoT and blockchain technologies to help network participants improve their shipping logistics.
The GSBN will provide the foundation for new applications that can transform documentation flow for shipment management, including dangerous goods documents, invoices and cargo release. The first planned application will allow shippers to digitize and organize their dangerous goods documents and automatically connect with relevant parties to streamline the approval process.
"With the vision of a truly open blockchain platform for the industry, the GSBN will be key to the success of establishing a sustainable blockchain ecosystem for all stakeholders in the supply chain. OOCL is very excited to be a part of this highly collaborative environment that can facilitate the cross-pollination of ideas towards even more innovative business models and solutions for our customers," says Andy Tung, co-chief executive officer of Orient Overseas Container Line Ltd.