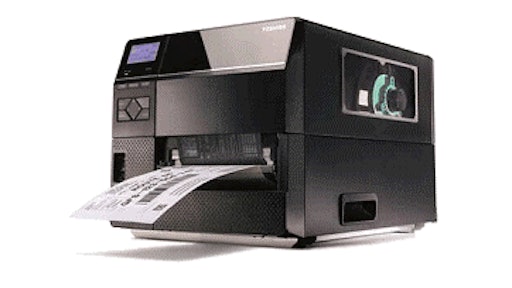 Toshiba America Business Solutions unveiled its large-format thermal barcode printers last week during ProMat 2017 in Chicago. Toshiba's high-speed (12 inches per second) B-EX6 printers deliver up to six-inch labels for applications within manufacturing, supply chain and logistics environments.
In addition to featuring its new B-EX6 series, Toshiba representatives demonstrated the company's ruggedized portable (B-FP3 series) and double-sided 2ST direct thermal (DB-EA4D) models at the largest expo for manufacturing and supply chain professionals in North America.
"As the largest event for manufacturing and supply chain professionals, ProMat 2017 is the ideal forum to demonstrate our innovative thermal barcode printer offerings," says Bill Melo, Toshiba America Business Solutions chief marketing executive. "From our rugged, portable printers and efficient 2ST models to our brand-new large-format products, Toshiba has a solution for customers' business-critical labeling applications.
Toshiba's B-EX6 series is designed to support a low total cost of ownership with a distinctive feature set to meet today's rigorous and high-production demands. The B-EX6 series' proprietary Ribbon Save technology optimizes ribbon consumption while reducing waste, as a large-capacity ribbon (up to 800 meters) lessens the need for frequent media replacement. The printers' dual motor system improves media handling and assures the printing of scannable labels. Toshiba's B-EX6 printheads are backed by an industry best 3 million linear inch warranty.
Toshiba's compact and ruggedized B-FP3 series, featuring three-inch models, offer mobile labeling performance. Touting IP54 dust protection and splash-proof ratings with proven drop-resistant durability, the printers can operate in extreme temperatures and are ideal for distribution center and warehouses applications.
Including the latest in double-sided 2ST direct thermal technology, Toshiba's DB-EA4D simultaneously prints on the front and back of a label to efficiently streamline the pack-and-ship process. It combines a two-step process into one to optimize warehouse shipping or e-commerce order fulfillments.