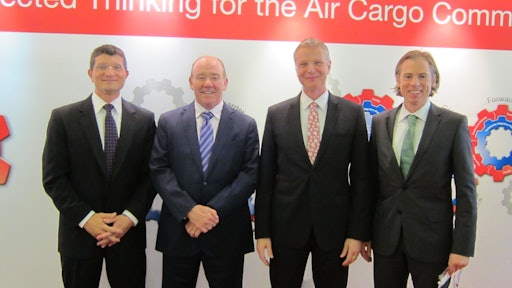 Luxembourg—April 3, 2013—Via a recent partnership between CHAMP Cargosystems and Worldwide Information Network (WIN), freight forwarders are now provided with full agent-to-agent e-connectivity; full agent-to-ocean carrier; and starting in June 2013, agent-to-air carrier electronic transmission of all data.
The partnership between WIN and CHAMP's Traxon cargoHUB connects the largest community of independent forwarders worldwide with the broadest range of airlines. It is a major step forward for small-and-medium-sized forwarders to become e-freight-enabled; support the e-AWB initiative; and further automate processes. It allows the seamless transmission of standardized messages such as MAWBs, HAWBs, status information, availability and booking requests.
Thanks to the integration with Traxon cargoHUB, SME forwarders now have electronic connectivity across the supply chain, according to John DeBenedette, Managing Director of WIN, who spoke on the benefits of the solution to the global air cargo community at the World Cargo Symposium in Doha, Qatar.
"Although small- and medium-sized forwarders offer their customers many advantages over the multinationals, they still lack the sort of IT connectivity their larger competitors take for granted," he added. "This new connection between WIN and CHAMP's Traxon cargoHUB levels the playing field and sets the stage for the independents to leap ahead. Users will rapidly benefit from efficiency gains, cost savings and an increase in service quality."
While global reach is not a problem for SME forwarders who work with partner agents around the world, thanks to global freight forwarding networks, their partners often use completely different freight management systems. Now, all a forwarder needs to do is to get connected to WIN once to allow full connectivity to any other forwarder whatever IT system they use, or even through an easy to use Web interface.
"CHAMP Cargosystems has been at the cutting edge of information exchange within the air cargo community for over 20 years, actively driving and supporting industry change," said Aike Höfft, Head of Forwarder & Global Distribution Services, CHAMP Cargosystems. "CHAMP's community integration platform Traxon cargoHUB acts as an open, extendable and rules based 'industry service bus.' It simplifies transmission, conversion and distribution of messages and expands the scope of information sharing within the air logistics community."