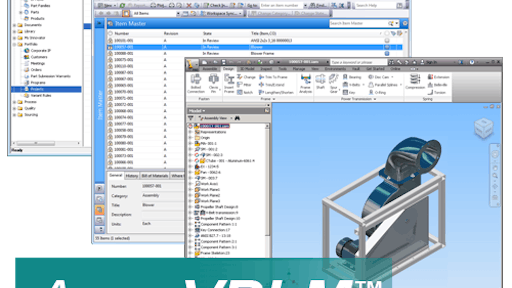 Andover, Mass.—Nov. 19, 2012—Aras, a provider of enterprise open source Product Lifecycle Management (PLM) software solutions, launched Aras VPLM, a new solution designed specifically for companies that run Autodesk Vault with Inventor and AutoCAD. Aras VPLM for Autodesk Vault provides packaged functionality out-of-the-box for corporate-wide PLM business processes, enabling global companies that run Autodesk software to improve product quality, accelerate time to market and achieve greater profitability.
"We've been working with Autodesk users for years and know that Autodesk Vault is by far the best CAD file manager for designers using Inventor and AutoCAD," said Peter Schroer, President of Aras. "Companies are looking for a way to keep what's working and preserve their investment while they address cross-functional, enterprise-wide PLM business processes. So, we've taken our open source PLM solutions, included new out-of-the-box functionality that connects directly to Vault Professional and is optimized for those designers, and we packaged it all up to create a totally new commercial offering that provides companies that rely on Autodesk design software with an option they can run on their own servers and network."
Built on top of Autodesk Vault Professional, Aras VPLM extends the capabilities of Autodesk Vault to drive PLM processes throughout a company and its supply chain for collaboration across organizations including product development; operations; quality; purchasing; sales & marketing; and other groups worldwide.
Web-browser screens with a familiar Microsoft look and feel make the application easy to learn and use for all users. The Web architecture includes robust scalability, advanced security and multi-site replication for deployments with users located around the world.
"With VPLM Aras is delivering a powerful PLM extension to Autodesk Vault," said Martin van derRoest, President of the vdR Group and Autodesk Partner. "The ability to manage complex electro-mechanical product structure configurations and enable cross-functional processes for everyone enterprise-wide is a huge gain for global manufacturers."
The Aras VPLM for Autodesk Vault is available from select Autodesk resellers.