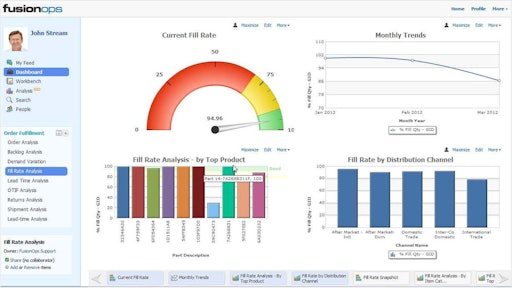 Sunnyvale, Calif.—July 23, 2012—FusionOps, a provider of self-service, best practice pre-built analytics for the supply chain, appointed Gary Meyers as Chief Executive Officer to lead the company for its next stage of rapid growth. Most recently, the company added Tesla Motors, KLA-Tencor, Kimball Electronics Group and Albéa Group to its clientele list. FusionOps also partnered with SAP system integrators NIIT Technologies, KloudData and Intrigo Systems to provide them with an out-of-box solution which they can integrate into existing accounts and leverage as a competitive advantage with their enterprise prospects.
"The business intelligence market has been a very challenging business," explained Gary Meyers, Chief Executive Officer, FusionOps. "Most projects in BI fail according to Gartner and it's because of the way the industry has been set up—companies purchase typically quite expensive tools and then they have to set up a very extensive infrastructure to support those tools and they need to hire developers who can create the dashboards that business users need. The model is crying for something better. And the better approach is to move BI solutions into the business units themselves—we see that as a real secular trend that we can participate in and support."
And the company is not alone in this. Forrester Research Inc.'s Boris Evelson agreed that traditional BI approaches and technologies lead to a constant backlog of BI requests. In a recent blog post, he cited that "BI requirements change faster than an IT-centric support model can keep up. Business executives, managers and individual contributors want their BI business requirements addressed according to their, not IT's, schedule. We maintain that in an ideal BI environment, 80 percent of all BI requirements should be carried out by the business users themselves."
FusionOps' out-of-the-box, pre-tested dashboards and reports deliver advanced analytics to enable operations managers and analysts to "fine-tune" their visibility into their supply chain.
"It has very little burden on IT," said Meyers. "In fact, the only burden on IT is in that initial engagement which typically takes an hour or two for them to install our connector and to ensure that we are properly extracting data. After that, it's a self-service model with no required hardware or infrastructure."
In one day, FusionOps' patented solution delivers hundreds of "best practice" dashboards and reports for SAP supply chain installations, using automated extraction and mapping of complex SAP tables.
"FusionOps was the perfect solution for Kimball Electronics," said Gwenda Waldron, Project Manager. Kimball Electronics. "We were able to implement the dashboard with less than one hour of Kimball IT assistance. Users are able to drill down to the details and even pass notes along to other users about the metrics. We are able to customize the content and output in order to ensure high usage by multiple levels of users."
Pre-built analytics are available in such areas as procurement; order fulfillment; inventory; production planning; supplier performance; as well as in several hundred other reports.
"Business users want answers—not tools, high infrastructure costs and long delays," Meyers continued. "Our dashboards and metrics are targeted to business users—the procurement manager, the supply chain VP—much like other cloud-based management services. I've found that the ability to easily modify the data presented to me is invaluable and generally faster than having someone on hand to do that for me. Our analytics run so quickly that we provide more of an interactive environment in which the user continues to drill down (or around to related analytics) until they come to the core of the problem they are researching. Depending on how many areas a customer is interested in and how many users they have, the subscription fee for our model can vary from $2,000 to $6,000 per month—but our typical engagement is around $3,000 or $4,000 per month."
The software as a service (SaaS) platform features proprietary integration in an on-premise environment and is tailored to meet the needs of all segments of the industry versus one specific vertical.
"We haven't been asked to interoperate with other types of platforms," Meyers confirmed. "Obviously, the solution needs to be able to connect into a SAP environment and other data sources that it may need but it becomes the environment that customers then use to get their analytics from."
While FusionOps focuses on small-to-medium-size businesses (SMBs) below $3 billion in annual revenue, the solution comes in a number of different price configurations which enable more capability for larger enterprises but also offer greater affordability for smaller companies.
"We believe that supply chain visibility demands are similar across verticals, much like HR and CRM requirements are relatively independent of industry," Meyers explained. "The configurability of our analytics coupled with our ability to provide consulting services enable us to support unique requirements as they emerge. Our Enterprise edition permits access to data sets beyond SAP ERP systems, access to all of our subject areas and a greater number of users, while our entry-level Pro edition provides access to all of the analytics within two subject areas," he concluded.