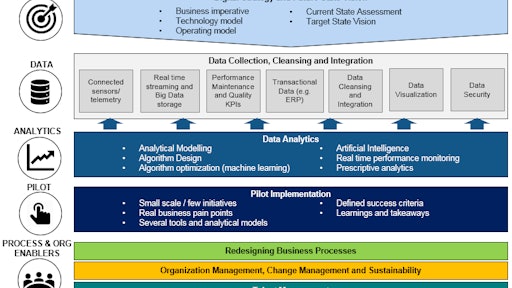 The Hackett Group
One of the distinguishing characteristics of digital transformation is the ubiquitous availability of data throughout the supply chain. The voluminous amounts of data, however, require transformation and analysis to provide meaningful insights to support decision-making. This ability to deduce insights from data and maximize their returns on analytics is critical for companies that want to gain competitive advantage using their supply chain
Critical to harnessing the universe of supply chain information is an analytics platform that can collect and synthesize data so supply chain leaders can easily:
Access key drivers of business performance
Visualize and monitor supply chain performance to identify performance fluctuations and take action to address poor performance
Predict events before they occur to prompt pre-emptive action
Prioritize and allocate resources to resolve issues and drive improvement
The Hackett Group's 2017 Supply Chain Trends study revealed companies unanimously agree that advanced analytics platforms are very important. (Fig. 1). Based on experience with clients across industries, the following benefits of an advanced analytics program have been identified:
Greater profitability: Use analytics to identify targets for reducing or avoiding costs; improve utilization rates, efficiencies and material usage.
Better quality: Use advanced analytic models to enable a deeper level of insight that can better associate machine performance data to quality results
Better customer service: Use real-time data to better anticipate customer behavior and pre-emptively modify production schedules, tailor deliveries, or deploy inventories where needed.
Improved working capital: Use analytics to evaluate the end-to-end supply chain to optimize inventory
The challenge for companies, though, is to figure out how to develop and deploy an advanced analytics program for the supply chain. A comprehensive and transformative solution requires a set of building blocks – well-scoped strategy, mastery of data management, supporting infrastructure, e.g., sensors, IoT platforms, pilot implementation and process and organizational enablers. (Fig. 2)
Creating a sustainable advanced analytics capability that creates competitive differentiation is reliant on a broad set of success factors that expand a purely technology solution, including:
Executive sponsorship – Leadership must visibly support the effort.
Change management and communication – Constant and consistent stakeholder management and communication to both IT and business organizations must be undertaken to enable success.
Dedicated resources – Companies must dedicate appropriate project leadership and full-time staff to each initiative to meet the objectives and schedule presented.
Standardization and simplification – Processes (such as onboarding or day-to-day usage) must be standardized and simplified for the end user to follow along in the journey.
Collaboration – Transformation must involve the entire organization and be cross-functionally aligned to processes, initiatives and business priorities.
Innovation ecosystem – Sustainable adoption of the business intelligence and analytics platforms requires an integrated ecosystem of users and technology adept at driving innovation.
Pilot implementation – Piloting the program to focus on a subset of problems provides lessons to make improvements and prepares companies for full-scale rollout.
Ultimately, companies need to remember that successfully developing and implementing analytical capabilities is not just done by utilizing the latest cutting-edge technology, but also by investing in their people skills and aligning to their overall strategy.