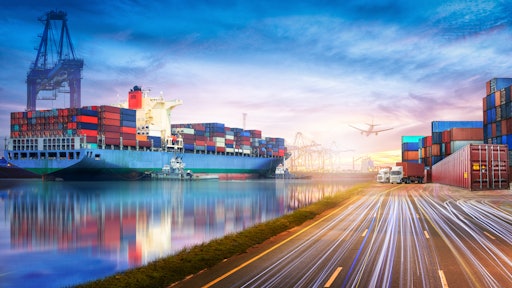 enanuchit/stock.adobe.com
Introduction: The state of the supply chain
According to McKinsey, more than 75% of buyers and sellers now prefer remote human engagement over face-to-face interactions. Surprising? Not really. But what does this mean for supply chain leaders?
It is clear that a hybrid working environment is fast becoming the "new normal." When it comes to managing complicated supply chains in an increasingly complicated global economy, leaders must be able to quickly connect people to places using 360-degree immersive experiences. With vast improvements in remote collaboration technologies, virtual and augmented reality experiences are fast becoming the new method for global business communication.
The challenges of the last 18 months have raised the bar on supply chain professionals. Leaders must now not only overcome challenges such as inflation, material scarcity, etc., but also equip themselves to handle an industry predicted to reach $12,256 billion by 2022.
The strength of the supply chain relies on transparency: Here's why that's difficult
There's no question that transparency is key to maintaining a successful and efficient supply chain. After all, supply chain leaders must be able to track material, finances, and data throughout the entire process in order to make sound decisions.
However, achieving transparency is often easier said than done. One of the biggest challenges is that the supply chain is constantly changing and evolving, making it difficult to keep track of all the moving parts. Furthermore, many supply chain processes take place in different parts of the world, which can make coordination and communication difficult.
On-site meetings are an important part of achieving transparency in this space. By meeting in person, supply chain leaders can get a better understanding of the day-to-day operations and challenges that their counterparts are facing. This can help to identify potential problems and develop solutions more quickly.
However, travel has become more challenging over the last several years, making it increasingly more difficult to be on site. Currently, the average 3-day business trip costs between $1200-$2400 per person. This is not only a cost, but also a time drain, with an average traveling worker losing an average of 6.9 hours that could otherwise be spent more productively.
Finally, the pandemic remains a threat to travel even two years later, with flight delays, new surges, and vastly different entry requirements around the world.
Enter: Emerging technology
With so much of the action taking place onsite, leaders in the supply chain and logistics space have had to find new and innovative ways to combat distance and other challenges in the industry. Because of this imperative to be onsite, the last two years witnessed more widespread deployment of emerging remote collaboration tools that covered a range of use cases, including:
Facility tours
External audits
Proprietary audits
Third party reviews
and more, all conducted remotely. Some of the most common collaborative tools include:
Smart glasses
360° technology
AR/VR set ups
360° meetings in supply chain & logistics
While there are now many options for teams to collaborate in a remote or hybrid world, few offer the sense of space and context shared between groups of people as 360° technology platforms.
Many leaders, such as DB Schenker, are turning to 360° video conferencing such as Avatour to handle a growing demand and challenges that require swift and efficient collaboration. 360° video conferencing allows users to feel as though they are in the same room as other meeting participants, regardless of location. Users can then choose to view the scene from any angle, providing them with a more immersive experience, rather than being relegated to the camera operator's POV.
This technology is particularly well-suited for the supply chain industry because it can help to overcome the challenges of distance and travel. By using 360° video conferencing, supply chain leaders can connect with counterparts around the world without having to leave their desk. This not only saves time and money, but also reduces the risk of exposure to travel-related health hazards.
In addition, 360° video conferencing can be used to give virtual facility tours, reducing the need for in-person visits. This is especially useful for supply chain leaders who need to review facilities in different parts of the world.
Finally, 360° video conferencing can also be used for external or third-party audits. This can help to improve transparency and communication between the auditor and the auditee as there is less opportunity to hide or obscure information in the remote context.
Conclusion - Looking towards a hybrid world
The last few years has taught supply chain leaders that they must remain agile and digitally-equipped to not only handle uncertainty, but also rise to the occasion. There's no doubt that transparency will become even more crucial in a remote-first or hybrid world of global collaboration. Supply chain leaders, however, are looking ahead and preparing for a future in which remote collaboration will lead the way over face-to-face interactions. Now, leaders are strategically setting in place the remote, interactive systems that will help them redefine their operations and stay ahead in the growing global markets.