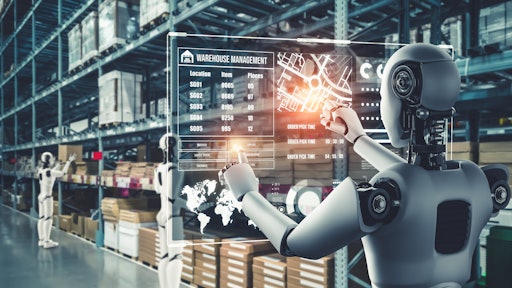 Blue Planet Studio/stock.adobe.com
If there's one thing the pandemic and ensuing supply chain disruption has taught us, it's that the future is digital. No longer are traditional operations effective on their own. Instead, customers are demanding real-time awareness and quicker turnarounds.
Studies show that 40% of warehouse executives have prioritized faster, more transparent delivery as a top indicator of growth going forward. Further, one-third say that the Amazon effect is directly impacting their strategy and expansion plans.
In order to achieve this pace of rapid growth, and with potentially limited staffing options, the companies of the future must turn to comprehensive, technology-driven solutions. It's the only way to drive efficiency and agility and stay competitive in an ever-changing market..
The impact of digitally optimizing operations cannot be overstated. But where to start? Here are three things to consider when approaching your supply chain with digital-first thinking.
1. Start at the basics
The term digital transformation can be incredibly overwhelming. That's why it's important to return to the basics. Begin by ensuring you have the proper ERP system in place that provides you with the data you need to make effective business decisions.
Then, look for technology that can help you streamline your data points throughout the supply chain, through field operations and into the warehouse, all while connecting to your mission critical enterprise business systems.
One way to do this is by embracing mobile barcoding technology. This cost-effective platform enables you to automate data transfer through hand-held device operations, giving your organization insight into the product journey, not to mention incredible transparency and traceability.
The results speak for themselves. By utilizing a combination of barcode software, mobile hardware and mobile applications, supply chains can see real-time visibility and 99.5% or higher inventory accuracy.
Leading steel manufacturer NMLK implemented mobile barcoding across its three busy U.S. steel mills as a way to combat shipping delays and impacted customer relationships. The solution transformed their inventory management, leading to reduced labor time for cycle counting by 60%.
Outcomes like these are why more than half of supply chain companies are planning to equip workers with mobile barcoding technology in the near future. A focus on a strong foundation, coupled with mobile barcoding, can be the first step in your digital journey.
2. Seamless automation is critical
For many organizations, manual processes or an existing outdated digital process that an organization has outgrown, are crippling production time. They drain resources and waste time, labor and money. For others, digital has become a mindset, but not something fully enacted across the operation. Do-it-yourself digital processes are hindering organizations from truly functioning at the level they need to be when it comes to future growth and scaling.
That's why optimization and automation are not to be overlooked. Whether you're using paper processes or working with technology that no longer meets your needs, mobile inventory solutions can help you automate workflows and improve accuracy.
Automotive part supplie Brabant Alucast was using a hybrid data collection process, including a legacy ERP system that was only partially automated. The system was prone to errors, not to mention slow and costly.
By updating their ERP and coupling it with mobile barcode scanning the company was able to increase operational flexibility and reduce overhead costs. After just six months, stock reliability increased from 70% to 96% and kept climbing.
3. The cost of not optimizing your operations
The results generated by digital technology enhancements ultimately speak for themselves. Yet, the biggest barrier for many organizations when it comes to digital optimization is cost. The question lingers: will the upfront cost of implementing new systems and technology be worth it?
To answer this question, leaders in the industry often point to the cost of not doing anything. Human error, shortages in inventory, lack of workforce productivity, and inaccurate data can rapidly drain resources and impact the company's bottom line in many ways.
Implementing mobile barcoding technologies has been proven to quickly offset the initial startup costs and result in immediate return on investment. Further, the results and profitability of automation far outweigh the initial investment into software.
Outside of cost, it's also important to consider the impact of not optimizing. Those who don't automate their operations will quickly fall behind in the marketplace. Staying ahead of the competition begins with smart operations, a strong foundation of technology, and a commitment to digital automation.
The impact of smart supply chain
Digital transformation is taking precedent across every industry. Creating a smart, modern supply chain will help your organization move forward in the new normal.
Utilizing mobile barcoding, mobile applications and up-to-date critical business systems, can help lay the foundation for a digital transformation initiative. These flexible options integrate with existing technology infrastructure and operations, and generate productivity that leads to a strong bottom line.