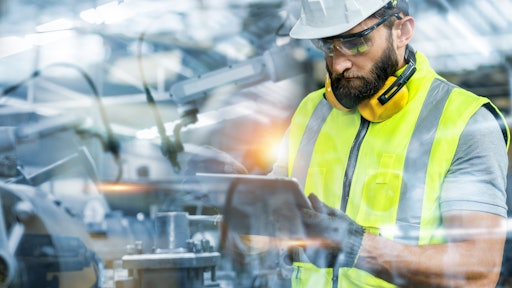 TMLsPhotoG/stock.adobe.com
It seemed as if in March of 2021, the world spoke of nothing other than the 200,000-ton cargo ship creating a block in the Suez Canal. Later in the year, dozens of ships moored off of the West coast of the United States, which accounts for roughly 40% of U.S. imports, made news. Add in the trucker shortage, the chip shortage, and the dissemination of COVID-19 vaccines and boosters, and it is no wonder that supply chain news stepped into the spotlight during 2021.
The conversation around supply chain trends is no 15 minutes of fame. The top stories from 2021 showed the entire world the real, everyday impact that supply chains and technologies have on individual lives. This year, all eyes will continue to be on the supply chain and innovators will be pushing to create solutions that leverage technology and data to address persisting challenges. While there's no guarantee what 2022 will have in store, below are a few technology trends shaping the state of the supply chain.
Shift to more automation in the warehouse and hub space
Companies will be leveraging technology like telematics that can give them real-time data to address ongoing labor shortage issues as well as automate key processes. One process is inventory management and tracking the flow of goods in and out of facilities. This has a cascading effect on driver wait time and can minimize human errors and streamline the accounting of goods being transported from site A to site B.
Companies will also be forced to invest further in data technology in their ongoing response to COVID-19 and the wider economic impact on resources related to the operations of their business. Tools like data loggers will likely continue to be in use, but will slowly be replaced by solutions that provide more comprehensive, real-time visibility data for warehouse management as well as when goods get loaded onto a trailer.
The most important data for this type of management is that which allows one to triangulate the location of packages as it moves from one area of the distribution center (DC) to another, and then as it moves from one DC to another fulfillment center or on to the end customer. In big fulfillment centers—such as Amazon—this location and supply chain process takes a large amount of time, manpower and visibility.
Click here to hear more about modern solutions in the warehousing space:
The need for better quality data will exceed the interest in more data
Companies in fleet and supply chain management will be looking for actionable information they can exchange and use to collaborate with partners and other supply chain participants—like shippers, transportation & logistics providers, 3PL, etc.—to help make more informed decisions. With longer cargo wait time on docks, capacity issues on multiple modes of transportation, and the increasing costs associated with each mode, these companies will want better data—as opposed to more data—on their shipment of goods. Data such as utilization data or stationary time of cargo, captured from telematics devices, edge computing solutions and third-parties (such as ocean and flight data) can provide contextual and actionable insights when integrated into management solutions.
Useful data around trailers extends far past the cargo within. When a trailer is sitting empty, fleet owners are losing money. Additionally, the state of the trailer itself is crucial to understand in order for shipments to be made. For example, whether or not the trailer is road-ready and if it is prepared to be loaded for a shipment. In a yard full of trailers, identifying which can be used, which are empty, and those that need maintenance in real-time is invaluable.
In addition to optimizing trailer utilization, enabled visibility can mitigate challenges such as the current rise of cargo thefts. Looting of trailers has been continuing to make news, so knowing when a door has been opened or a package has been tampered with while a trailer is sitting is vital information to have. The additional challenges presented by shipping sensitive cargo can also be mitigated through real-time data. An exponential amount of money can be lost through spoiled cargo. The ability to track how long goods have been in a trailer will ensure that shipments won't be spoiled. Across all of the challenges presented to fleet managers, data provided by telematics is key to executive decision making.
Cold chain monitoring will continue to be critical
In the past year, the logistics behind COVID-19 vaccine shipping have driven new innovations in cold chain monitoring solutions designed to ensure the quality and integrity of vaccine shipments. We can expect to see new improvements in cold chain technology, including devices with better battery life, sensors delivering real-time data on light, temperature, humidity and shock to monitor perishables like food, pharmaceuticals and biomaterials with greater environmental granularity to ensure compliance with regulations.
Supply Chain Visibility software will continue to evolve to translate what the devices are collecting to user interfaces that end-users can take action on. Specifically, having a solution that can bring together data insights from all stakeholders - whether shippers, carriers, brokers or freight forwarders - will optimize transportation and supply chain logistics and enable the just-in-time deliveries consumers expect. This cross communication and collaboration will be important for companies with complex supply chains to improve upon for years to come.
Increased regionalization will change the game for supply chain visibility
To reduce risks for supply chain disruption—such as supplier issues or a 200,000-ton canal bottleneck—more organizations will be moving their factories and fulfillment centers closer to customers. Such regionalization will help reduce the miles driven by each driver as well as time spent loading and unloading. This, coupled with real-time intelligence from connected devices, sensors and supply chain visibility software will further streamline operations and deliver new efficiencies.
With the global focus on supply chain, there is no doubt that 2022 will be a year of innovation in the industry. While only time will tell what 2022 has in store for the supply chain industry, we know from the past two years that enterprises, transportation providers, technology providers, and everyone in between, will find ways to innovate and overcome any obstacle to drive more efficiency into supply chain operations.
Please note that at the time of writing, Sopa Soun was with CalAmp but has since moved to Realtor.com