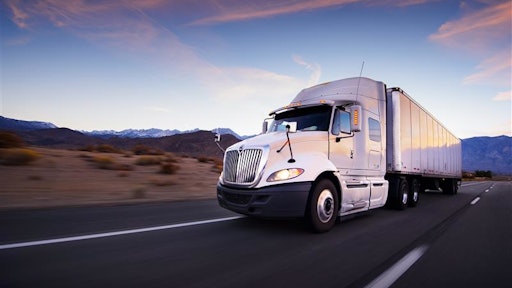 dell
When it comes to operating a successful commercial fleet business, maintaining proper safety and efficiency protocols are critical. However, fleet managers may face the undue feeling that when they work to increase fleet safety standards, operational efficiency may drop. But, when fleet managers push to create more efficient fleets, safety measures could drop.
Along with the difficulties associated with enhancing safety and efficiency measures, ongoing factors such as shrinking delivery windows, increased competition and new regulatory standards continue to add pressure for fleet managers to prioritize one area over another, making efforts to improve safety protocols easier said than done.
To help alleviate these challenges, fleet owners are turning to location data to improve safety and efficiency across their operations. Fleet managers can now utilize real-time data and location intelligence provided by modern-day fleet navigation systems to inform everything from driver behavior analyses to improved workload scheduling.
Regular driver behavior analyses
According to the latest National Census of Fatal Occupational Injuries, more than one in seven on-the-job deaths occur in the heavy-duty trucking industry. Coupled with the potential for higher insurance premiums and "nuclear verdicts" due to fatalities, it's crucial for fleet owners within the transportation and logistics (T&L) space to ensure they're enforcing a safety-first work culture.
One way fleet managers can create a more risk-averse fleet is through regular analyses of driver behavior using location data. Through the real-time analytics and data provided by location intelligence, fleet managers can compare individual driver behaviors to geospatial and environmental factors drivers run into on a daily basis, including legal requirements (e.g. posted speed limits), road features and conditions (e.g. slope curvature of the road and weather) and behaviors of surrounding drivers (e.g. real-time traffic conditions and free-flow speeds). Along with instant access to real-time geospatial information, better truck safe navigation via location data can also help fleet owners factor in everything from bridge heights to weight restrictions when crafting safer and efficient routes.
By performing regular analyses of driver behavior, fleet managers can work with employees to improve their driving behaviors and recognize good habits. Moreover, this can even fuel good driver incentive programs, which can help improve team culture and lead to better company savings through reduced insurance premiums for good drivers.
Better awareness of road conditions
Road conditions can change in a matter of seconds. While factors such as wet pavement or snow accumulation may serve as a minor nuisance to the everyday car driver, these types of environmental factors can heavily impact the safety and efficiency of those driving over 6,000 pounds of steel.
To protect drivers from potentially hazardous road conditions, fleet owners have embraced modern day truck navigation systems that provide location intelligence to create safe and optimal routes for their employees. Thanks to the geospatial and weather data provided by these types of systems, fleet owners can proactively generate delivery routes that can avoid dangerous road conditions (e.g. unpaved roads) or other obstacles interfering with the delivery process. Simultaneously, the real-time data provided via location intelligence can help truck drivers on the spot if any sudden accidents, lane closures or even extreme weather occurs.
Take for example a logistics company assigned to transport medical supplies from the east to west coast of the U.S. during the winter. Prior to the trip, a fleet optimizer could create the optimal route avoiding significant weather patterns or road closures for their fleet. Then, while on the road, if a driver's truck navigation system detects a change in the driving environment, the in-cab workflow application could automatically request a modified route from the optimizer and alert the dispatch team to this anomaly.
Improved workload scheduling
Workload scheduling for fleet owners is more complicated than one may think. Beyond the challenges of route planning itself, fleet managers must also factor in rest time for drivers, including areas where a driver can park, rest, eat and even shower. Additionally, leaders need to ensure the workload schedules they create abide by the law (e.g. ELD mandates) and are the most fuel and time-efficient from a cost perspective. If a workload schedule does not account for all the factors previously mentioned, fleet owners could face more than just an angry complaint from an employee.
By utilizing software programs geared toward fleet management, leaders can streamline workload scheduling efforts while still ensuring the safety and efficiency of their fleet. Whether it's through qualitative or quantitative datasets pulled from a fleet management program, the real-time location intelligence provided by these types of platforms are enterprise-grade and equipped to handle even the most intense workload scheduling duties.
It's evident from the variety of use cases that location intelligence can help fleet owners improve safety and efficiency protocols for their company. While it may be easier for those in the T&L space to use native mapping software found on computers or other mobile devices as part of the fleet management process, these solutions only provide the bare necessities needed to plan a safe and efficient route and can cause fleet owners more harm than good. As a result, it's crucial for fleet owners to be informed of commercial-grade solutions offering robust location intelligence in order to create a safer and more efficient work environment for the future.