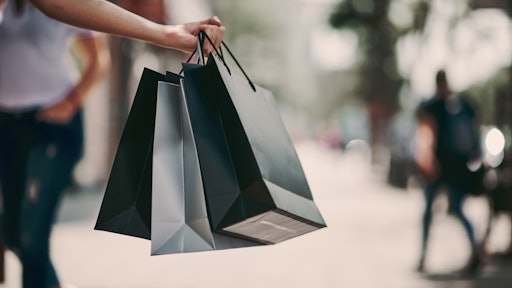 chika_milan - Adobe Stock
The Coronavirus disease (COVID-19) pandemic has altered our world dramatically. And, when thinking about aspects of everyday life that look markedly different than 2019, consumer behavior is top of mind for retailers and distributors. There are a lot of predictions from industry experts about what to expect this holiday shopping season—from longer fulfillment processes to increasing package delivery rates—but there is still plenty of uncertainty, especially when it comes to the supply chain.
Online sales have skyrocketed through the pandemic, and according to the NRF's Annual Holiday Survey this trend will continue through the holiday shopping season, with a majority (60%) of consumers saying they plan to purchase their gifts online in 2020.
As more consumers than ever prepare shop online, the global supply chain will be put to the test once again and face one of the greatest challenges of the pandemic so far: keeping up with the holiday rush.
COVID-19: The initial impact
While some retailers and distributors may have had risk management processes in place for expected challenges, the COVID-19 pandemic proved that many were unprepared in the face of all-encompassing global catastrophes, health crises and economic turmoil. Since the outbreak of COVID-19 in the United States, retailers and distributors have had to deal with numerous supply chain snafus, including limited staff, decreases in productivity and fluctuating consumer demand. The impact on the industry was extensive, and some companies are still working to bounce back from a host of sourcing and logistical challenges due to restricted travel, as well as delivery issues due to capacity and availability of labor.
The past few months though have shown the resilience of the supply chain and retailers' dedication to keeping essential inventory in stock and available to consumers country wide. But now, just as retailers and distributors have adjusted to their "New Normal" during the pandemic, they need to prepare once again for unprecedented challenges as holiday shopping gets underway as well as a new level of uncertainty in 2021.
Preparing for complexities to arise
From spikes in COVID-19 cases across the country to a potential COVID-19 vaccine becoming available soon, which will change consumer behavior again, the coming months will be filled with uncertainty. Retailers, distributors and manufacturers need to prepare quickly in order to prevent these variables from impacting their business through the end of the year and into 2021.
A few key areas for retailers and distributors to focus on this season to help navigate challenges in the industry include:
· Upgrade or replace legacy applications. Taking the time to modernize applications can pay dividends in the end, simplifying IT and reducing the time spent on management. Even if certain manual processes have already been digitized, new capabilities and functionalities are always being released. Now's the time to update and upgrade.
· Unify operating systems. Streamlining systems and creating an operational ecosystem rather than dealing with various siloed systems and processes will reduce complexity and increase productivity. For example, look at how the organization can move data across the business and share it seamlessly with partners and stakeholders. When more information is available, company leaders have more visibility into their supply chain.
· Leverage automation and artificial intelligence (AI) tools. Automation and AI technologies help make it possible for machines to learn from experiences, simulate human processes and help match data between suppliers and manufacturers. With these solutions, there is plenty of opportunity to increase productivity and efficiency through the entire organization.
Although these upgrades and initial technological investments can be pricey for smaller and midsized businesses to implement, the payoff over time is great and is extremely valuable in helping organizations gain insight into their supply chain operations. It is important for retailers and distributors to start somewhere, even if that means implementing one solution at a time.
Looking ahead
While plenty remains uncertain in the coming months, one thing is certain—like all of 2020, the holiday shopping season will be anything but normal. However, these past eight months have given supply chain managers a lot to digest and learn. The pandemic has shown retailers the importance of investing in new solutions and technologies to optimize their supply chain and remain competitive. And this year, it will be the supply chain managers who upgrade their systems and implement new technologies who will weather the COVID-19 storm best and thrive though this unprecedented holiday shopping season.