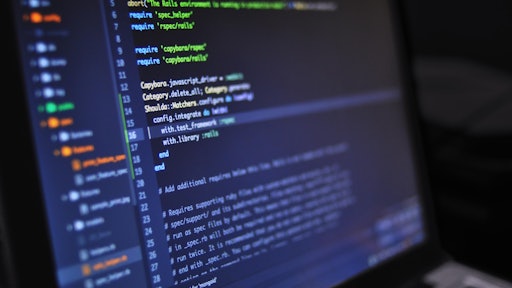 Pexels
In the world of supply chain digitization, there is little doubt that the technology offered by the Internet of Things (IoT) is rapidly progressing from a want to a need.
New and increasingly inexpensive technology has caused the IoT to expand, with Statista expecting the number of connected devices to rise from 23.14 billion in 2018 to 75.44 billion in 2025. The IoT—and more importantly for the supply chain, the Industrial Internet of Things (IIoT)—promises a world that is not only a connected place, but a place where those connections deliver optimized performance through artificial intelligence analysis of connected assets.
"There is a movement, or an evolution, that is occurring in the manufacturing space where customers are becoming more and more demanding to have access to that data," explains David Gustovich, senior director of Manufacturing Center of Excellence and the former founder and CEO of IQity Solutions, now acquired by NetSuite.
"The market is responding," he added.
Connecting Assets
The potential of the IoT in connecting assets can be easily summed up in discussing, for example, lift trucks. According to Kevin Paramore of Yale Materials Handling Corporation in an Internet of Things webinar with Supply and Demand Chain Executive, there are numerous sensors in lift trucks that track a variety of data, including whether the truck is in forward or reverse, or lifting or lowering as well as fuel consumption, battery state of charge and the like.
"Many people are unaware of the data that can be extracted," Paramore said. "There's a lot of granular data that is available coming off these lift trucks. Whether it be in a distribution center, warehouse, outdoor environment or outdoor application, all these truly mean something. The data really comes together to provide a holistic view of the situation. Those data sets can be bridged together into a large decision-making platform."
Assets in the IIoT can include sensors that detect everything from temperatures or airflow in a reefer trailer or container to a monitor in a semi-trailer truck that measures speed, miles or time driving. The sensors then transmit the data to another device, which allows companies to track the data—often in real time—and make decisions.
With simple devices entering the market at low prices—and LTE-M and NB-IoT providing reliable, lower-power, secure transmission of data over distances—more and more companies are finding the information easily at their fingertips.
The more devices that enter the supply chain means the more data that companies have available. That data can be critical when tracking temperature fluctuations in a reefer trailer or usage of a lift truck, but also monitoring automated processes for inefficiencies and costly breakdowns.
"Now companies are using IoT to create that unified strategy that's connecting these different layers within the manufacturing environment," Gustovich said. "When you think of the trend from a macro point of view, that's where companies are moving to now and will be for the foreseeable future.
"By connecting the investments they have already made…it's now giving them a more holistic view and a much more powerful analytic capability," he added.
Competitive Advantage
Gustovich has also spent time talking about IoT and how it can enable companies to bridge the gap in globalization. Manufacturers, especially in the United States, he explained, have been hit hard by globalization.
"IoT is a way for them to bridge that gap," he said.
But Gustovich said that companies need to look specifically at what they need and not try to do everything at once.
"Just because you can, doesn't mean you should," Gustovich explained, saying that there can be dozens of data tags depending on the type of equipment a company is working with.
"Not all of those data tags are important for you to have screaming and being processed into an IoT platform," he said. "So that's a great application of the 80-20 rule. Focus on those 20 percent of the data tags. It's going to provide 80 percent of the business value for you. Begin to connect those data tags first. What you're doing is focusing on those critical few elements that give you the greatest impact to your business as it relates to gaining visibility and control costs."
From there, a number of solutions exist for businesses, Gustovich said, including companies that are developing their own proprietary analytics and add-ons to purchased items.
"Ultimately, they built some proprietary data connectivity and capability into their equipment," Gustovich explained. "The owner of the equipment wants you to come to them and use whatever incremental value-added services they provide to gain access to that data.
"There are incremental costs that you have to pay that OEM to license access to the data that the equipment is gathering," he added.
Growing Opportunities
With the growth of the IIoT as well as connected assets, companies must also be willing to address the additional bandwidth and internet speed needed. Through a variety of ongoing technical upgrades in the field—including the use of LTE-M, NB-IoT and even 5G technology—companies are making the leap.
"Most companies are recognizing they need dedicated high-speed internet lines," Gustovich explained. "Also, depending upon the IoT software platform, the better designed platform would allow different configuration options to help aggregate and manage the speed and use of bandwidth."
Gustovich cautioned that the technology and its applications are still in a growth and discovery phase. In a recent NetSuite and Oracle survey, it shows that only a small percentage of companies are on board with IoT technology.
"We're still very much in the early innings of the IoT evolution," he explained. "We recently did a survey with our customers and it was a very small percentage of companies that we're currently working for that have any level of critical investment or capital being applied to IoT or blockchain-type technology."
As much as IIoT and connected assets are going to be a competitive advantage moving forward, though, Gustovich stressed that he didn't want to see the human aspect of the supply chain eliminated.
"I have mixed emotions about how much technology should play in terms of automating or eliminating or reducing the workforce," said Gustovich. "The reality of it is that it's a trend that is occurring. It's one of the reasons why people are concerned about how pervasive artificial intelligence becomes."
Gustovich also made it clear, however, that with the large amount of data coming in, artificial intelligence solutions will be key to analyzing all the data.
"It's moved from science fiction into the realm of science now," he explained. "That's the whole thing with IoT, bringing it into a common unified database that creates better visibility and awareness that allows companies the analytics and the AI.
"It's about creating the proper notifications and workflows that can escalate things to the appropriate resources as close to real time as possible so you can be more proactive in responding to issues before they become a major item."