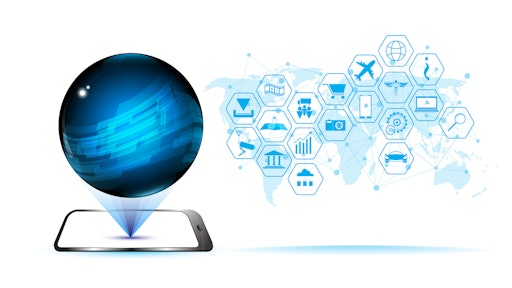 In the world of supply chain technology, blockchain is dominating the headlines. And while blockchain certainly holds promise for many industry sectors, the Industrial Internet of Things (IIoT) continues to propel innovation and investment for companies of all sizes. According to a report from Grand View Research Inc., the global industrial IoT market is expected to reach USD$933.6 billion by 2025. As connectivity to the cloud evolves and a greater focus on edge computing occurs, IIoT holds significant possibilities for companies ready to leverage their data and expand their customer engagement.  
Providing insights about the latest IIoT trends are Barry Lynch, vice president sales and marketing for Factora; Lou Lutostanski, vice president of IoT for Avnet; and Dr. Richard Soley, executive director for the Industrial Internet Consortium. 
Q: In what ways are companies implementing industrial IoT into their operations?
[Lynch] Before integrating IIoT into your company, there are two things to understand. The strength of IIoT is its flexibility because you can connect anything to anything, but that flexibility is also its weakness. Unless you have a real focus on what you're trying to achieve as an outcome, you can waste a lot of time trying to connect things for the sake of the technology as opposed to driving a business outcome from the implementation.
Thus, what we found successful is not a rip and replace but a surround and extend approach. Companies take IIoT technology and connect it to various data sources that already exist and extract new value from it such as business insights and revenue channels. At the end of the day, there has to be a business outcome or else why are you doing it? If you're only doing it for a technology push, it's never going to be successful.
[Soley] The key idea is to sensorize systems—legacy or not—and as much as possible automate the actuators of systems. This allows one to take advantage of IoT, which simply means the gathering of data from many sensors, real-time analysis of that input, and control of real systems through Internet-connected actuators. Companies are also succeeding at bringing their legacy systems into an IoT world by tracking and controlling their performance. 
Q: How are companies utilizing the analytics gleaned from IIoT?
[Lynch] Analytics are used in several ways for greater operational efficiency. One is predictive reliability. With IIoT you can process so much more historical data using the elasticity of the cloud where predictive algorithms can determine or prevent potential machine failure. Another way analytics are used is machine learning in real time. Whether it's one machine or a fleet of assets, machine analytics can identify performance commonalities to improve overall machine design and output. Companies are also empowering mobile operators (using tablets and smartphones) to work in a more visualized environment where devices and machines combine for greater output.
[Lutostanski] We build devices that attach to current legacy assets through ports and cloud-enabling them to transmit data to a cloud where it can be analyzed against other devices. Relative to how they're used, predictive maintenance and anomaly detection are the most common IIoT applications. Within supply chain, the cold chain is a primary area for IIoT utilization for monitoring consumables from the point of distribution to the time they reach the consumer. Sensors are measuring temperature, humidity, damage impact and the like.
In addition to the cold chain, a smart factory is another example where you're combining motion and sound anomalies with other big data sources, such as production output, environmental data and worker data that all combine to produce predictive analytics. While IIoT is retrieving information from a device, it is combined with enterprise data to draw an analysis on the overall system. 
Q: How can companies leverage IIoT for greater engagement with customers?
[Lynch] Attaining a closed loop with customers is critical. In an industry such as consumer packaged goods there's more customization today—a batch of one. Using IIoT technology, we'll see more interaction with customers to personalize or brand products in a cost-effective way. It's an evolving area but one that's growing.
Companies need to think of IIoT as an integration platform not as a product. A platform that brings together your S&OP, your ERP and your warehouse management system. With those systems stitched together, companies can better address such things as quality issues and customer feedback rather than waiting for a recall. It enables more proactive operations and supply chain model.
[Soley] The most exciting opportunity from Industrial IoT is to completely change your business model—the iconic example of course being Power by the Hour, or the operational leasing (instead of capital sales) of jet engines. Airlines get propulsion—which is what they really want, rather than jet engines—and the lessor (jet engine company) can maintain the productivity of that engine better than anyone else (since they built it and have terabytes of performance data from that engine and thousands of others).
The most important aspect of Industrial IoT is likely the opportunity to offer customers what they want rather than machinery that gives them what they want. Airlines don't really want jet engines, they want guaranteed performance, propulsion and efficiency.  This results in better and closer customer engagement—and delight.
[Lutostanski] There's another big opportunity for IIoT that's starting to form called as-a-service IoT. It's about converting that capex to an opex model. You'll see page-as-a-service, as people pay for output of pages instead of buying printers. And air-as-a-service for customers who don't want to buy air compressors, but want to pay for the uptime and the amount of activity. Thus, as-a-service is yet another area, beyond just advising people who are using the products, to generate revenue from the devices. We see a lot of traditional OEM customers that want a platform where they can keep track of their devices out in the field. Even the location of the devices is important.
Q: What does the future hold for IIoT in tomorrow's companies?  
[Soley] Without a doubt, it's the successful integration of artificial intelligence techniques like deep learning information IIoT systems. An example: our Smart Building Testbed in Yokohama features some 35,000 sensors generating hundreds of terabytes each day—there's simply no way any human can make sense of that data. It has to be done by a computer, thus the Deep Learning system we're employing on the testbed.
[Lutostanski] IIoT isn't about technology, it's about business transformation. The IoT piece, and the technology that goes along with it, is just an enabler. One of the top reasons that IoT hasn't accelerated as fast as it could, is the lack of imagination on the part of companies to use this technology for their benefit.
When I originally started in this business, people said I'd have to teach others why they should use IoT. I thought that was ridiculous. But in the end, it turned out to be absolutely true. Companies understand they need to transform their business, but the business transformation with IoT must include information technology, the CIO and others in the C-suite, and the workers on the factory floor who have the data. And that's not an easy thing to do. Thus, they get focused on the technology and forget the business case for doing it—everything has to have an ROI.