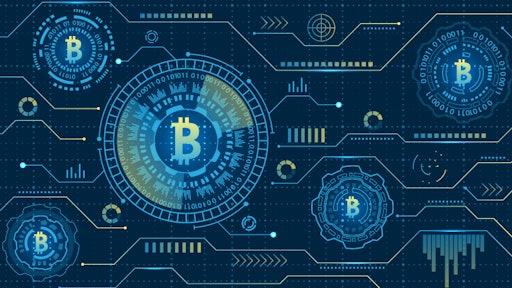 While the potential opportunities for blockchain are still unknown, several pilot tests are giving us an idea of how it will likely manifest in the supply chain.
Given its massive implications, the joint venture between Maersk Line and IBM, announced in January, understandably dominates the current conversation about blockchain in the shipping sector. Specifically, the two partners are developing a global trade digitization platform built on open standards and intended for use by the entire global shipping ecosystem—manufacturers, ocean carriers, freight forwarders, port and terminal operators, customs authorities, and even the end consumer.
It's an ambitious goal, and the payoff is significant. Considering that more than $4 trillion in goods are shipped annually, and more than 80 percent of the goods consumers use daily are carried by the ocean shipping industry, there's ample room to streamline the trade documentation processes, and time-intensive and costly administration processes both.
DuPont, Dow Chemical, Tetra Pak, Port Houston, U.S. Customs and Border Protection, and the Customs Administration of the Netherlands have already tried out the blockchain platform, while General Motors, Procter and Gamble, and Agility Logistics are among those that have expressed interest in conducting their own pilot tests of the platform, according to Maersk Line.
The joint venture plans to commercialize two core capabilities aimed at digitizing the global supply chain end-to-end, explained Maersk Line in a news release.
One, a shipping information pipeline will provide end-to-end supply chain visibility to enable all supply chain stakeholders to securely and seamlessly exchange information about shipment events in real time. Secondly, a "paperless trade" will digitize and automate paperwork filings by allowing end users to securely submit, validate and approve documents across organizational boundaries, ultimately helping to reduce the time and cost for clearance and cargo movement.
Finally, blockchain-based smart contracts will ensure all required approvals are in place, helping to speed up approvals and reduce mistakes.
Once the Maersk Line/IBM joint venture receives regulatory clearance, the platform will be made available—most likely before summer.
Other ocean carriers are launching blockchain pilot tests of their own.
Late last year, Israeli shipping line ZIM conducted a blockchain document exchange pilot for paperless bills of lading. The pilot was completed in cooperation with Sparx Logistics and Wave Ltd.
Commenting on the pilot test, which is the first of its kind, ZIM states that, "An electronic substitute to the traditional Negotiable Ocean Bill of Lading has been the industry's Holy Grail for many years."
During the pilot test, all participants issued, transferred and received original electronic documents using the Wave Application. The containers, shipped by Sparx Logistics from China to Canada, were delivered to the consignees "without a hitch," notes ZIM.
The new blockchain-based system developed by Wave uses distributed ledger technology to ensure that all parties can issue, transfer, endorse and manage shipping- and trade-related documents through a secure decentralized network, ZIM adds.
The application is free for shippers, importers and traders and requires no IT operational changes.
For its part, France's CMA CGM Group announced earlier this year that it too was investing in the digitization of the supply chain with the creation of Ze Box, an international startup incubator, based in Marseilles, that will launch in June.
These Boots Were Made For Blockchain
L.L. Bean, the 106-year-old retailer based in Freeport, Maine, is also joining the blockchain bandwagon.
In February, The Wall Street Journal reported that the retailer, famous for its Maine Hunting Shoe, is teaming up with Loomia, a Brooklyn-based technology company that makes flexible circuitry, to embed sensors in a line of boots and coats to better understand how customers use its outdoor gear.
A small hardware device that uses near-field communications signals will collect data from the circuits while the customers are wearing the boots and coats. L.L. Bean is also building a data tracking and analytics system to use customer data stored on Ethereum, an open-source, public blockchain platform.
An innovation specialist with the retailer says information such as temperature, frequency of wear and number of washes will help L.L. Bean determine if its products are living up to expectations and performance levels.
"Digital, quantifiable data about how customers are actually using a product—we've never had that data before," the innovation specialist told The Wall Street Journal.