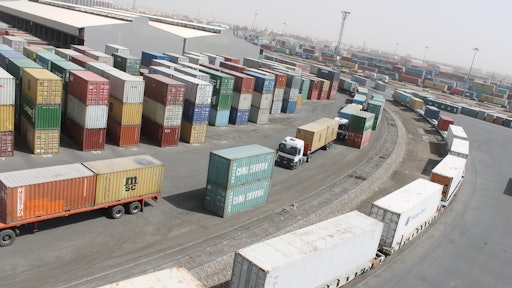 On Oct. 5, 2016, Riyadh Dry Port (RDP), a rail facility connected to the Sea Port of Eastern Province in Dammam, Saudi Arabia, experienced a catastrophic event they luckily had been preparing for—a major electricity breakdown, with all operations, systems and technical departments at a complete standstill.
In a port environment, where operations never stop running, every single minute of a breakdown in a system can have disastrous side effects. However, because of thoughtful planning, RDP's terminal operating system (TOS), Navis N4 2.3, remained the only system still up and running, with no loss of data on both of the sites.
Following its acquisition by Baas International Group (BIG), RDP became the only dry port in the Kingdom of Saudi Arabia and in the Middle East to implement and run on Navis N4 2.3. To ensure 24/7 availability of their system, RDP migrated their physical N4 systems to a virtual environment with secondary data centers. The transition was smooth, and N4 adapted to the VMW environment easily. In addition, data was able to be synchronized and replicated at both sites.
During the unexpected electrical crisis, the data centers were supported by generators and a robust UPS system, aiding the primary and secondary data centers to run smoothly. Because N4 continued to run, port operations were unaffected by this unexpected electricity impact. The BIG IT team emerged unscathed from this 7-hour electricity shutdown because RDP had designed, configured and set up robust and reliable IT infrastructure inside the port. The N4 systems remained stable and consistent.
The Evolution of their TOS
Having seen firsthand the effects of an unforeseen event, RDP values reliability and efficiency above everything. Since going live with N4 in March 2013, RDP has continued to evolve with and through N4 to maintain efficient, scalable and flexible operations.
Designing and implementing a data center for securing business data of N4 and SAP systems was the first step in their transition to hosting N4 in a virtual environment. The transition was completed in approximately six to eight hours of downtime on a Friday, after which the physical servers for Navis and SAP were efficiently migrated to the VMWare virtual environment.
RDP carried out appropriate unite testing and integration testing for both applications over a period of three weeks, and all routine maintenance was pre-scheduled upon confirmed downtime. After the transition and the proven reliability of N4 in the event of a system breakdown, RDP has seen consistent growth. BIG has registered a 10 percent increase in container volumes each year after implementing Navis N4. More specifically:
In 2013, BIG handling 270,000 TEU total.
In 2014, BIG registered a 13 percent growth, handling 305,000 TEU.
And, in 2015, BIG exceeded all expectations, setting a new record in handling 350,000 TEU annually.
RDP was able to handle 1,085 full import containers in one day—a 75 percent increase from their operations in 2012, prior to N4. Navis N4 2.3 is able to run 24 hours a day, 7 days a week, 365 days a year with no downtime as a result of the backup site. Constant operations means more business and happy customers.
"Navis N4 2.3 has delivered long term successes in RDP operations. As a TOS, it has time and time again proven to be a scalable, easily adaptable on physical and virtual servers, robust, and able to cater to all needs of rail operations easily," says Shaik Ahmed Nawaz, IT manager, Baas International Group.
N4 easily integrates with other applications, so running N4 and SAP together has helped leverage operational efficiency to another level. The SAP Billing module retrieves its data from N4, and the front-end N4 application is scalable and easy to understand. N4 is the backbone of port operations at RDP and has helped streamline the operational activities and improve gate and yard operations by more than 75 percent.