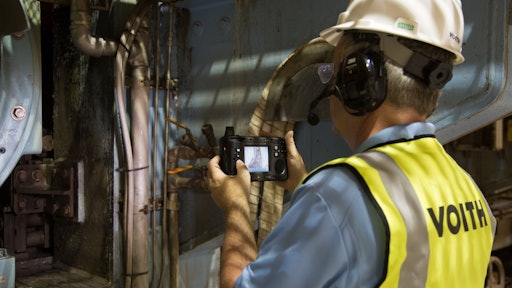 Global competition, upcoming expertise shortages and demanding customers are driving enterprises to transform service and product development processes. The upcoming shortage of expertise due to the aging workforce is one of the top challenges identified by enterprises today. Market-leading enterprises are now seeking innovative ways to leverage experts using live video collaboration in the field, and capture this expertise within a knowledge base of recordings and images.
As Aly Pinder, senior research analyst with Aberdeen Group, states in the Video-Enabled Service research report, "Leaders now realize that building a better machine or delivering to the service-level agreement (SLA) is not enough. To truly stand out, these organizations must ensure that their field teams can resolve customer issues as soon as they arise and accomplishing this requires a real-time connection to answers. Video is providing this connection for organizations and helping them make the leap into the future of service."
This real-time connection to answers means that field workers must be able to access remote experts quickly to talk, share live video and images, and diagnose issues. Depending on the network and physical environment, that real-time video connection can be very challenging to achieve. Teams may be in a basement with only one bar of cellular or at an oil rig with restricted satellite connectivity.
One company that provides technology to enable this live field collaboration and knowledge base capture is Librestream Technologies. Its solution, which was recently awarded the SDCE 100 honor, involves the use of virtual presence technology to enable live video diagnostics from challenging field environments, and the ability to create, tag, search and share knowledge base content.
Innovative enterprises across manufacturing and energy are adopting this kind of video capability to differentiate and add value to customers, opening up new revenue streams as a result. Gone are the days of delayed response from emailing pictures and returning to customer sites with experts in tow.
Three innovative enterprises have deployed video-enabled services with Librestream and evolved traditional work processes to embrace modern, responsive approaches for customers. Here's what each of these enterprises are achieving using live video capabilities in the field.
Voith Digital Solutions
Voith is a global provider of technology and industrial services for sectors such as energy, oil and gas, paper, raw materials, transport and automotive. The Voith Digital Solutions division develops digital solutions and services to support customers with the optimization of their business processes.
One of these new services is OnCall Video to virtually bring remote experts to customer locations. Juergen Kaeser, head of global service Papermaking 4.0 at Voith Digital Solutions, explains, "The paper industry is globally facing a constant loss of expertise driven by cost pressure and by the retirement of the most experienced professionals. It is extremely hard to capture and transfer their knowledge for the next generation. With remote video support solutions, we can make our experts available everywhere in the world at any time."
In the capital-intensive industries that Voith serves, equipment uptime is critical to its customers' profitability. As Kaeser states, "Uptime is the key performance indicator (KPI) that determines our customers' success. Any unplanned event that interrupts 24/7 production needs immediate attention. The OnCall Video service helps us provide fast remote failure diagnosis and resolution, which adds value by reducing unplanned downtime."
With this video-enabled service, Voith provides a competitively differentiated offering that takes days out of the problem resolution process.
Ziegler CAT
Ziegler CAT, a Caterpillar equipment dealership in the Midwest USA, offers its customers innovative machinery and on-location support services. It recently introduced the Ziegler Onsight service to diagnose and inspect equipment remotely—not easily done on a construction site or in the middle of a farmer's field.
"We needed high call reliability from low bandwidth environments, support for existing service workflows, an interactive experience and security," explains Todd Hesse, product manager for precision ag technologies at Ziegler CAT.
With the launch of this new service, Ziegler technicians and customers can remotely troubleshoot complex equipment issues, increase accuracy of replacement parts, diagnose application synchronization issues and perform preventive maintenance.
"We originally piloted this solution with a subset of our technical communicators and field service technicians in the agriculture product division. That pilot demonstrated strong results, including faster response times, higher equipment uptime and productivity gains. In some cases, we accelerated support resolution times by as much as 60 to 70 percent," shares Hesse.
Initially deployed across the Ziegler agricultural service organization, this video diagnostic capability is proving to be a core tool for a wide range of Ziegler customers in the construction, agriculture and power generation markets.
Diebold Inc.
Diebold, a leading provider of self-service innovation, security and services to financial, commercial and retail markets, first launched a video service capability for its field teams in late 2015. As Bill Fletcher, then vice president of global remote services delivery at Diebold, explains, "Continually evolving our customer service processes to drive improved performance for our customers is core to our business. It is important to give our service teams the tools they need to more rapidly respond to issues that occur in the field."
The initial video solution deployment equipped field technicians with the ability to share live video and talk with Diebold-accredited remote support experts to resolve maintenance issues, accelerating service resolution times and improving field technician mentoring programs.
"Video collaboration in the field has a strong impact on the level of service we can provide our customers. We've been able to improve first-time resolution rates for service calls, as well as decrease the time our seasoned experts spend in the field mentoring new technicians, by 33 percent," shares Steve Wagner, customer support manager at Diebold.
Diebold was recognized for this Video-Enabled Service Initiative by Frost & Sullivan with the 2016 Manufacturing Leadership Award. The award was in the competitive Customer Value Leadership category, which recognizes companies that evolved their business model with new approaches to customer service.