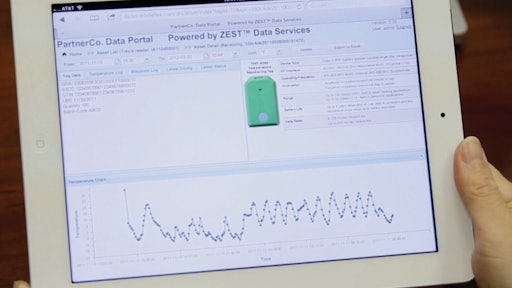 Supply chain processes are complex environments that have little time for error. Yet disruptions do occur—the wrong product gets distributed, produce is tampered with in transit or a shipment gets delivered to the wrong retail location—and supply chain executives must deal with the repercussions, which often costs them additional time and energy that could have been utilized elsewhere.
With the development of technology that produces actionable data, environments that handle perishable items such as food or pharmaceutical drugs are able to more effectively monitor the data of goods at all levels of the supply chain—which ultimately improves operations to reduce cost and boost profitability.
"In the food industry, the problem has been that a lot of the data that is captured was sporadic and at a very high level—such as at the trailer or warehouse level," said Kevin Payne, Senior Director of Marketing, Intelleflex, Santa Clara, Calif., which provides on-demand data visibility solutions for cold chain and asset management. "What research has found is that there are tremendous variations at a much more granular level—such as at the pallet or container level. If you have a refrigerated warehouse, pallets of product in one corner of a warehouse may react and age differently then pallets located in another corner of the warehouse. And if you don't have access to that data in a way that you can make decisions on it, you end up losing product and all that's left is a historical record of something that had gone wrong," he explained.
And while solutions such as fixed readers, which plug into a Local Area Network (LAN), are evident in the market, an expanded focus on traceability has caused solutions providers to develop technologies that track even more data in real time and at all levels of the process—including packaging warehouse processes, dock loading, shipments in transit, receivable goods and inventory shelf life. And the 2011 passage of the FDA Food Safety Modernization Act (FSMA)—which shifted focus from just responding to contamination in the U.S. food supply chain to preventing it—makes the need more necessary than ever.
Developments on the market
The CMR-6100, a fully-integrated, cellular and GPS-equipped multi-protocol RFID reader, and the ZEST data services cloud platform from Intelleflex are designed to make data more available for supply chain managers so they can help reduce the loss of perishables; and improve supply chain operations and data sharing.
"What we found in the food supply chain is that there are a number of areas that you may want to capture the data from but there may not be a network infrastructure available to do so or the IT support on hand," said Payne. "With a cellular reader, it's easier to locate, mount, power and it can collect data automatically as it comes from the field."
Data collected by condition-monitoring readers and tags—while current when it is collected—is not always immediately available for review and analysis to assess and ensure relative remaining shelf life, quality or efficacy of products at the end of the supply chain.
For example, in placing the cellular RFID reader at a receiving dock, data can be easily exported from the temperature tag of a product through the cellular network even if no LAN or Ethernet cable is present.
And while deploying the cellular RFID reader is to enable remote unattended capture of data automatically without human intervention, it does raise the question of where the data is automatically stored.
"One of the challenges associated with the cold chain has been sharing information across trading partners or even within a company," added Payne. "And this has traditionally also been a limitation of RFID—it's good at capturing information but it keeps that information siloed at a location and not easily shared."
To overcome such challenges, Intelleflex's ZEST collection platform allows users to securely share and access authenticated reader and tag data without the need to interface directly with the readers. This data can then be utilized via Web-enabled, partner-built applications for tracking, managing and monitoring products, assets and personnel.
Coupled together with the RFID reader, the solutions "give users the ability to capture and collect data about the status of a product as it moves through the supply chain," said Payne. "Prior to the cellular reader we had several ways of doing that through edge servers and local databases." But ZEST removes arbitrary "siloing" of data and enables businesses to collect, evaluate and share data within a department or company, or across trading and business partners.
Other use cases
The reader's battery-assisted passive technology serves as the "secret sauce" to penetrate through infrastructure that may impede the wireless radio signal, such as walls made with metal content. This ability promote a cost-effective solution to classic uses of active RFID, which in environments such as pharma or pre-cooling rooms, may come at a higher price point.
"In the pharmaceutical space you have an increasing amount of temperature-sensitive medications—such as vaccines—that have to be shipped and stored at consistent temperatures, typically between the range of two-to-seven degrees Celsius," said Payne. "And if it goes out of that range, the product can be rendered ineffective or even potentially dangerous for human use. What you want to be able to do in the pharmaceutical space is document throughout every stage of the supply chain that the product has been properly held, stored and transported so that when it's delivered to the healthcare provider, they have a documented proof of quality and know that what they are about to administer to their patients is safe for use," Payne explained.
Other use cases outside of the healthcare and food industries include the oil and energy area, in which facilities want to know the assets that are on-site, where they are located and where personnel are on-site in the event of a disaster where evacuation procedures need to be initiated. In other work facilities, equipment may be leased and having the ability to manage asset utilization is another key benefit.
With built-in self monitoring, interference detection and loopback test mode capabilities, the CMR-6100 reader (which supports ISO/IEC 18000-6:2010 and EPCglobal C1G2 passive standards) can be managed, maintained and updated remotely, making it ideal for deployments at worksites, fields or where access to local area networks is not an option. Built with XC3 Technology, its transmission range operates at distances of 300 feet or more; and in and around RF-challenging environments including pallets, inside containers and around metals and liquids.
"The supply chain industry has tried for decades to solve the 'black hole' problem and while great strides have been made in terms of having more visibility to goods in motion around the world, supply chain partners to date have had to rely on visual inspections and guesswork about the actual condition of those products," said Michael Liard, Director, RFID, VDC Research Group Inc., Natick, Mass. "When it comes to perishables, this isn't good enough; in the case of temperature-sensitive food safety or biologics, if efficacy is compromised, grave consequences can result. Intelleflex's new solution provides cold chain partners with a cost-effective means to collect on-demand evidence of the condition of goods as they travel throughout the global supply chain, enabling partners to make real-time decisions to ensure safety and freshness or efficacy of the delivered product."
The Intelleflex CMR-6100 reader is available through Intelleflex partners. ZEST Data Services is currently available in beta and will be fully released in the fall of 2012 as a component of end-to-end services from Intelleflex partners.
Business benefit takeaways
Intelleflex's ZEST Data Services, CMR-6100 cellular reader and tags feature capabilities which:
Improve the quality, safety and delivered freshness of fresh, frozen and packaged foods while reducing waste and delivering track-and-trace records in the event of recalls.
Provide automated data capture to help ensure the quality and efficacy of temperature-sensitive pharmaceuticals in the supply chain through the last mile – without unpacking or tampering with the container.
Optimize asset management and personnel monitoring for improved worksite operations in all venues where high-value assets are deployed.
Enable information sharing among supply chain partners, and product traceability records with customers and insurance and financial services companies.
Facilitate a solution that is easy to deploy and manage anywhere without requiring middleware or edge servers.